Short on time? Here are the highlights:
Roughly one in four internationally mobile students enrolled in OECD countries is studying at the master's or doctoral levels
Those students are highly concentrated in European and North American destinations
The US is the leading destination country for advanced higher education, and hosts more than a quarter of all internationally mobile master's and doctoral students
China and India are the world's leading sources of mobile students enrolled in master's or doctoral programmes abroad
The OECD's annual Education at a Glance report is a handy reference for a wide range of education metrics across the Organisation for Economic Co-operation and Development's 35 member-states. This year's edition is no exception, and, among its many findings, it provides an interesting overview of international student mobility in advanced higher education – that is, at the master's and doctoral levels.
Education at a Glance 2016 estimates that there were roughly 1.3 million international students enrolled in master's and doctoral programmes in OECD countries in 2014, representing about 26% of all internationally mobile students throughout the OECD that year.
Overall, international students account for about 12% of all master's-level enrolments in OECD countries, and 27% of enrolment at the doctoral level. For nearly all reporting OECD members, the largest proportion of international students (relative to total programme enrolment) is found in doctoral or equivalent programmes – the exceptions to that being Australia, Germany, Hungary, Poland, and Lithuania.
"With the emergence of the knowledge economy and of knowledge communities, research and the top professional services have become more and more internationalised," says the report. "Accordingly, many students are seeking opportunities to study abroad at the master's or doctoral level. International experience is [also] seen as valuable for researchers and professionals. For example, the European University Association recommends that 'doctoral candidates should be able to take part in international research activities,' [whether] through international collaborations or by studying abroad for all or part of a study programme."
As you might expect, Europe accounts for a significant share of that mobility. The EU22 countries – that is, those that are members of both the European Union and the OECD – hosted 53% of all foreign master's or doctoral students in 2014. And 25% of mobile advanced higher education students enrolled in an EU22 country came from another EU22 state.
Outside of Europe, North America is by far the most-attractive destination, hosting nearly a third of advanced internationally mobile students in 2014. Most of those landed in the US, which, with 26% of all master's and doctoral-level students, was the world's leading destination country by far.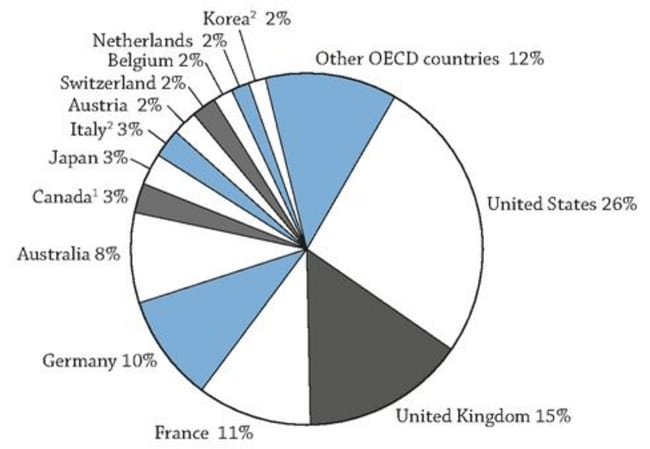 Distribution of international students in OECD countries at the master's and doctoral levels, 2014. Source: OECD
Reflecting the broader trend in international mobility, the OECD estimates that 53% of mobile, advanced higher education students come from Asia, and from China and India in particular. Nearly one in four (22%) are from China alone, and almost half (41%) of China's mobile master's and doctoral students choose to study in the US. The next largest group is from India (which accounts for about 9% of all mobile master's and doctoral students), and again more than half are enrolled in the US.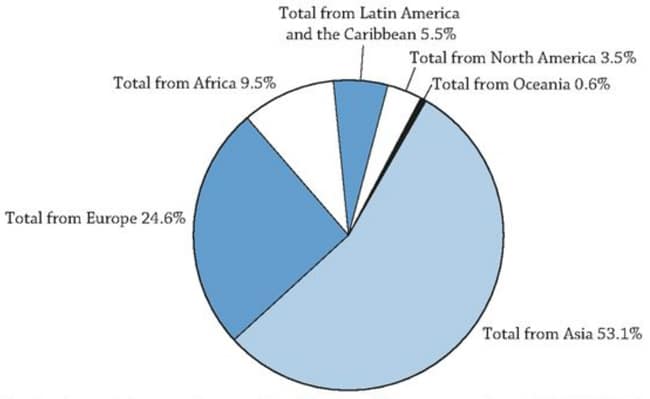 Distribution of internationally mobile master's and doctoral students by region of origin, 2014. Source: OECD
The OECD puts the relatively high proportion of internationally mobile students in advanced higher education down to a number of factors, including capacity constraints in the students' countries of origin (that is, the relatively limited availability of high-quality master's or doctoral programmes at home), and, as we noted earlier, the natural momentum that now exists in many scholarly fields toward international research collaborations and knowledge exchange. The report notes as well that advanced students may be especially sought out by host countries seeking a longer-term "brain gain": "Attracting international students in doctoral or equivalent programmes is particularly appealing to host countries because of their potential contribution to research and development, either as students or later as highly qualified immigrants."
For additional background on trends across the OECD, and with respect to postgraduate mobility generally, please see "New OECD report summarises global mobility trends" and "New report forecasts postgraduate mobility trends through 2024."