Short on time? Here are the highlights:
New Zealand's international enrolment reached 125,011 students in 2015, a 13% increase over the year before
Tuition revenues surpassed NZ$1 billion last year
India is by far the fastest-growing sending market, with 45% growth between 2014 and 2015 alone
Much of the foreign enrolment growth of the last two years is concentrated in two education sectors: Institutes of Technology and Polytechnics and Private Training Establishments
Enrolment in English Language Teaching (ELT) schools has been relatively flat in recent years, with a 2% increase in ELT numbers between 2014 and 2015
Education New Zealand has released its official enrolment report for 2015. It finds that international student numbers were up 13% last year to reach a total enrolment of 125,011. This marks a second consecutive year of double-digit growth for New Zealand, and the sharp reversal of a previous trend of declining enrolment from 2011 through 2013.
Tertiary Education, Skills and Employment Minister Steven Joyce said that the increasing enrolment reflected, "the great work being done by the education community across New Zealand," and added that, "New Zealand is increasingly being recognised for the excellent education and study experiences it delivers to both local and international students."
International tuition revenues also climbed by 17% in 2015, surpassing the NZ$1 billion threshold for the first time (US$725 million), and following a previous 17% increase in direct export revenues for the sector from 2013 to 2014. "But of course the story is broader than that," said Education New Zealand Chief Executive Grant McPherson. "This year, we are working on a reassessment of the economic value international education brings, and we know it is greater than the current valuation of NZ$3 billion and the 30,000 jobs it provides to New Zealanders."
Concentrated growth
That 13% enrolment growth translated into 14,748 more foreign students in New Zealand in 2015. But nearly all of that growth is accounted for by three fast-growing sending markets: India (+9,013 students in 2015), China (+3,881), and the Philippines (+1,648).
And, looking back over the last two years, most of the overall growth in foreign enrolment has been concentrated in two sectors – Institutes of Technology and Polytechnics (ITPs) and Private Training Establishments (PTEs) – and it has been largely driven in both sectors by increasing numbers of Indian students.
ITP enrolment climbed by nearly 42% over the two years, and by 23% between 2014 and 2015 alone. The PTE sector includes language schools and, while English Language Teaching (ELT) enrolment has been essentially flat over the last two years (+2% between 2014 and 2015), overall PTE numbers are up by more than 45% (including nearly 19% between 2014 and 2015).
Increases in Indian enrolment accounted for just over 80% of overall ITP growth last year and about 60% of PTE gains.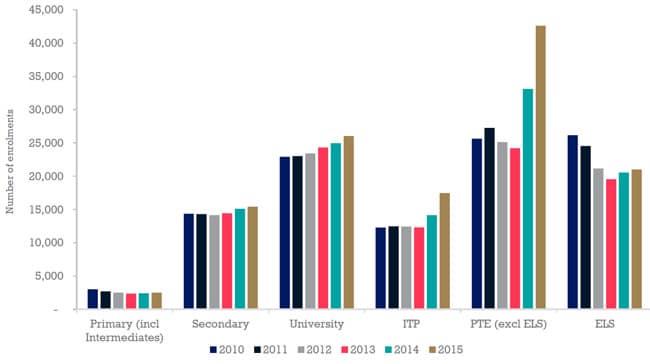 New Zealand's international enrolment by education sector, 2010-2015. Source: Education New Zealand
India's significant role in driving recent-year enrolment growth in New Zealand provides an important bit of context for recent news reports of greater scrutiny of Indian applicants by immigration officials. Immigration New Zealand (INZ) recently revealed that 51 of the country's tertiary institutions, including about half of all ITPs, have visa decline rates of more than 30% for Indian applicants over the six months from 1 December 2015 to 31 May 2016. INZ has indicated that visa applications are generally declined in cases where the department does not believe the applicant is a bona fide student, or where it has concerns that the applicant does not have sufficient funds to support themselves during their studies.
More broadly, overall approval rates for Indian applicants have hovered around 49% over the past year. In a 2014 advisory to New Zealand Qualifications Authority, INZ officials indicated, "INZ believes that a provider who has an average decline rate of 30% or above warrants urgent attention. Such a high decline rate would give INZ serious cause for concern that the provider does not have adequate systems and processes in place to control the quality of the offers of place being issued, or that business practices are flawed."
Indeed, INZ has recently concluded audits of 10 institutions with high visa decline rates, and is reportedly considering additional immigration controls for providers with high decline rates.
A looming diversification challenge
As the following chart reflects, foreign enrolment in New Zealand has become more concentrated over the past several years, and this in spite of coordinated attempts to open new sending markets.
This is in part a feature of the significant Indian growth noted above. But it also reflects a decline in a number of established source markets over the same period, including South Korea, Saudi Arabia, Thailand, Japan, and Germany.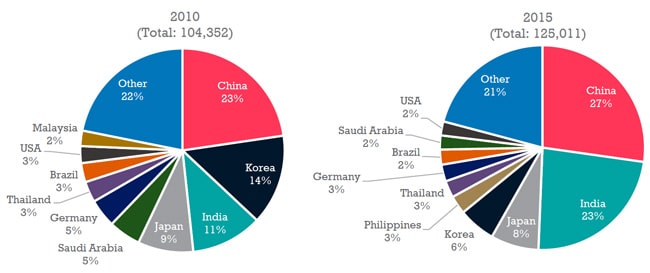 Composition of New Zealand's international enrolment by source country, 2010-2015. Source: Education New Zealand
As we see in the chart, four countries – China, South Korea, India, and Japan – accounted for 57% of total enrolment in 2010. That balance has shifted, however, as Korean enrolment has fallen off and as Indian student numbers have grown: China and India combined for 50% of all foreign enrolment in 2015.
The diversification challenge indicated here varies somewhat by education sector. Where Indian enrolments skew towards IPT and PTE providers, the university sector relies more on Chinese students. "The university sector's reliance on the China market has increased significantly, moving from 27% of enrolments in 2010, to 42% of enrolments in 2015," says Education New Zealand.
New Zealand is hardly alone in this respect. China and India have driven much of the recent-year growth in most leading destinations, including Australia, Canada, and the US. And in each case, those key source markets account for a significant share of overall international enrolment. What the 2015 numbers reveal is that the issue of diversification is now looming large in New Zealand and will very likely be an area of increasing focus for international educators and stakeholders there in the years ahead.