Survey says employment prospects the key for postgraduate applicants
A 2015 survey of postgraduate applicants around the world finds that prospective master's or PhD students are giving greater weight to future career prospects when choosing their programme, institution, and country for study abroad. The QS World Grad School Tour Applicant Survey 2015 establishes a clear trend over the past six years towards a greater emphasis on employment outcomes for postgraduate applicants, whether the student has a specific career goal in mind or just "a more general sense of the need to become as 'employable' as possible." Quacquarelli Symonds (QS) gathered survey responses from 7,153 students over the first six months of 2015. All students were in the process of applying for graduate-level courses abroad, with nearly nine in ten (87%) interested in master's programmes, 21% in PhDs, and 8% in both levels of advanced study. Two-thirds of respondents were 25 years old or younger; another 22% were aged 26-to-30 years. Roughly 40% were from Asia but the survey sample was geographically diverse with Nigeria, Pakistan, Ghana, Italy, Brazil, the US, the UK, Greece, and Kenya among the top-responding countries. Four in ten responding applicants (41%) were currently in full-time employment, with roughly the same number (39%) currently enrolled in academic study. Given the size and geographic range of the survey sample, there is a remarkable consistency in terms of how postgraduate applicants describe their motivations for further study. And the principal finding in the 2015 survey was the importance of employment outcomes for postgraduate applicants. "Factors relating to employability loom large," notes the survey report. "Almost 60% of master's applicants say their prime motivation for further study is to progress in their current career, to improve their employment prospects more generally, or to enter a particular profession. The same set of ambitions is similarly prominent among prospective PhDs, and unsurprisingly many of the latter - though by no means all - are aiming specifically at careers within academia."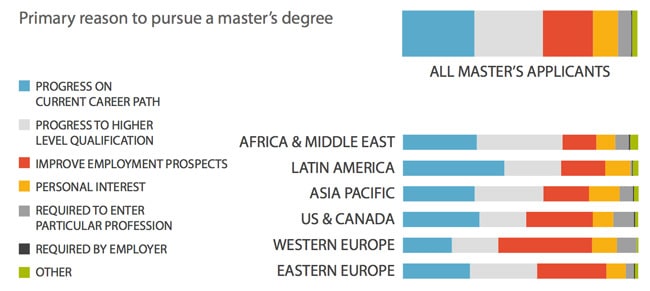 Primary reason of applicants to pursue a master's degree. Source: QS Going back to earlier survey results from 2008/09, QS makes the clear observation that "personal interest" has declined as a motivating factor for postgraduate applicants in favour of an interest in progressing in one's career path. In keeping with this sharper focus on employment goals, the 2015 survey finds a growing interest in STEM subjects (science, technology, engineering, and math). "This aligns with growing global awareness of high demand for STEM specialists, the rising profile of computing-related careers, and the impact of national schemes to encourage more young people to enter the STEM fields," adds the report.
Choosing a destination
Reflecting the broad market share of leading destinations today, QS finds that the US and UK remain the most-popular destinations across all world regions. As we have noted elsewhere recently, the survey also finds that Germany has risen in popularity for applicants in many regions, "in many cases quite dramatically," whereas 2015 respondents showed less interest in France and Spain as study destinations.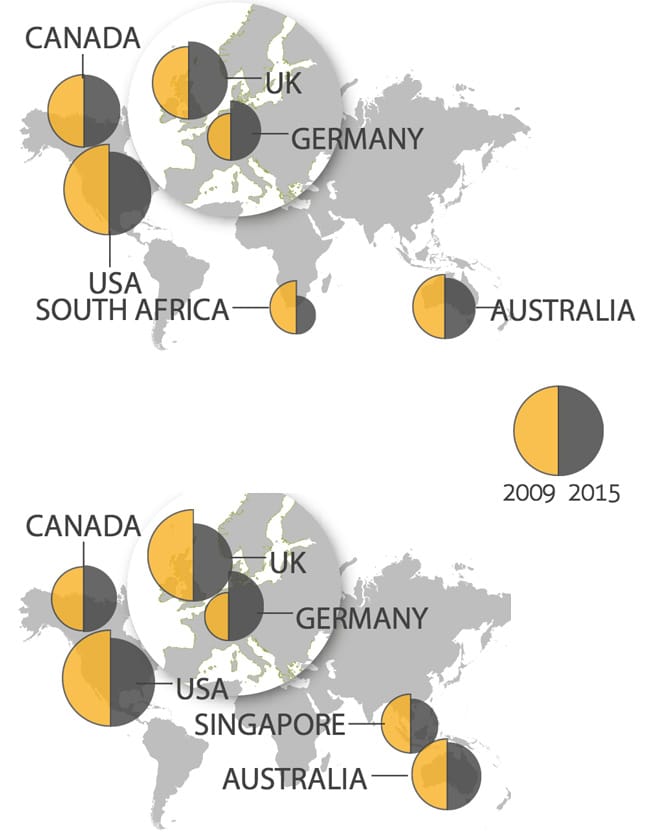 Changes in destination popularity for applicants from Africa and Middle East (top) and Asia Pacific (bottom), 2009-2015. Source: QS "International recognition of degrees" was the most-cited consideration (63%) for choice of study destination, followed closely by "scholarship/financial aid availability" (57%) and "cultural interest in and lifestyle of destination" (52%) - suggesting that all three factors should have a prominent place in marketing and recruitment targeted to postgraduate students. The report notes as well that, "The least-cited reason for choosing a destination is 'visa situation', followed by 'destination is in/near to the country the applicant is working in'."
Choosing an institution
The 2015 survey also found that reputation bears heavily on the postgraduate applicant's choice of institution. Prospective students in Western and Eastern Europe, Latin America, and the US and Canada, were more likely to prioritise the institution's reputation in the students' subject of interest. Those in the Asia Pacific, Africa, and the Middle East, were more likely to give the weight to the overall reputation of the institution (though QS is careful to point out that the difference between the two is quite marginal for Asian students).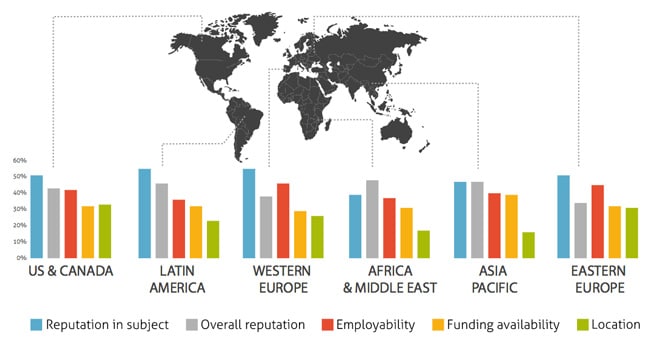 How master's applicants choose an institution. Source: QS "But what does "reputation" really mean?" asks a related blog post from Higher Education Marketing. "Endorsement by prominent industry professionals? A high position in academic rankings? Prestigious faculty known for their expertise and contributions to the field? A lively student body and exciting campus?" As this comment suggests, there are a variety of ways to establish the standing of an institution, whether with reference to rankings or otherwise. And the same could be said of employability as well. With that in mind, QS concludes its report by recommending an emphasis on the following for postgraduate marketing and recruitment.
Focus on employability "by establishing and highlighting close links and partnerships with industry; by providing data on employment rates and case studies exploring specific career outcomes; by offering information about employability-boosting opportunities such as internships and mentoring programmes; and by providing guidance on the possibility of staying on to seek work in the country after graduation."
A screen capture showing a prominent employment statistic for Falmouth University graduates. Source: Higher Education Marketing
Emphasise reputation through rankings, faculty profiles, research output, and alumni profiles.
Promote your location, particularly the cultural interest and lifestyle factors you know to be of interest to prospective students.
"Address the issue of affordability" by providing clear outlines of the costs of study along with a prominent summary of any financial aid or funding supports for international postgraduates.
For additional background, insights on student motivations, and implications for marketing strategy, please see Part 2 of the QS survey report as well as our related posts: "The link between employability and international student recruitment" and "Is employer engagement in education the next source of competitive advantage."