Short on time? Here are the highlights:
Ireland's English Language Teaching (ELT) enrolment increased by 10% in 2015, largely on the strength of a 19% increase in Adult student numbers
Driven in large part by longer stays by students from key sending markets outside of Europe, the number of student weeks increased by 38%
However, European markets, Italy and Spain in particular, continue to underpin ELT enrolment in Ireland and accounted for 73% of all enrolments in 2015
In addition to its proximity to important European markets, the relative affordability of Irish ELT programmes has improved in recent years due in part to changing exchange rates between the Euro, British pound, and many emerging market currencies
Irish schools are continuing to expand their recruitment efforts in important emerging markets, notably Turkey, China, and Colombia
As of 2015, the number of international students studying English in Ireland stands at roughly 107,000 – a 10% jump from 2014, when the number was 97,610. Students stayed for an average of six weeks to study English in Ireland – an average study duration that now surpasses that of the UK and that represents a 38% increase in student weeks booked compared to 2014.
These are some of the top-level trends found in new data released this month by Marketing English in Ireland (MEI), an association of 53 English Language Teaching (ELT) schools in Ireland.
MEI surveyed its member schools to obtain the new figures for four types of English programmes:
Stage Programme (enrolling 12-16-year-olds who generally stay for one week during the off-season);
Junior Programme (enrolling 12-17-year-olds);
Adult Programme (enrolling adults aged at least 18 years and including programmes such as General English, Business English, and English and Work Experience);
Teacher Training Programme (enrolling adults aged at least 18 years for Teacher Training).
Each programme type contributed to different degrees to the 10% increase for 2015. Stage/Junior ELT programmes experienced a 1% increase in international student numbers, while
Adult/Teacher programmes saw their numbers increase by 19% – or about 56,800 students in 2015 – thanks largely to influxes from Brazil and South Korea.
MEI also found interesting correlations between how long students stayed on average to study and (a) whether students came from EU/EEA (European Union/European Economic Area) countries or from countries outside the region and (b) whether or not they needed visas.
Student weeks: averages don't tell the whole story
While nearly three-quarters (78,306) of Ireland's English-language students came from the EU/EEA in 2015, those who came from outside the EU/EEA added a significant boost to the Irish economy, particularly because they studied for longer amounts of time. Approximately 18,500 of the 2015 total were from those non-EU/EEA countries, including Brazil, Japan, and South Korea, whose students do not require a visa to study in Ireland. The remaining 10,298 students in Ireland last year came from non-EU/EEA countries whose students do require visas, such as Russia, Saudi Arabia, and China.
Each of the three groups stayed in Ireland for very different average study durations:
EU/EEA students (73% of the total): Average of just over 2½ weeks;
Non-EU/EEA students requiring visas (10% of the total): Average of just under 11 weeks;
Non-EU/EEA student not requiring visas (17% of the total): Average of just over 18 weeks.
The overall average study duration across all programmes in 2015 was six weeks.
If we look at a handful of the nationalities that do not require study visas to attend Irish English-language schools, we can see how much of a factor a visa exemption is to duration of stay. While not explicitly addressed in the report, we can also imagine that opportunities for such students to work in Ireland during their studies is also an important factor here.
The following table depicts the average number of weeks non-EU/EEA students who do not need a visa to study in Ireland remained in Ireland for Adult and Junior Programmes.


Average duration of study in Ireland for selected non-EU/EEA student nationalities, 2015. Source: MEI
In contrast to the impressive numbers in the table, the overall average across all countries (EU/EEA, non-EU/EEA requiring a visa, and non-EU/EEA not requiring a visa) was 9.8 weeks for Adult Programmes and 1.8 weeks for Junior Programmes. Meanwhile, the average number of weeks for Stage Programmes was 1.2 weeks and for Teaching Programmes, 2.1 weeks.
Year-over-year, Junior/Stage Programmes grew by 5% in terms of student weeks, while Adult/Teacher Programmes saw their student weeks increase by 46%.
The following charts show the more dramatic growth curve of student weeks as compared to student numbers over the time period 2012–2015.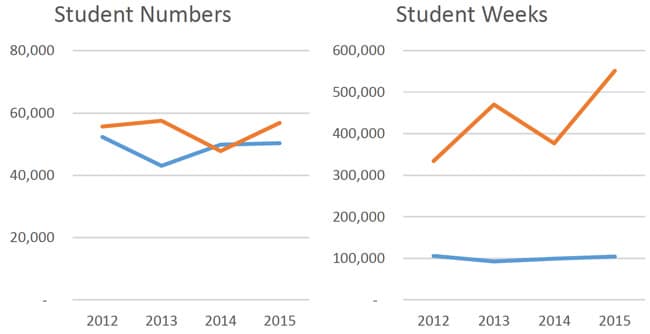 Comparison of student numbers and student weeks, 2012–2015. Junior and Stage Programmes are indicated in blue and Adult and Teacher Training Programmes in orange. Source: MEI
Italians an important contributor to junior programmes
For Stage Programmes, Italian students made up 11,174 of the total, far ahead of next-biggest contributors Austria (4,745), Spain (4,342), and France (1,121). Italy also contributed the largest group for Junior Programmes (11,996), followed by Spain (7,531), Russia (4,222), and France (1,904).
The heavy EU/EEA representation in programmes for younger students suggests that Ireland's relative proximity (and affordability relative to the British pound) is a competitive advantage in the junior market.
Markets more diverse for adult programmes
When it comes to Adult Programmes, there is a much more diverse international student population in Ireland's English-language schools. Once again, Italy is the leading sending market, with 12,004 students, but right behind it is Brazil, with 10,293 students. Spain is also well represented with 7,885 students in Ireland in 2015. Rounding out the key sending markets for Adult Programmes are France (4,993), South Korea (2,506), Germany (2,428), and Saudi Arabia (2,208).
All told, students from Italy, Spain, Brazil, and France made up nearly two-thirds (63%) of all students in Adult Programmes in 2015.
Brazil stands out from the pack in terms of its students' relatively long duration of study in Ireland in 2015. Brazilians accounted for 39% of the total Adult Programme weeks during the year. This amounts to 212,410 weeks and compares to a total of 40,525 weeks booked by Adult Italian students in 2015.
An important sector for Ireland
MEI estimates that international English language students contributed €278.3 million (US$313.2 million) to the Irish economy in 2015 through student fees, accommodation, and travel.
Along with the notable strength of the Italian and Brazilian markets for Ireland, MEI's diversification strategy in recent years – with a special focus on Asian markets – seems to be the main engine driving continued growth in the country's English schools. MEI's Chief Executive Officer, David O'Grady, notes:
"There have been really large increases in students coming to Ireland from South Korea and … is in part attributed to an increased focus by MEI in recent years on markets such as South Korea and China. MEI expects to see strong growth continue with students coming to Ireland from Eastern Europe, the former Soviet Union, Turkey and China."
The importance of some of these emerging markets for Ireland is underscored by a further cautionary note from Mr O'Grady with respect to some of Ireland's leading sending markets for 2015, "There is a long history of Irish schools working with schools and agencies in Italy and Spain. Naturally, markets develop and 2016 is nothing like the business there in the 1960s. Nowadays, demographics have changed, economies have developed (or stagnated), English teaching infrastructures have evolved in those countries so we need to keep monitoring those markets and adapting our offers accordingly. In particular, a considerable volume of the 2015 Italy numbers to MEI schools was PON business [PON, or the National Operational Programme, provides scholarship funding for young Italians to study English abroad-ed]. PON is dependent on Italian government and its agencies and not always consistent. Brazil has been a good market for MEI schools for last four years. A lot of the business is linked to the Science Without Borders programme. This too is vulnerable as is the state of the Brazilian economy."
Taking a broader view, the US remains the world leader in ELT student weeks with an average study duration of just under 15 weeks for 2015. As of 2014, the average study duration in Australian English programmes was just under 13 weeks, and in Canada the average was 12 weeks.
In terms of the numbers of international students studying in Irish English-language schools, Ireland's 10% jump from 2014-2015 is an indication it is becoming more competitive with destinations such as Canada and the UK, both of which are losing market share despite modest increases in ELT enrolments, and the latter of which particularly represents a more expensive option than Ireland, in part due to currency fluctuations over the last 12 to 18 months.
For its part, MEI aims to continue to leverage Ireland's strengthened competitive position to expand the footprint of Irish schools in key emerging markets. "New markets that MEI are striving to develop include Turkey, China, and Colombia," adds Mr O'Grady. "For a few years we have been operating MEI pilot schemes with Turkey and China in partnership with the Immigration section of the Irish Department of Justice. The Turkey scheme is working well, but the China one will need a re-focus. Colombia will be a new step and we are awaiting response from the Irish Immigration Service to our proposal which was submitted several months ago."