Here at ICEF Monitor, we like to keep an eye on broader travel and migration patterns as both can sometimes be important directional indicators for corresponding student mobility trends. And, despite the many disruptions we've seen so far this year, Euromonitor International reports the travel and tourism industry had a bumper year in 2013 and is set for further growth:
"Travel and tourism arrivals reached a record 1.1 billion in 2013, up by 5.1%.
This year is forecast to see a further increase, estimated at 4.7%.
Global online travel sales amounted to US$590 billion in 2013, 27% of total travel sales.
Asia Pacific is expected to drive global growth in online travel, with its online travel sales set to double from US$90 billion in 2013 to US$180 billion in 2018.
Mobile devices are increasingly key in the travel industry in terms of both customer service and bookings. Mobile bookings are expected to reach 35% of online travel bookings by 2018."
These buoyant statistics were revealed earlier this month at this year's World Travel Market (WTM) held in London, UK.
Additional highlights from WTM 2014 echoed some of the insights shared at last year's event, such as the necessity of a mobile strategy and the use of video to inform, inspire and connect with your audience.
WTM is an ideal platform for the launch of the annual Global Trends Report (GTR), which it produces in association with Euromonitor who explains, "The trends identified in the Global Trends Report tap into broader megatrends that influence consumer attitudes and impact on travel patterns, including niche markets, mobile, sharing economy, and personalisation."
The 2014 report draws attention to several "disruptive forces" on the horizon for the next five years, namely destination services, personalisation, mobile bookings and peer-to-peer services.
These forces present both challenges and opportunities as travel brands around the world find creative ways to not only cope with change, but get ahead of the curve and invent new ways to connect the customer's journey across multiple platforms, devices, and time scales.
Today we'll share some examples of companies that are doing just that, in addition to four trends we found especially interesting in the GTR, such as:
Peer-to-peer dining websites – modelled after the likes of Airbnb and Homeaway;
The prevalence of wearable electronics;
"Braggies" – otherwise known as the new selfies;
The transgression of China's WeChat from a messaging service to a mobile commerce tool.
Table for ten?
This past decade has seen a sharp rise in collaborative consumption, a socio-economic system that covers everything from swapping books, clothing, and accessories to crowdfunding to sharing car rides. Perhaps the most famous example is peer-to-peer holiday rentals such as Airbnb and HomeAway.
More and more travellers, and especially Millennials, are interested in finding ways to make their overseas experiences more meaningful, and one of the best ways to do that is to bond with the locals.
Websites such as eatwith.com and bookalokal.com connect hungry guests to culinary locals who show them a different side of a destination, the tasty side. Food has the power of bringing people together, and gastronomy is a great window into the local culture.
For international students, many of them who opt for homestays get to experience what it's like to have a native resident cook for them in a cosy, intimate setting. These new "eat with a local" type of websites now give anyone the chance to do the same.
The GTR pointed out that in-destination services such as these are likely to grow in the years to come, driven mainly by on-the-go bookings via mobile devices and online travel companies' acquisition activity. For example, in 2014 Priceline bought OpenTable, an online dining reservations company, for US$2.6 billion, while TripAdvisor bought La Fourchette, a European online restaurant reservations service.
Travel corporations are becoming more and more interested in peer-to-peer dining companies in the attempt to cover every aspect of a customer's trip.
Amy Brix, European E-commerce Manager for global travel group TUI explained that her company went through a big transition in terms of how they viewed their marketing focus in the past, which placed an emphasis on pre-departure information and relied on push messages, brochures, and company content.
Whereas now, their social media marketing is all about:
Engaging throughout the whole of the holiday journey;
Listening;
Sharing inspiring digital content;
Eliciting user-generated content.
TUI has also embraced crowdsourcing as a way to foster interaction and engagement. Much like total strangers can become instant travel or dinner companions thanks to the web, people anywhere in the world can not only voice their opinions, but also influence the outcome, of another person's travel experience.
Take, for example, the "Your Big Day" campaign that TUI piloted. To boost engagement, they ran a crowdsourced wedding contest. People around the world were invited to vote for their favourite couple, the best wedding dress (which the bride then had to wear), the best bachelor/bachelorette party idea, the best venue, etc. All expenses for the wedding and honeymoon were paid for by TUI. The contest received 700 entrants and 10,000 votes and due to its success, TUI is aiming to roll it out to other destinations next year.
Travel technology: Wearable electronics are not just a fad
Many of us instantly associate wearables with Fitbit bracelets or Google Glass – the former readily accepted by millions of consumers and the latter seemingly doomed to live out its product life in Geekville. But nevertheless, attendees at WTM were impressed by all that Google Glass can do; you simply wink and it takes a picture. It can even be used for live streaming, as demonstrated at WTM by Joakim Everstin, Head of Innovations, EMEA, Sabre Travel Network.
Such functionality could serve as a nice perk for students at a boarding school, for example, whose children take turns wearing the glasses to show parents back home live events in real time, or send recorded images and video files.
Mr Everstin candidly admitted some of the setbacks Google Glass is facing now, which prevent it from going mainstream, such as limited bandwidth and a short battery life as well as intense heat coming off the battery after about 15 minutes. However, he believes that in a few years' time, or even less, the product will improve and become more popular.
He isn't alone in this thought. Research conducted by Euromonitor's Consumer Electronics division concluded that wearable electronics technology is expected to go mainstream by 2016, with sales forecast to jump up to 180 million units that year, as compared to the 9 million units sold globally in 2013.
This sharp growth forecast for wearable forms of miniaturised technology is attributed in part to the developments big brands are making in this niche, and especially travel companies, such as:
"Expedia released an app for the Samsung Galaxy Gear smartwatch in August 2014 and is working on one for Google Glass, both focusing on notifications for travellers.
The Qunar app for the Samsung Galaxy Gear is mainly focused on customer service but it does also have booking functionalities, in particular for last-minute hotel deals.
The Starwood app for Google Glass allows bookings and provides directions to get to the hotel when at the destination. It will be possible to use Apple Watch as a room key in Starwood hotels.
Iberia, Vueling and Air Berlin announced that their passengers will be able to download boarding passes directly onto their wearable devices."
Wearables work for the travel sector for a few good reasons, namely speed, mobility, and convenience. Through the use of wearable Internet-connected devices, travellers can receive instant notifications and services during their trip, as well as make bookings on the run. Wearables have the ability to make for a smoother journey from start to finish, continually updating the traveler along the way and opening up ongoing communication throughout the experience.
It's not hard to imagine that this level of service could also be appealing to international students, particularly children traveling to boarding schools, or nervous foreign students about to go for a visa interview.
Euromonitor predicts that the travel sector will be quick to respond to the wearable trend, and those who get in early will have a distinct competitive advantage. But they remind us,
"This represents a challenge for travel companies which will need to build a flexible technological architecture to follow their customers from one device to another."
Braggies: Don't you wish you were here?
A survey by eMarketer revealed that in 2013, over 1.7 billion people used social media, an increase of 18% over the previous year. Social platforms give us the ability to instantly let others into our world, into our lives, and into our moment – not just in words but increasingly, in pictures. The numbers are staggering: 350 million photos uploaded onto Facebook daily as of last year.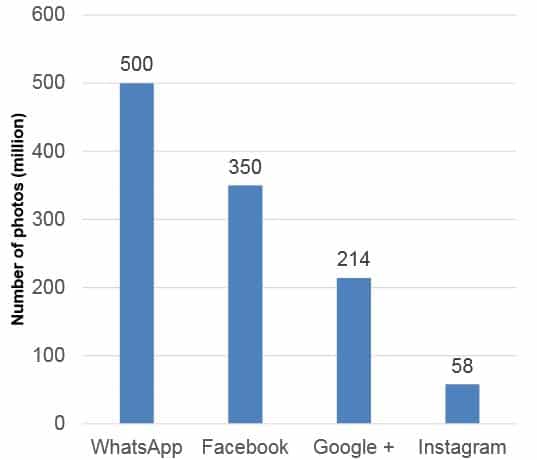 Number of photos uploaded daily to social networks and mobile apps, 2013. Source: Companies' statistics compiled by Euromonitor International as of August 2014
Facebook is sometimes characterised as a bragging platform, enabling people to showcase only their very best sides or enviable experiences. TUI's Ms Brix had also told us at WTM that 72% of their customers post photos on social media while they are on holiday, according to a TUI survey.
The GTR implies that the braggie trend kicked off in the hotel sector, with guests enthusiastically posting photos of themselves upon arrival across their social media accounts. In reality, this is just an extension of the selfie, the difference here is that hotels are rewarding guests who share their experiences (in other words, brag) online. Accommodation providers are offering perks like free Wifi, gift vouchers, discounts, loyalty points, contest entries, and so on.
But some innovative travel brands are going one step further, case in point: the Sol Wave House from Melia, also known as the #TwitterExperienceHotel.
The entire hotel is geared up for Twitter fans, enabling guests to contact staff via tweets (i.e., #AskKarim for help when in the hotel or before arrival), get a cab from the concierge (#wavetaxi), or find other guests using their bespoke app or location-based hashtags (#BaliBed7 by the pool, which can also be booked via Twitter before arrival).
Marco Fanton, Head of Social Media at Melia Hotels, explained that one of the most important things for this new initiative is to keep the conversation going before, during, and after the guests are back home.
This concept of connecting with consumers throughout every stage of their journey appears again and again – both in the GTR and on the floor of the expo hall at WTM. It's proof that the travel sector has recognised the value in creating and maintaining long term customer relationships.
Another fun example we came across was the new Clink Social app from Clink Hostels. It's a social based app that enables guests to link up with everyone who is using the app, as well as receive updates on the latest news and events both in the hostel itself, and in the city beyond. It also solicits feedback from the app users by way of polls and surveys, and uses gamification techniques to reward the most active users.
What Melia and Clink are doing can easily apply to institutions and agencies that want to engage students from the moment they apply through to graduation. The student life cycle offers countless opportunities for brands to participate in their students' journey, facilitate their interaction with fellow students and staff along the way, and leverage user-generated content in their marketing outreach.
WeChat…we pay
Caroline Bremner, Head of Travel and Tourism at Euromonitor predicts, "Instant messaging is set to overtake social media for customer service, bookings and payments."
It's easy to see why. With an estimated 440 million active users by the middle of 2014, China's WeChat platform is said to be the second largest global messaging service after WhatsApp, which had 500 million active users. "However, WeChat is leading the world in terms of monetising its popularity by offering new services, challenging the Alibaba Group in e-commerce and online payments in China."
It is also expected that WeChat will be launched on all wearables such as smartwatches or smartglasses in the years ahead. And the company is setting its sights on markets far from home, registering "especially rapid growth in the emerging markets of Southeast Asia and Latin America."
Travel companies are already beginning to embrace payments via the service:
"Leading Chinese online travel agency Ctrip sells air, train and attraction tickets and group-buying deals through WeChat and is expected to use it soon for all its products.
Didi Dache, a leading Chinese taxi app, doubled its number of users to 40 million in one month after starting a partnership with WeChat in January 2014.
Low-cost carrier Spring Airlines launched a WeChat service in April 2014 allowing users to book flights, check in, check flight status and communicate with customer service."
It's not just WeChat that is looking to integrate the ability to pay for goods or services directly within their platform. Twitter is currently trialing a "Buy now" button in the US. Twitter's Head of Travel Strategy EMEA Aoife Desmond said the click-to-buy feature allows consumers to make a purchase in three steps, and is already proving popular in testing.
Ms Desmond said: "On your own timeline in Twitter you'll be able to buy products and services or donate (money to charity). It's all about the right moment, the right message and the right audience."