A new report from World Education Services (WES) highlights the ways in which international Millennials – international students between the ages of 17 and 36 – seek out information and make decisions about where to study.
The report, Bridging the Digital Divide: Segmenting and Recruiting International Millennial Students, is based on a survey of 4,852 US-bound international students, primarily those from China and India, conducted over a six-month period from October 2013 to March 2014.
The research design relies on a model for segmenting international prospects that WES introduced in an earlier report, and through which students are grouped in four categories based on varying levels of academic preparedness and financial resources.


The four segments of international students as defined by WES
Strivers accounted for a third of the WES study respondents this time, followed by Highfliers at 27% and then Explorers and Strugglers at 20% each.
The survey makes three broad observations of the information-seeking behaviour of international Millennials:
Mobile devices play a significant role in the students' "prospect-to-application journey," with 56% of respondents indicating that they used a smartphone to search for and apply to a US college or university.
Admissions officers, faculty, current students, and alumni were found to collectively exert the greatest influence on Millennial students' decision-making processes. These groups together comprise "a cohesive university network," as described by WES.
International Millennials are heavy consumers of online content, and relevant, high-quality content is a key in driving engagement with this prospect group.
Based on these findings, the WES report encourages institutions to establish a comprehensive digital and mobile strategy, engage admissions staff, faculty, and current and former students in the recruitment effort, and invest in relevant, high-quality content.
Seeking information and influence
The WES segmentation model serves as one of two major filters – the other being level of study: bachelor's, master's, doctoral – through which the survey results can be analysed. It highlights key information requirements for each group as well as interesting variations from segment to segment.
Bachelor's students, for example, are more likely to prioritise information about cost, student services, and safety, whereas master's or doctoral students place more of a premium on faculty expertise and research activity.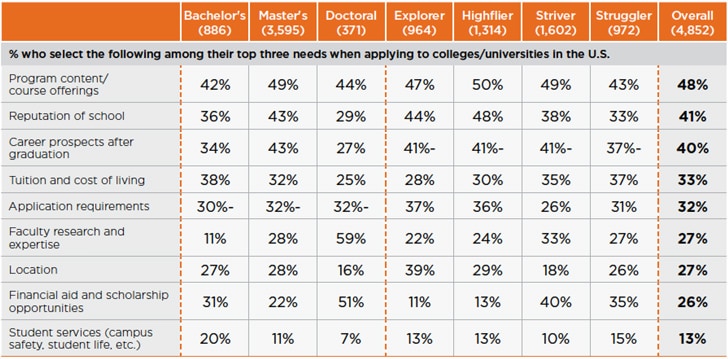 Type of information sought by academic level and segment. Source: WES
"Our research indicates that a university network comprised of faculty, admissions officers, current students and alumni has the biggest influence overall on students' choices during the application process, followed by students' families," says the WES report. "In this context, the ability to leverage a prospective student's network becomes very important; institutions need not only to convey their value proposition to students, but also to those relations who could potentially influence a student's application decisions."
As the following table illustrates, more than 40% of all prospects cited the university network – that combination of frontline staff, faculty, students, and alumni – as the most influential in their decision as to where to apply. This network effect was more pronounced at higher levels of study with 44% of master's prospects and 49% of doctoral candidates noting it as the most influential factor.


Influencer by academic level and segments. Source: WES
After the university network, family was the single-biggest influencer reported by students in the WES survey, and particularly so for undergraduate prospects.
The report provides a number of direct, highly instructive quotes from survey respondents, many of which provide concrete suggestions as to how schools and institutions can support them in their information search. "Have designated groups for alumni that potential applicants can ask questions to regarding potential programme choices," notes one; "Provide avenues for prospective students to interact with faculty members through the Internet," suggests another.
Implications for recruiters
The overall impression of the survey responses is that schools and institutions need to enable and leverage influential contacts across these key network elements. The report makes a strong business case for doing so at the least, and may provide further evidence of an important competitive advantage to be gained for those institutions that can effectively engage these key groups in their marketing and recruitment efforts.
In this respect, the WES report represents an important, current contribution to reinforce the importance of strategies that engage alumni, students, and other key stakeholders across the institution.
The same could be said of its findings with respect to the digital and mobile behaviours of international Millennials. Other studies have made similar observations but the WES survey provides important additional evidence of the increasing importance of digital and mobile channels in international recruitment. It also highlights a generational shift in the use of social networks and consumption of digital content generally:
"Millennials are twice as likely as Gen X, the generation born from the mid-1960s through approximately 1980, to cite technology use as a unique attribute of their identity; 83% of Millennials sleep with their cell phone nearby as compared to 68% of Gen X. Also, their digital activities make it easier to connect with peers and the world at large… Millennials worldwide are defined by their openness and willingness to share their opinions and experiences with their peers, whether they personally know them or not."
The implication for schools and institutions is clear: a comprehensive digital strategy is a must today, particularly one that includes effective use of social media and supports users across the complete range of desktop and mobile devices.
If those are the key channels, effective content marketing is the next key component in a digital marketing strategy targeted to Millennials. "Despite being active in the digital world, international Millennials are more likely to consume online content than produce it," says the report. "This highlights the importance of an institution's role in generating relevant, quality content to engage with this audience."
For additional background on best practices for content marketing, please see some of our recent related posts.