Education New Zealand (ENZ) recently released its full-year report on international enrolment for 2013 and the numbers tell a tale of two sharply contrasting trends over the course of the year.
Building on preliminary reports of a declining enrolment in the first part of 2013, the full-year data show that student numbers were indeed off sharply from January to April, with a 5% decline compared to the same period for 2012. However, the balance of the year saw growth across nearly all education sectors, and particularly in higher education.
ENZ says, "From May to December, all sectors – with the exception of the institutes of technology and polytechnics (ITP) and primary school sectors – experienced steady growth. Universities were up 30%, secondary schools up 15%, English language providers (ELS) were up 11%, and the overall private training establishment (PTE) sector was flat at 0.1%."
Compared to 2012, the May to August trimester saw overall growth of 4%, followed by 2% growth again from September to December.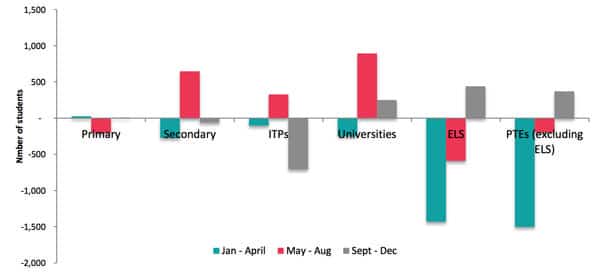 Changing numbers of international students in New Zealand in 2013, broken down by trimester and sector. Source: Education New Zealand
The overall picture then is one of strengthening enrolment over much of the year. As the following chart reflects, the 2013 student numbers were still below the peak years of 2010 and 2011. However, ENZ notes:
"The 2013 academic year was a year of transition for New Zealand's international education industry. The decline experienced as a result of the Christchurch earthquakes over the past two years began to slow and stabilise, with the second half of 2013 showing strong signs of growth. This growth has continued into 2014 with student visa results trending at record levels."
Immigration Minister Michael Woodhouse echoes the early forecast for 2014 and says, "Total approved student visas, which are available before enrolment data, were up 22% in the January to March 2014 period on 2013, bringing total student visas back up to 2010 levels."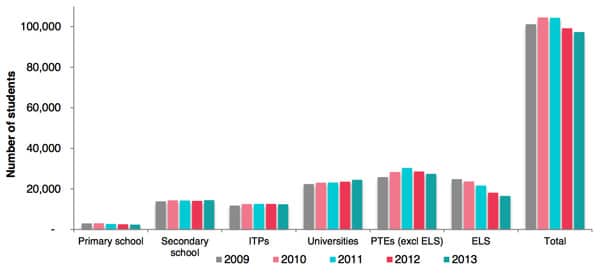 The number of international students in New Zealand's international education industry, from 2009 to 2013. Source: Education New Zealand
In total, there were 97,283 international students enrolled at a New Zealand education provider in 2013. This represents a decline of 1.8% (or 1,811 students) compared to the previous year. This overall drop was somewhat cushioned, however, by greater stability in tuition revenues, which were up marginally over 2012.

The percentage and total change in international students and tuition income, 2013 vs. 2012. Source: Education New Zealand
The problem with Korea
ENZ attributes much of the decline in enrolment for the year to a softening Korean market, noting that the loss of nearly 1,450 Korean students (compared to 2012 enrolment levels) accounted for nearly 80% of the overall drop for the year.
"The signals from Korea suggest that the decline in students is a global trend, driven by in-market socio-economic factors, which have impacted on the number of Korean students studying abroad," notes ENZ. However, the report also adds, "Early signals suggest that the Korean market is recovering and showing signs of growth with total approved student visas for the first quarter of 2014 up 11% (247 additional student visas approved), when compared to the same period in 2013."
The stronger numbers for early 2014 are especially welcome as Korea remains a significant market for New Zealand education. In addition, it appears that other traditionally strong source countries – notably China, India, and Japan – have driven much of the strengthening enrolment trend for New Zealand over the past year.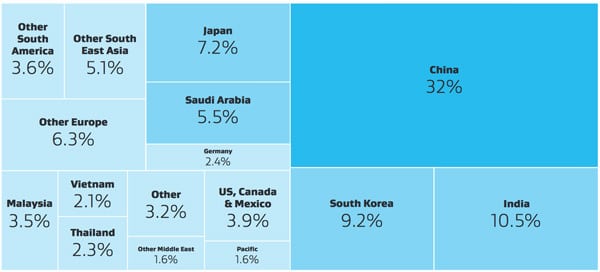 Proportional economic value of international education for New Zealand by source market, 2012. Source: Education New Zealand
Pressure on ESL enrolment
A notable decline in the private training establishment (PTE) sector was a second major factor in New Zealand's 2013 results. Enrolment in the sector was down by 5.8% (the equivalent of 2,700 students) in 2013 – roughly 60% of which was attributed to declining student numbers in English language training programmes. The falling Korean enrolment certainly played a part here, but education providers in New Zealand also cited increased global competition as an important factor.
However, as we have pointed out in previous reports, New Zealand's education marketing is highly coordinated at the national level and the government continues to demonstrate its commitment to boosting the competitiveness of the sector.
ENZ notes in its analysis for 2013, "The industry identified that work rights would help to attract students to New Zealand. Government responded by extending the work rights pilot for international students enrolled in English language schools in Christchurch to all of New Zealand.
Though a full analysis has not been carried out on the cause for the significant increase in PTE students in the final trimester, we believe it is more likely than not a consequence of the September 2013 announcement of an extension to full-time work rights for all scheduled breaks for students enrolled for one academic year."
In a further development, Immigration New Zealand has also undertaken a pilot project to streamline visa processing for "quality education providers."
Government action to coordinate and streamline policy and processes around international education will be further reinforced by an ENZ study that found the economic impact of international education in the country was NZ$2.6 billion in 2012 – making it New Zealand's fifth-largest export sector and accounting for 28,000 jobs.
Aggressive growth targets for the sector will no doubt also continue to drive new initiatives and targeted marketing investments, which have recently included the rollout of the Think New campaign, efforts to improve visa processing and immigration services, and the introduction of an expanded training and recognition programme for education agents.