Brazilian students explore new destinations abroad
BELTA
regularly conducts market research on the international education and exchange market in Brazil, and given that BELTA agencies represent approximately 90% of the global education market in Brazil, the findings paint a clear picture of the country's performance. See our previous article on their last report, and listen to Mr Carlos Robles, President of BELTA and Director of Intercultural Educational Programs (IEP) as he shares their latest research results in our video interview below:
New destinations on the horizon
As Mr Robles enthusiastically explains in our interview, Brazilian students opted for several new destination choices in 2012, which included:
India
South Korea
Singapore
Japan
Chile
Scandinavia
Traditional destinations performed as expected (shown below), with Canada in the top spot for language courses, high school and work abroad programmes. Meanwhile, the US holds its number one position for the graduate and postgraduate markets.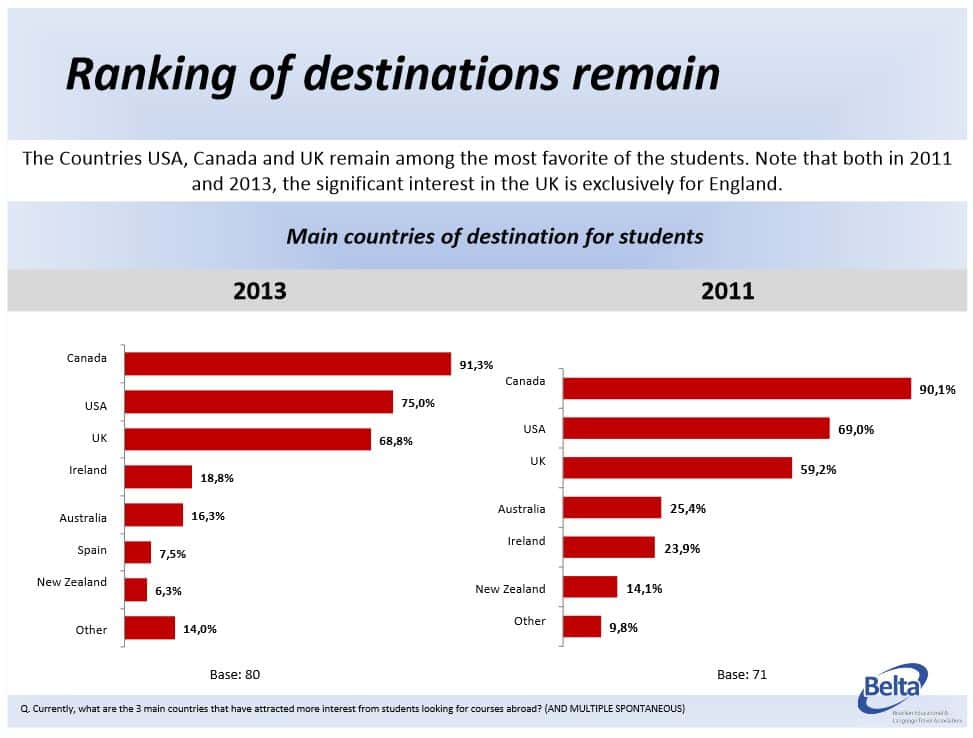 Most Brazilians who study abroad do so for language learning, and those destination trends appear to be consistent year on year, with Canada, France and Spain dominating.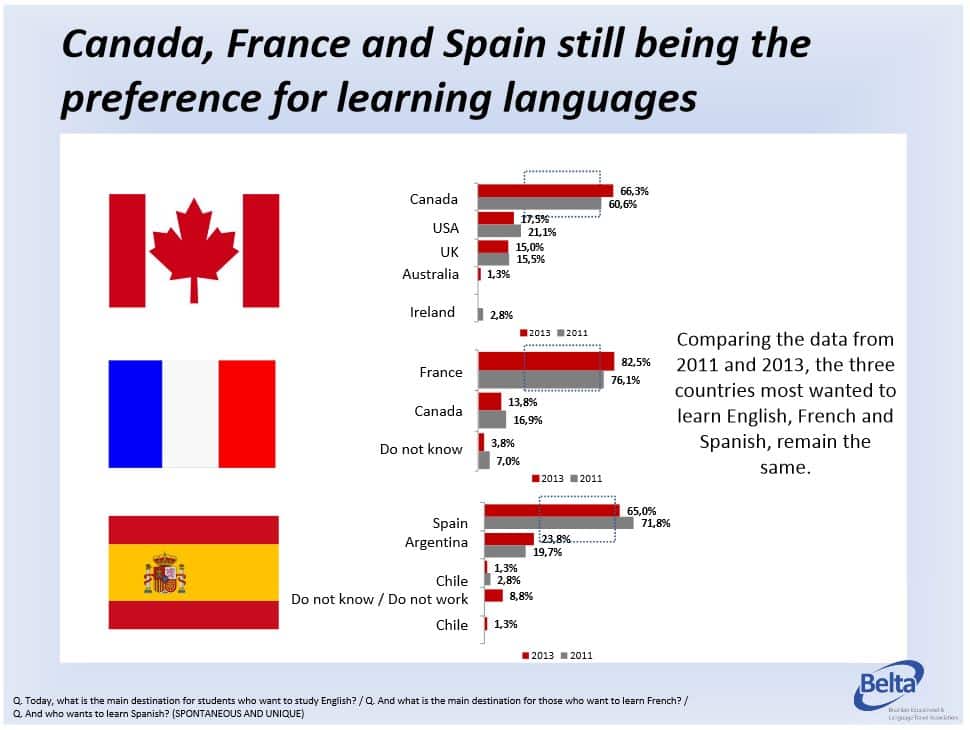 4-6 month stays increase
In addition to the emergence of new destinations, another interesting discovery was the increase of 11% for students who stay abroad between four and six months, whereas the percentage has fallen to the same degree for those who stay between one and three months abroad - as illustrated below. Likewise, the increase in the percentage of students staying for less than one month was matched by the decrease in those staying longer than six months.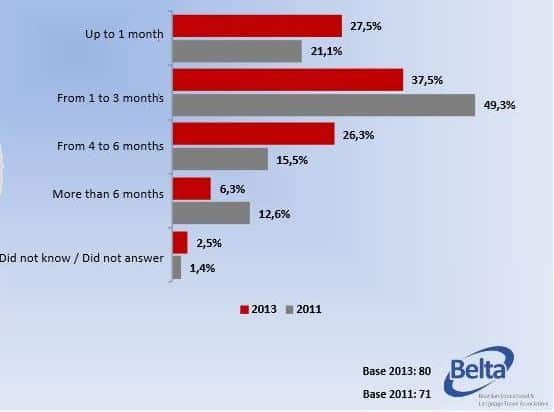 Continued growth expected
With 75% of survey respondents stating that they feel positive about the future development of business in the international education market, Brazil continues to show its strength. This is mainly due to steadily increasing trends such as:
Investment in study and work abroad to boost one's professional career
Economic stability
Growing market share and purchasing power of students from lower socioeconomic backgrounds (referred to as 'Class C')
Popularisation of exchange programmes such as Science without Borders, which as of April 2013 has awarded 22,646 of the 100,000+ total scholarships available. As previously highlighted, Canada is top of mind for Brazilian students, with up to 12,000 students travelling to her universities and colleges under the Science Without Borders scholarship programme. Institutional delegations regularly visit Brazil to promote their courses.
Finally, for readers interested in the finer details of the latest BELTA report, below please find BELTA's presentation given at this year's ICEF Toronto Workshop.