These days, we can't seem to stress enough the importance of having a mobile strategy in place for student, prospect, and alumni engagement. The 2012 E-Recruiting Practices Report from Noel-Levitz reveals that just over half (52%) of prospective students reported they had used a mobile phone or tablet to view a college or university website, but worryingly, only 39% of US four-year public universities and 35% of US four-year private colleges now have a website that is optimised for mobile browsing. This study was based on a national poll of undergraduate admissions officials at US, degree-granting colleges and universities and also included findings from a parallel telephone survey of 2,000 prospective, college-bound US high school students conducted this past spring.
Optimising your site for mobile devices doesn't need to take months or hefty budgets. Edudemic shows us here that thanks to a partnership between Google and DudaMobile, you can go mobile in a few minutes, which is handy for any small business or school who might not have a mountain of resources at their disposal.
Wanting to know more about the mobile tendencies of American schools and students, we came across Cappex, a US-based company that facilitates college and scholarship search, and their recent survey about the digital and mobile habits of 2,124 college-bound US students and admissions officers from 151 colleges.
Cappex found that email remains the number one tool that students use to communicate with colleges, though they now receive those e-mails on their mobile devices. According to Nielsen, 40% of 13-17 year-olds now own a smart phone device, and while much of what teens do on their mobiles is for entertainment, such as texting or posting on Facebook, it is apparent that they are also using their devices to monitor email that may come from work, high school, or a potential college.
Teens may also use their mobile devices to look up quick facts about something new that they encounter, such as a school they heard about from a friend. These days, home computers seem to be used for more involved activities, such as in-depth internet research, watching videos (though teens may do this on their phones, too), and of course answering and cataloguing emails.
Though teens may respond to an email from their home computer, they are constantly monitoring their mobile devices, and that's usually where they are most receptive to messages.
When asked what type of information they would like to be able to access on a mobile device, students cited a variety of items.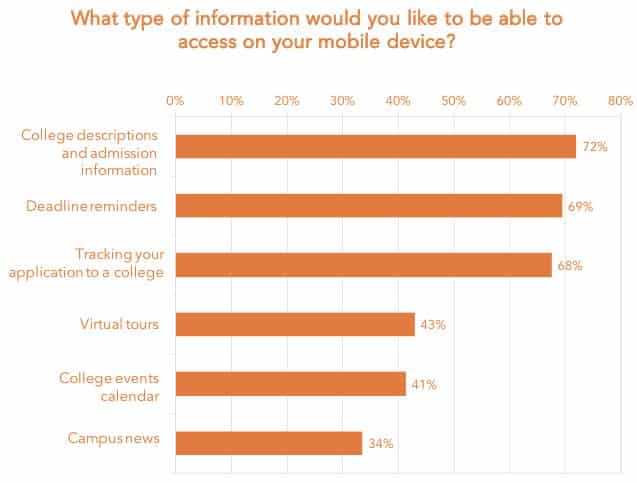 In terms of mobile apps, they are gaining popularity among students for their college search, though they are not yet a "must have."
If resources allow, a mobile app – in addition to a mobile-friendly website – can also be a great tool for prospective students. The amount of students who preferred an app over a mobile website increased by 31% this year, and the percentage of colleges who have an app more than doubled from 13% in 2011 to nearly 28% in 2012.
Cappex also asked college admissions officers what amount of time and resources they plan to spend on various digital communication channels in 2012 compared to last year. Perhaps not surprisingly, mobile is taking a large slice of the pie.