Global agent survey finds a strong growth outlook for 2024; provides new insights on agency operations
Short on time? Here are the highlights:
Most responding agents expect to refer more students in 2023/24 than the year prior, but they are placing them across a wider range of destinations and fields of study
Affordability, work opportunities, and visa processing were identified as some of the top decision factors for students this year
Agents report that customer acquisition and supports for students and families are the biggest demands on staff time
Referral commissions are largely stable compared to last year but there appears to be some upward pressure as well
Findings from the latest instalment of ICEF's Agent Voice survey indicate that agents are referring international students to institutions in a wider range of destinations, not least because affordability remains the foremost concern for the students they work with. Agents are also notably likely to be placing students into fields of study they might not have considered in the past.
The Agent Voice programme identifies the latest trends, opportunities, and challenges affecting agents working in international education. For the 2023 survey cycle, responses were gathered from 662 agents across 92 countries in Q3 of 2023.
Optimism abounds
Surveyed agents predicted a higher volume of international enrolments in all educational sectors in 2023/24 than in 2022/23. Agents were most bullish about sending students into pathway and undergraduate programmes (66%) as well as graduate and MBA programmes (63%). More than half were confident that more students would enrol in certificate, vocational, and diploma programmes this academic year than in the previous one.
The destinations agents believed would continue to receive more students included Australia, Canada, the US, and the UK; the UAE, the Netherlands, and Germany are also popular.
Almost two thirds (63%) of agents are placing students into new destination countries. Half (51%) are recruiting from new source countries, and 43% are working with a broader range of students than previously.
Affordability a big decision factor
More than two-thirds of agents (67%) said the cost of study and living was the first or second priority for students making decisions about study abroad. More than half said work and immigration opportunities were the top priority. Students are also notably influenced by visa processing support (44%). Rounding out the top five mentions of priorities were institutional ranking (38%) and visa processing times (37%).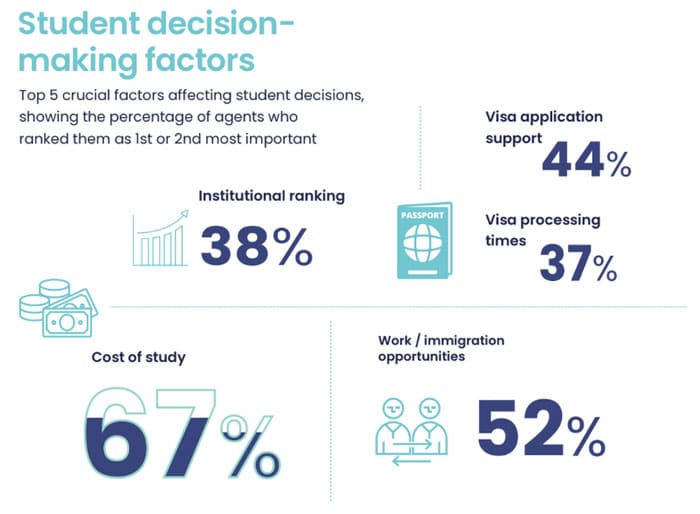 Open-mindedness regarding field of study
Reflecting the speedy pace of technological innovation in the global economy, 60% of agents said they are placing students into new fields of study. The most popular subject areas are data science and big data, business intelligence and analytics, artificial intelligence, and international business. These are closely followed by medical studies and supply chain management and logistics.
Just under half are placing students in online programmes
The number of agents offering online programmes has dropped from 50% in 2022 to 46% in 2023, the first year since 2020 that there has not been a reported increase.
For those offering online programmes, the main reasons were to:
Improve access for students with lower budgets (82%);
Reach new types of students (58%);
Provide a gateway to in-person learning experiences and international institutions (57% & 49%);
Facilitate lifelong learning opportunities (41%);
Create a step towards gaining a visa (31%).
Most agents aren't using AI yet
Most agencies (60%) still rely on traditional methods of recruitment and are not yet integrating machine automation or AI efficiencies. There are signs of gradual evolution, however: reliance on traditional modes of recruitment is down 9% from the previous year. But overall, the mood is of caution regarding AI, with roughly half saying they are uncertain about the impact AI will have in the future.
Enrolment challenges
The most cited challenge for agents recruiting international students was "finding qualified leads" (43%). Three in ten agents said that visa and entry requirements pose the greatest challenge.
More than half of agents said that the most helpful thing institutions can do to support them in their work is to respond promptly to their communications and queries (57%). Roughly half said that it is most helpful when institutions can process applications quickly.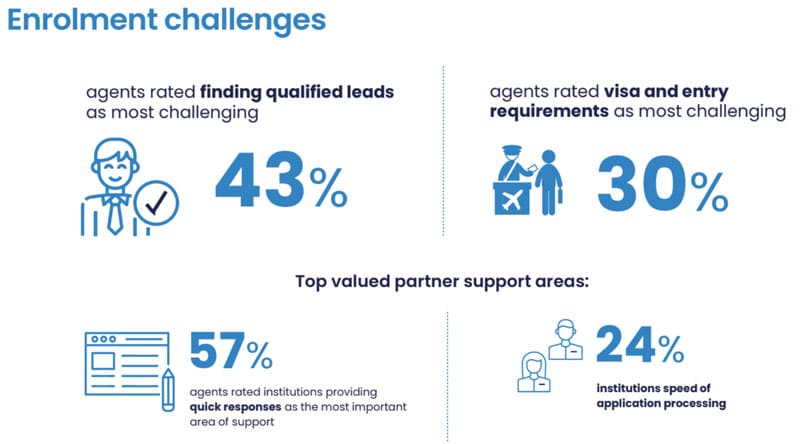 Looking in on agency operations
Along with a broadening range of study destinations and fields of study, agents also report that they are expanding their services for both educators and students this year. Nearly half (45%) said that they now offer additional services for educators, with the notable categories being digital marketing (78% of those who added new services did so in this area), consulting (72%), and in-person events (72%).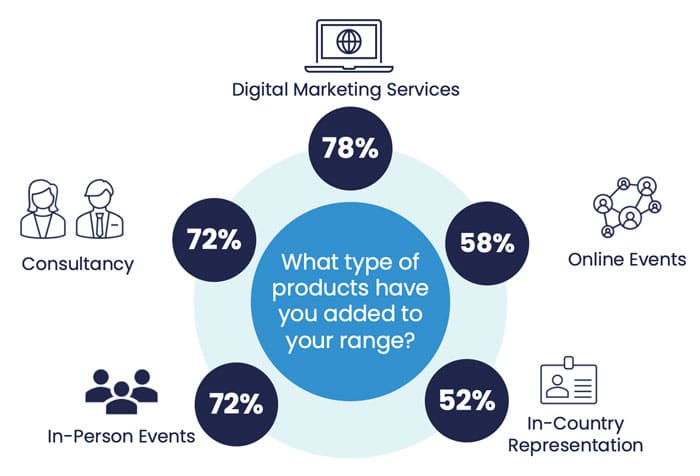 Agents went even further this year in expanding their offerings for students, with 64% indicating that they now offer additional supports. The notable expansions in this area included immigration and visa support (78%), accommodation (68%), and insurance (62%).
In terms of the biggest demands on staff, agents report that new customer acquisition and support for families are the areas where they spent the most time (as reflected in the chart below).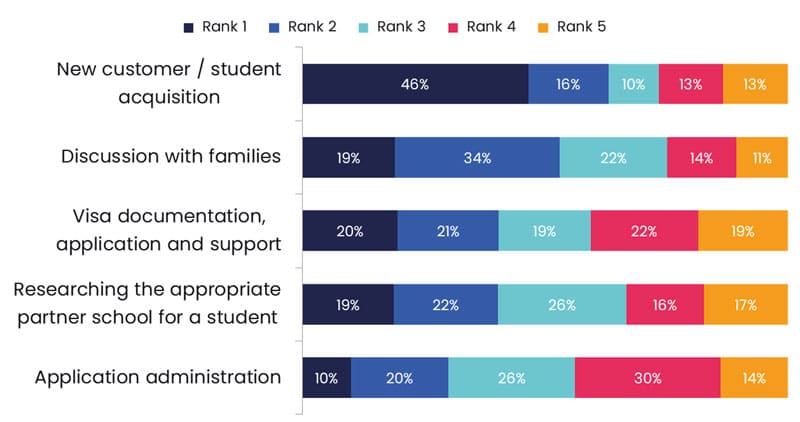 The following chart illustrates that agencies are generating most of those leads through social media channels, via word-of-mouth, and through their websites.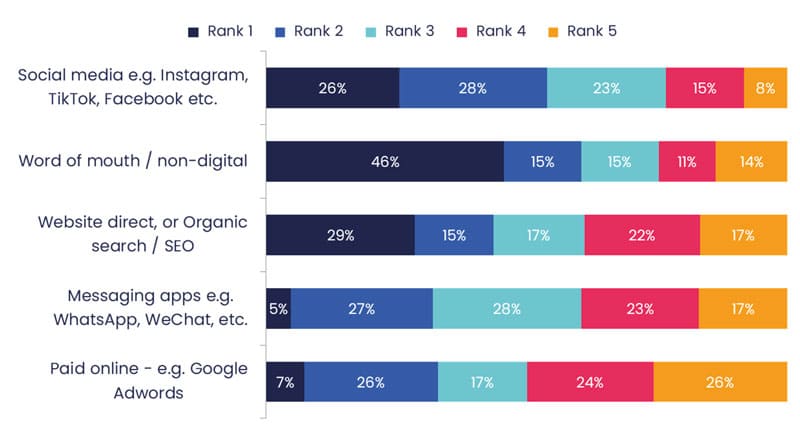 Most (65%) report dealing directly with institutions for student referrals, with 21% indicating that they work as part of a network of sub-agents and 14% participating in aggregator networks or other digital recruitment platforms. And when it comes to commissions, agents are largely reporting, as we see in our final chart below, commission rates comparable to what we have seen in previous years. However – in a continuation of a pattern we observed in last year's survey – there is some upward pressure on commissions again in 2023 with roughly one in five respondents reporting higher commissions across all education sectors.

For additional background, please see: