International enrolments in German higher education rise again for a new record
Short on time? Here are the highlights:
Record numbers of international students were enrolled in Germany in 2022/23
Foreign enrolments in German higher education institutions increased 5% over the previous year, following an 8% increase in 2021/22
India has displaced China as Germany's top source market for students
Germany received more international students than ever in the winter semester of 2022/23: 367,578, up 5% compared with the total in 2021/22, according to the German Academic Exchange Service (DAAD). This marks the fifth consecutive year of growth.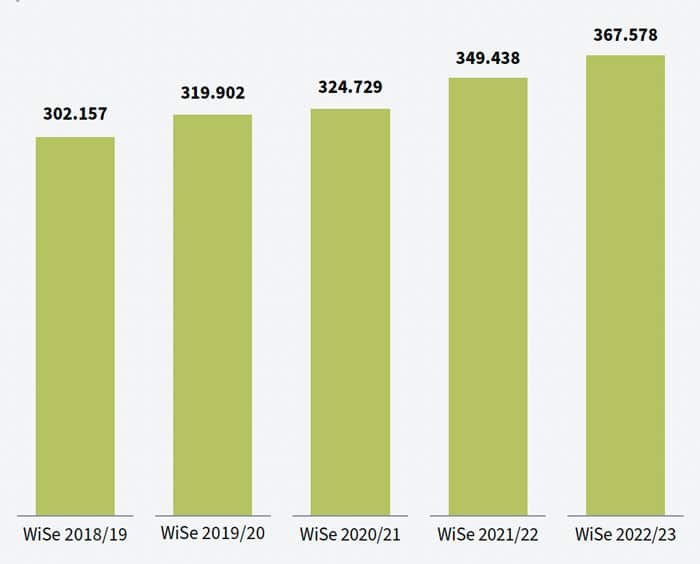 As many first-time international students were in Germany in the 2022/23 winter semester as before the pandemic in 2019: 117,900. Of Germany's total student population, international students make up 12%, rising to 23% in master's programmes (compared with 7% in bachelor's programmes).
Top countries and regions
The overall increase in international student enrolments in 2022/23 was driven by India, which has now replaced China as the top source country for German universities and which now accounts for 12% of all international students in the country. Chinese enrolments declined for the second consecutive year.
The top five source countries for Germany in 2022/23 were:
India: 42,578
China: 39,137
Syria: 15,563
Austria: 14,762
Turkey: 14,732
There are many more Ukrainian students as well, up 43% since 2021/22 for a total of around 9,100.
The top sending regions were Asia/Pacific (32%), North Africa and Middle East (19%), and Western Europe (17%). The fastest growing region for Germany is North Africa and the Middle East: +58% in the past five years.
International students drawn to scientific programmes
More than 4 in 10 foreign students in Germany are pursuing engineering programmes. Germany is clearly a top destination for science-minded students, not least because of the Applied Science universities in the country. Enrolments in those institutions have risen by 140% over the past decade, compared with 64% for more generally oriented universities.
Education and immigration goals clearly linked
DAAD commissioned a study from the OECD to measure how the country is doing relative to 15 other countries at retaining the international students educated at its universities. That study found that 45% of international students remain in Germany 10 years after graduation to work. Only Canada was competitive on this count, with 44% of students educated in Canada still working in the country 10 years after completing their studies.
For additional information, please see: