Super-maps powered by generative AI could find a ready audience in international students
Short on time? Here are the highlights:
Lufthansa Innovation Hub's managing director Christine Wang has been wondering for more than a year why Google hasn't yet come out with an AI-powered map
Now, she's written a report on the potential of this super-app, and there are several start-ups already developing spins on the idea
International students, like tourists, are perfect audiences for AI/map mashups
A new report from Lufthansa Innovation Hub (LIH) suggests that educators and agents may soon have a powerful new tool for informing and exciting students about their campus and destination.
Generative AI, paired with a map interface (e.g., Google Maps) could allow users to click on a map point, then choose from layers of information to supplement their research about it, from video to articles to practical tips. What's more, the information served to users would be personalised based on user data such as past visits, shopping habits, age, etc.
The report, All Great Journeys Start with a Map, was written by LIH managing director Christine Wang, and the report primarily focuses on the potential for the travel industry.
But Ms Wang notes that the use case is far from limited to one sector. For example, when considering that meshing generative AI with map-based interfaces "could truly revolutionise the entire travel planning process, from inspiration to itinerary creation, and, most importantly, real-time exploration," one can easily imagine the relevance to prospective international students.
Already, travellers enjoy the map interfaces provided by websites like Expedia, Booking.com, and Airbnb. But AI-powered maps would in some ways function like a little (digital) pocket guide tailored precisely to the preferences of the traveller – a Lonely Planet written just for them, but one that would adapt, intuitively and instantly, to changing needs and goals.
The idea is very close to becoming reality. Several start-ups are already putting their own spin on the combo of AI and maps: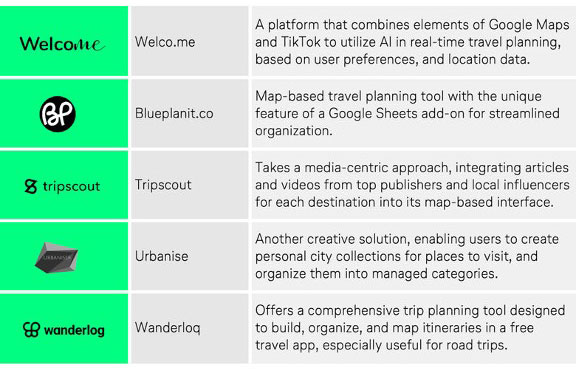 Technology made for Gen Z
Gen Z is getting very used to the convenience of platforms that use data and algorithms to quickly serve up personalised content and entertainment. It's part of the reason that they are now more likely to be using TikTok as a search engine than Google. An article in the New York Times pinpoints why they like TikTok for discovery:
"[TikTok] personalizes the videos shown to users based on their interactions with content — to find information uncannily catered to their tastes. That tailoring is coupled with a sense that real people on the app are synthesizing and delivering information, rather than faceless websites. On TikTok, 'you see how the person actually felt about where they ate,' said Nailah Roberts, 25, who uses the app to look for restaurants in Los Angeles, where she lives. A long-winded written review of a restaurant can't capture its ambience, food and drinks like a bite-size clip can, she said."
Gen Zers are famously impatient due to growing up with ever-more advanced technologies that give them exactly what they want in real-time. LIH's Ms Wang notes that much of the promise of AI-laden maps is similarly linked to AI being able to cut through boring parts of travel research and presenting the most relevant information:
"It may be super fun to watch a movie or documentary around Brazil to know where to travel to but then going into the nitty gritty of where to I find ATMs, what do I do, where do I need to go – I think that's not something people really like to do and that seems more like a chore than inspiration."
It wouldn't just be prospective international students who would appreciate a supercharged map platform, but also current students. Imagine how much easier orientation week on a new campus would be, for example, if you knew exactly where to go for classes/services, where to find your favourite food, where to get the exact room décor you wanted for your dorm room – all on your phone on one platform that served up recommendations in real-time.
Current students would also find it useful
The LIH report points to 10 features an AI-enabled map interface could offer, including:
A "Feeling Lucky" button that could suggest a local hidden gem;
Nearby concerts, exhibitions and festivals (based on your past event attendance and interests);
Accessible travel options for those with disabilities.
In an interview at Phocuswright Europe 2022, Ms Wang drew on personal experience to underpin the utility of AI-powered maps. On a hiking trip in Ireland, she was irked by having to go back and forth between maps and other ways of navigating her located, and wondered, "Why can't we find data layers and lay it on top and have more value propositions around that?"
Some of us will remember the marvellous day when we discovered we could drive to the right place without consulting a paper map thanks to the invention of GPS (global positioning system). It seems like that miracle didn't happen that long ago, but for Gen Z, it feels like a lifetime … back in the olden days.
For additional background, please see:
ICEF Digital 2023: A one-day networking conference focused on the latest technologies and digital tools for international educators