UNWTO data shows that international tourism arrivals are approaching pre-pandemic levels
Short on time? Here are the highlights:
The UNTWO World Tourism Barometer indicates that 2023 is seeing a strong rebound in international travel
Tourist arrivals in the Middle East this year have exceeded those from 2019
The pace of recovery is expected to hold or strengthen unless factors such as inflation, recession, or geopolitical tensions drag it down
Trends in the international tourism industry often bear strong resemblances with those in the international education industry, and 2023 is no exception. The second UNWTO World Tourism Barometer report of the year shows that tourists are releasing pent-up demand for travel by visiting destinations near and far.
In the first quarter of 2023, international arrivals drew closer (80%) to the level they were at before the pandemic. More than 230 million tourists travelled internationally between the beginning of January and the end of March 2023, which is double the number in the same period of 2022. The Middle East saw the greatest recovery: arrivals were 15% higher than they were in 2019.
UNWTO Secretary-General Zurab Pololikashvili said that while tourism is bouncing back nicely, new challenges have arisen in 2023 that may affect the volume of arrivals or the destinations that tourists choose.
"The start of the year has shown again tourism's unique ability to bounce back. In many places, we are close to or even above pre-pandemic levels of arrivals. However, we must remain alert to challenges ranging from geopolitical insecurity, staffing shortages, and the potential impact of the cost-of-living crisis on tourism, and we must ensure tourism's return delivers on its responsibilities as a solution to the climate emergency and as a driver of inclusive development."
The following chart shows trends over time across regions. While Asia-Pacific has seen the weakest recovery so far, the UNTWO believes this will accelerate though the year, especially given that China's borders are now open.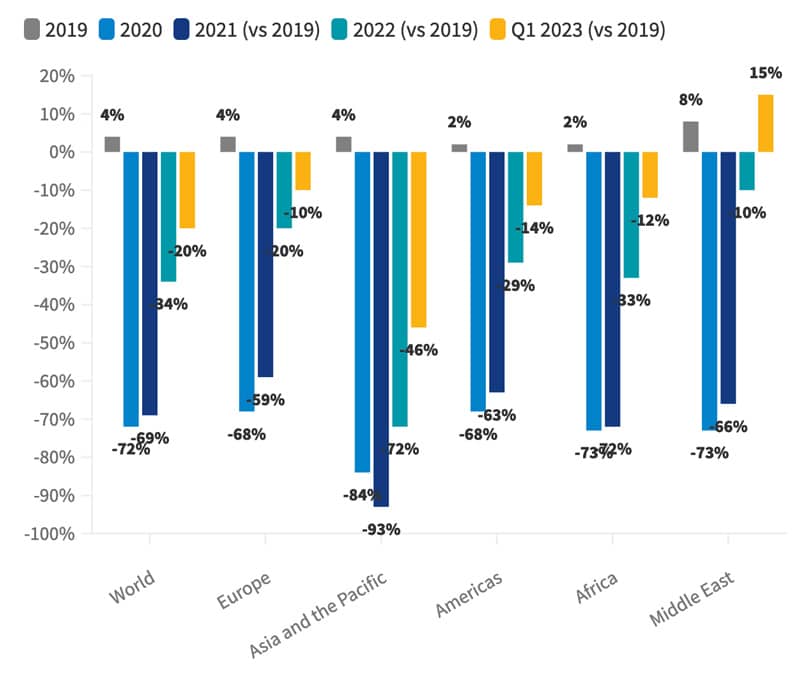 What's ahead for the rest of the year?
UNTWO's projections for the whole 2023 year foresee international arrivals recovering 80% to 95% of pre-pandemic levels. However, the UNWTO's Panel of Experts warn that the economic situation in many countries could drag down this estimate:
"The economic situation remains the main factor weighing on the effective recovery of international tourism in 2023, with high inflation and rising oil prices translating into higher transport and accommodations costs. As a result, tourists are expected to increasingly seek value for money and travel closer to home. Uncertainty derived from the Russian aggression against Ukraine and other mounting geopolitical tensions, also continue to represent downside risks."
For additional background, please see: