What a widening TikTok ban could mean for international student recruitment
Short on time? Here are the highlights:
More than a dozen governments in Europe, Canada, the US, and elsewhere have banned TikTok on government-issued devices because of concerns that China could access sensitive data and influence the political content than viewers can see
So far, only India, Pakistan, and Afghanistan have instituted nationwide bans on TikTok, but the US is considering one
Marketing experts advise brands to consider making short-form videos work across multiple channels – not just TikTok
If creating on TikTok becomes more challenging due to legislation, Instagram Reels and YouTube Shorts will become more important for marketers
Politicians and lawmakers in the US, Europe, and Canada are currently banning or restricting access to TikTok – the most popular app in the world – on government-issued devices. TikTok allows users to create, watch, and share 15-second videos taken on mobile phones.
A potential widescale ban on TikTok in the West will have implications for educators and agents that have come to rely heavily on the channel for student recruitment. Young people aged 18-24 are the demographic that is most likely to be using TikTok.
Today, we look at the fast-moving controversary around TikTok and what it suggests for best practices in social media channel management right now.
TikTok stats
The following stats from Hubspot illustrate why a ban on Tiktok would be a challenge for many marketers:
The average TikTok user spends 89 minutes per day on the channel;
TikTok users are twice as likely as users of other channels to recommend something they found on the platform;
Brands are remembered 40% more on TikTok than on other platforms;
71% of TikTok users who take action off platform say that TikTok shows them exactly what they are looking for;
55% of users use TikTok to research new brands or products;
TikTok has an ad reach of roughly 885 million people.
For international marketing teams at schools and universities, TikTok is especially relevant because international students from key emerging markets use it to research study abroad options and share recommendations and experiences. This graph from Statista indicates the countries in which TikTok has the highest penetration. Indonesia, Brazil, Mexico, Vietnam, Philippines, and Thailand are priority source countries for many educators in 2023.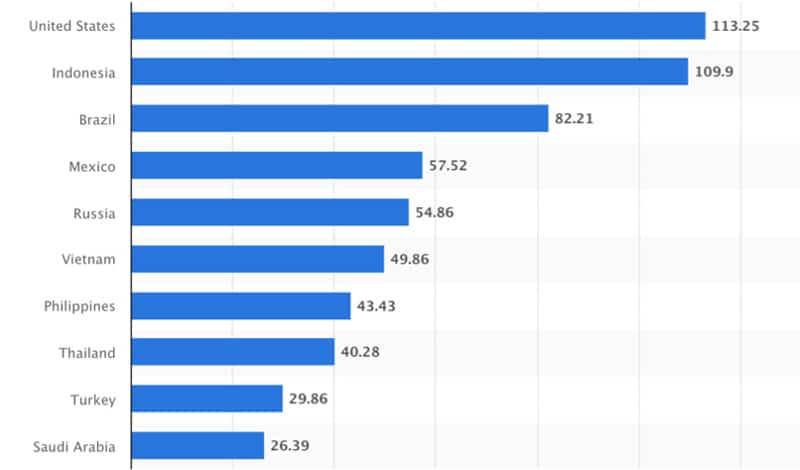 Why is TikTok under fire?
Some parents and mental health experts are alarmed about the influence of TikTok on young minds. Preliminary studies show that TikTok scrolling is affecting kids and teens' ability to focus for extended periods of time and to have patience for tasks that do not provide immediate gratification. Jessica Griffin, associate professor of psychiatry and pediatrics at the University of Massachusetts Medical School, told VeryWell:
"Short videos, like candy, provide a rush of dopamine, a feel-good chemical that's released in the pleasure centre in our brains. That rush often leaves you wanting more – like kids in a candy store."
For governments debating whether they will extend their TikTok bans beyond the phones of civil servants, the more immediate concern is that TikTok poses a security threat – especially during a time of heightened US/China tensions. The New York Times sums up the issue like this:
"Lawmakers and regulators in the West have increasingly expressed concern that TikTok and its parent company, ByteDance, may put sensitive user data, like location information, into the hands of the Chinese government. They have pointed to laws that allow the Chinese government to secretly demand data from Chinese companies and citizens for intelligence-gathering operations. They are also worried that China could use TikTok's content recommendations for misinformation."
So far in the West, TikTok is banned on government-owned/linked devices in Canada, many EU countries, and the UK. In the US, legislation around TikTok is currently happening at the state, rather than federal, level. More than two dozen states have banned the app on government devices, and many universities have blocked it from campus Wi-Fi networks (however, students can work around this by accessing TikTok using cellular data).
TikTok is banned much more comprehensively in India. The Indian government banned it completely in the country in 2020 due to security concerns, which led to a surge in downloads and use of Instagram.
President Biden's administration is considering a more comprehensive, nationwide ban of TikTok in the US unless ByteDance sells the app, but a Chinese government spokesperson said that China would "firmly oppose" the sale of TikTok. TikTok's executives say they will spend US$1.5 billion on a data security plan called "Project Texas" that would create more separation between TikTok and ByteDance.
TikTok CEO Shou Zi Chew submitted to five hours of intense questioning last week by US Congress representatives and said that the company is committed to "firewalling US user data from all unwanted foreign access and to keeping content free from any manipulation from any government." However, Mr. Chew did not respond directly to House Representative Cathy McMorris Rodgers' demand that he state "with 100% certainty" that the Chinese government could not spy on Americans through TikTok or manipulate the content that Americans can access on the app.
What's next?
It took a while for college and university marketers to understand how to leverage TikTok, and often with the help of student social media ambassadors. For schools that have become successful on the app, a potential banning of TikTok is unfortunate, not the least because so many students are on TikTok and not on other social media platforms. Hubspot reports:
"TikTok has untapped potential to reach new audiences that aren't on other platforms. In January 2023 TikTok reached 850 million global users, though 40% of TikTok users aren't on Facebook, and 63% aren't on Twitter."
However, digital trends change quickly; apps cycle fairly quickly in and out of style. Even if TikTok isn't banned further in the US or elsewhere, a new or existing app could conceivably disrupt TikTok's current dominance in the video-based app landscape. Forbes staffer Conor Murray writes about how Instagram has already mimicked some of the most compelling features of TikTok:
"Key to Instagram's success in India was Reels, its algorithm-based, endlessly scrolling vertical video feed that closely resembles TikTok's For You Page and other TikTok copycats like YouTube Shorts and Snapchat Spotlight."
A major part of Instagram parent company Meta's growth strategy for Reels was to provide monetary incentives to top influencers, but now that Reels has established itself, the company is discontinuing this incentive strategy. There is speculation that Instagram will be the likely beneficiary of TikTok's audience and reach if TikTok faces further restrictions in the West or elsewhere, followed by YouTube.
Instagram's Reels does not yet boast the engagement levels of TikTok, and it is less effective for brands with relatively small follower counts. But it is a good investment for schools and universities that do have a strong presence on Instagram, especially given uncertainty around what governments will decide about TikTok.
Hedging your bets is the best strategy
Short-form video is a must for reaching GenZ. Josie Ahlquist, a digital engagement consultant interviewed by Inside Higher Ed, notes that, "TikTok's popularity has helped make vertical video – videos that are taller than they are wide, thereby filling up a typical smartphone screen – one of the highest-demand forms of content on other apps." She says:
"I would encourage everybody to download their videos, because what we know is that vertical video is doing fairly well on different platforms. YouTube is putting a lot of investment into that. They're even paying content creators to do more of that … Reddit just added kind of a vertical video–esque element. We know that, at least, that type of content is working."
Similarly, AdRoll advises marketers to "ensure the content you're creating for TikTok could also be repurposed for other short-form video platforms, keeping in mind the differing content length limits and topic restrictions." Reels, for example, accommodates short videos of up to 60 seconds – much longer than TikTok's 15-second limit.
Given YouTube's nearly global reach, experimenting with YouTube Shorts might also be worthwhile.
Whatever happens to TikTok, this is the time to lean into customer engagement and to invest in building brand loyalty on social media platforms. An essential activity is providing incentives for your student audience to provide their emails. AdRoll elaborates:
"For example, create a TikTok campaign that encourages customers to go to your website or link in bio to sign up for your email list. This can be a simple message like, 'We love you all so much, we'd like to send you more content like this in our email newsletter …. You can also simply ask customers to follow you on other social media platforms where you have a presence, e.g., 'If you love what we post on TikTok, follow us on Instagram, too!'"
For additional background, please see: