Recruiting in the massive – and unique – international student market of Indonesia
Short on time? Here are the highlights:
Major destination countries are becoming much more active in recruiting in Indonesia
Regional destinations in Asia are also popular among Indonesian students
A significant segment of Indonesian students want a foreign degree but aren't interested in study abroad, while another important segment is attracted to options like the one-year master's in the UK – a short and affordable alternative
Close family ties are a defining feature of Indonesian culture and should not be underestimated in recruitment strategies
A new IDP report – as well as other research and on-the-ground reports from agents and in-country representatives – illuminates growing demand for study abroad in Indonesia and pinpoints strategies for recruitment success in the country.
Background
Indonesia is the world's 14th largest country and has the world's fourth largest population. What's more, it is the world's 10th largest economy by purchasing power parity (a measure used to compare the economic productivity and standards of living in different countries).
Indonesia has abundant potential for development and economic growth, but it faces the daunting challenge of being especially vulnerable to the effects of climate change due to its geography. As National Geographic reports,
"The north coast of Java is sinking, and the sea is rising. In Jakarta, a city of more than 10 million, as much as 40 percent of the land is below sea level."
As a result, while Indonesian students are – like so many of their peers in other countries – attracted to business studies and medicine programmes, the country increasingly needs climate adaptation and mitigation experts and specialists in land and water management.
The IDP report notes that producing more higher education graduates is central to Indonesia's future: 50% of Indonesians are under the age of 30 and only 7% of its workforce hold degrees.
Study abroad trends
Roughly 60,000 Indonesian students studied abroad as of the last UNESCO count (2019). Preferred destination countries are Australia, Malaysia, the US, Japan, and the UK. Canada also considers Indonesia to be a key target market.
IDP summarises Western destinations' top drawing cards like this:
"Indonesian students perceive the UK to have the highest quality of education, followed by the US and Australia. Australia fares best for the perception of the welfare of international students followed by the UK, while the UK is perceived as having the best post-study work visa policies closely followed by Australia and Canada."
Previous research has also found that Indonesian families are highly interested in knowing there are Southeast Asian and Indonesian communities on campus and focused on the welfare and happiness of their children. Close family ties are one reason that Indonesians consider intra-regional options for study abroad. Affordability is another.
Australia has an edge in this regard over other Western destinations: flying from Jakarta to Sydney takes about 7 hours. By contrast, it takes approximately 17 hours for students to fly from Jakarta to London, 18 hours to Vancouver or LA – almost always with connections required.
Here's a look at enrolment trends in major destinations according to IDP and other research:
Australia enrolled 22,445 Indonesians in 2019, 22,130 in 2020, and 19,420 in 2021 (a year in which Australia's borders were closed, massively limiting educators' ability to keep Indonesian students interested in waiting for borders to open). However, other sources count over 13,000 Indonesian students studying in Australian higher education institutions.
The US enrolled 8,300 in 2019/20, 7,489 in 2020/21, and 8,003 in 2021/22.
Canada enrolled 1,285 in 2019, 775 in 2020, and 1,585 in 2021.
The UK has enrolled more or less 3,000 Indonesian students for the past few years, and it is intent on enrolling more through transnational education delivered in Indonesia.
We have also reported on other countries claiming notable shares of Indonesian students over the past few years. In 2019, we shared the following data on Indonesian enrolments: Malaysia (10,400), Japan (3,615), Germany (2,395), Egypt (2,185), and Saudi Arabia (1,715). These numbers will have changed since then, but they give a sense of which countries are active in the market.
In terms of which regions of Indonesia's complex and sprawling geography recruiters should target, IDP says its counsellors recommended the island of Java "with the highest number from Jakarta, Surabaya, and Bandung."
Scholarships
The IDP report underlines the importance of scholarships not just for families who can only send their children abroad if they receive financial assistance, but also for families who do not need scholarships for this reason.
Jazi Jannati, an IDP Counsellor for the UK and Ireland based in Surabaya (East Java), commented:
"For some families where finances are not an issue, scholarships or partial scholarships are more than a financial consideration. They view it as a point of pride, and it often supports me as a counsellor to convert inquiries."
The Indonesia Endowment Fund for Education (LPDP) is a major deal for both foreign and Indonesian educators. This year, it will distribute approximately IDR120 trillion (almost US$8 billion) in funding for scholarships for Indonesians to study abroad and domestically. About a third of LPDP recipients are pursuing university programmes overseas. University World News highlights that easy interface of the endowment's website boosts applications:
"For undergraduate or postgraduate students who are about to complete their studies, gone are the days of tiring efforts to find research funding. Students now go to the LPDP website, create an account and upload the information required. If all goes well, their research proposal will be approved and, after a while, they get the money required."
Influenced by family values and desire to be together
There is definitely a segment of prospective Indonesian students who will be attracted by destinations' post-study work rights and opportunities for immigration, but there are two equally important segments:
Those who want to study abroad but also want to return home as quickly as possible;
Those who want a foreign degree but do not want to leave home.
Speaking with The PIE News, Putra Wangsa, CEO at Indonesian edtech platform Universitas123, said:
"Indonesia is not really a migration market. Small groups of students intend to stay on and continue working overseas, but most of the students, the self-funded students especially, they will come back."
Mr Wangsta noted that institutions with TNE initiatives in Indonesia have a competitive advantage: "By having some sort of establishment here in the country, [universities] can actually get more market share … Because for some students, the parents don't want to send the child so early. They like the model of one plus two or two plus one."
Just this month, the Indonesian government welcomed a delegation of UK universities to discuss a collaborative programme with local universities set to launch in 2023. There are just under 1,000 Indonesian students enrolled in UK TNE, but the goal is to increase this dramatically. UK TNE providers are also setting their sights on Nigeria, Vietnam, and Saudi Arabia.
The UK's international education champion Steve Smith said:
"We're not interested particularly in simply getting Indonesian students to come to the UK, we're much more interested in building capacity here, in partnership with local institutions, so that we can bring the quality of the UK education at a price point that doesn't require people to travel to the UK."
The British Council, for its part, has published a list of "50 leading Indonesian universities for international collaboration."
The UK has another competitive advantage in the form of its one-year master's programmes, which appeal to Indonesians interested in returning quickly to Indonesia after studies as well as those looking for affordability (i.e., one year's tuition is much easier on the wallet than two). IDP notes that students are attracted to the "UK's large South Asian diaspora in its big cities ... and students feel safe thanks to the diversity on campus and public places in general."
The following chart depicts IDP's real-time data indicating demand for top destination countries among Indonesian students. As you can see, demand is rising for programmes in the UK and US.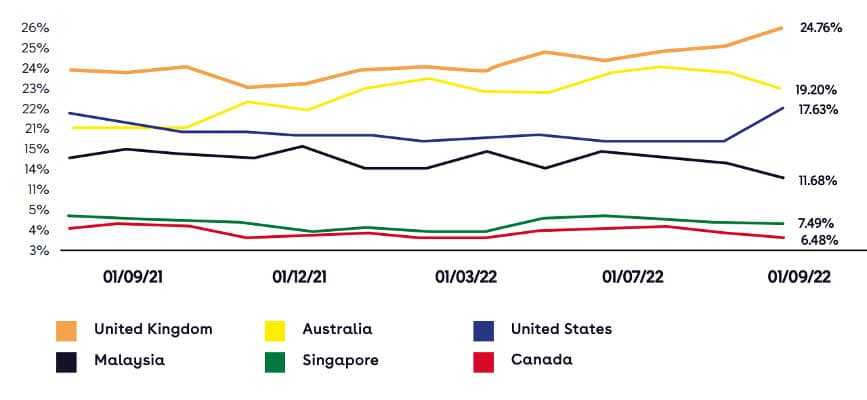 Tips for recruitment success
The IDP report includes these insights:
"Lower-income parents tend to want their children to study closer to home … destinations such as Australia, Singapore and Malaysia are therefore popular choices";
Having in-country representatives is important to Indonesian families who want a personal connection that they can trust to give them good advice in their own language;
Engaging previous or current students to "reassure prospective students that they will be happy studying in the prospective student's preferred destination and university" is a smart move;
"Many international Indonesian students are given responsibility to inherit family businesses, which may be a contributing factor to the high demand for Business and Administrative studies."
IDP concludes with this assessment: "To harness demand from Indonesia, institutions need to address what prospective Indonesian students value most: in-person engagement, showcasing a welcoming environment to international students (particularly those from South Asia), elevating alumni voices, and promoting high quality education, scholarship options and course granularity."
For additional background, please see: