European rental housing costs up 17% this year as crunch continues
Short on time? Here are the highlights:
The war in Ukraine, rising energy costs, and a spike in global inflation are combining for further increases in housing costs across many European cities this year
A recent analysis shows that a now-familiar cocktail of economic factors – especially rising energy costs and inflationary pressures – continue to drive up the cost of rental housing across Europe this year.
The HousingAnywhere International Rent Index report for Q3 2022 shows that the cost of rental housing has increased by 16.5% year-over-year.
"The unprecedented energy bills, the rising costs of living, and the ongoing rental price increases are challenging household budgets," says Djordy Seelmann, CEO of HousingAnywhere. "Governments are taking measures, such as capping energy prices and subsidizing energy bills. The question is whether this will distract policymakers from solving the structural lack of housing supply that affects rental prices across many European markets."
Mr Seelmann is describing a well-established trend that is impacting the housing choices of international students this year, certainly in Europe but also in North America and elsewhere. As we reported earlier this year, surging student demand has contributed to a supply crunch of affordable housing in many study destinations.
HousingAnywhere's analysis from earlier in the year came to the same conclusion, noting that in Q2 of 2022 "the revival of international mobility was considered the main driver for rising rental prices."
The pattern shifted in Q3, however, by which time other factors had conspired to place further upward pressure on housing prices, namely rising energy costs and a soaring annual inflation of 9.1%.
"The European housing crisis is no longer solely caused by supply shortages but exacerbated by current events in the world," explains a HousingAnywhere release. "The ongoing Ukraine-Russia war caused a severe energy crisis. Persistent inflation and rising interest rates are now also starting to have a real effect on real-estate prices."
As the following chart illustrates, the overall average increase across Europe obscures a more mixed picture from city to city. Quarter-over-quarter apartment rentals have spiked notably in some – such as Amsterdam (+18.3%), Lisbon (+10%), and Athens (+14.3%). But others showed a decline over the same period, including Helsinki (-6.5%), Brussels (-4.4%), and Paris (-5.6%).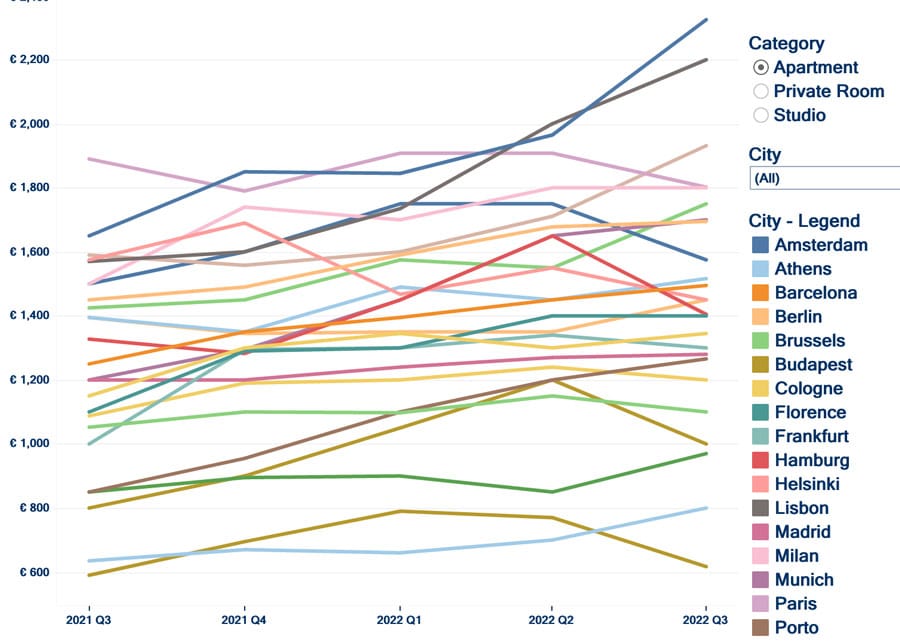 Looking ahead, the HousingAnywhere analysis projects further price pressures to come as student mobility and tourism continues to build after the pandemic.
"While international mobility certainly is not the main driver for the rising rental prices this quarter, as the peak in demand came earlier this year, its effects cannot be ignored either. The tension between supply and demand continued, as Europe is increasingly popular as a study and tourist destination. This is also due to a weaker Euro that makes the Euro area more affordable for internationals and non-EU citizens. As international mobility is still restoring to pre-pandemic levels, we can expect an even higher peak in the coming year, putting further stress on the European rental markets."
For additional background, please see: