Planning for international student recruitment in the 'new normal'
Short on time? Here are the highlights:
Panelists at a recent higher education event explored a number of important themes for recruiters, including a greater emphasis on digital channels, the continuing importance of face-to-face contacts, a greater emphasis on diversifying international student enrolments, and the expanded role of digital programme delivery
Looking forward, the panel agreed that higher education institutions would have to remain highly adaptable and agile in responding to changing market conditions
"The biggest change for us is the emphasis on who our students are," said Stuart Bannerman, Associate Provost Vice Chancellor International for the UK's London South Bank University. Mr Bannerman was speaking as part of a feature panel at the ICEF Higher Education event in Barcelona. The panel was moderated by Ian Cann, Director, Americas for ICEF, and included Marie Braswell, Director, Recruitment and Marketing at Saint Mary's University in Canada and Gabriel Canellas, Virtual Events and International Engagement Manager with Australia-based Torrens Global Education.
Digital lessons
In reflecting on lessons learned during the pandemic, the panel put the focus squarely on adapting to digital delivery and online recruiting challenges.
"We accelerated all sorts of things that probably would have happened anyway, but perhaps more slowly," said Mr Bannerman. "Very quickly, our new student body coming in is a digital body. Even our [domestic] students are spending some of their time in the virtual world. [The future] is not going to be so much about moving bodies around as it has been throughout my long career in international education."
Mr Canellas agreed, adding, "The virtual world is here to stay. We learned that we can deliver the same experience to students whether they are doing face-to-face, hybrid, or online."
"Not only did we have to find and attract students in different ways, using webinars, one-on-one meetings, and working all hours," said Ms Braswell. "But we needed our faculty and our leadership to be ready to adapt [to online delivery] if students were not able to get there in person."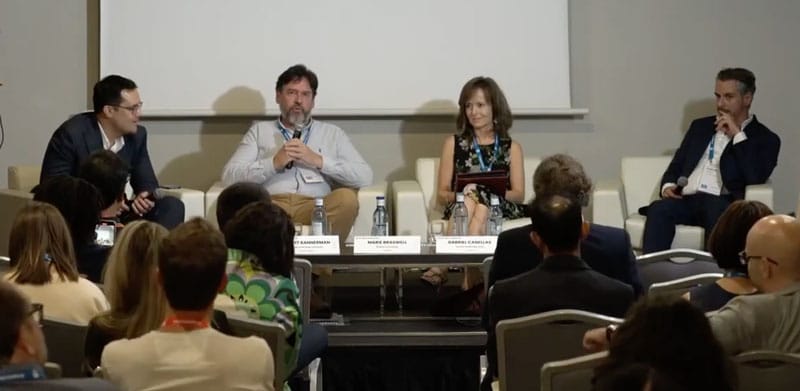 The new response time
We have been hearing it for some time, but more loudly than ever this year: students want fast and effective responses to inquiries and applications. In the most recent QS International Student Survey, 84% of prospective students said they expect to receive a complete and personal response to an enquiry within a week, while nearly one in five (18%) expect it within 24 hours. Similarly, nearly half of respondents (45%) want to know whether their application has been accepted within a week. It is clear as well that students expect more frequent and relevant contacts with institutions both before and after they are admitted.
Mr Bannerman concurs: "Student expectations have changed enormously. It used to be that we would get an email, and maybe send an offer to a student and there would be long periods of time where there wouldn't necessarily be much contact. But now through all of the communications platforms we have, you're now looking at 30, 40, or even 50 contacts with students before they arrive. The whole experience from a student point of view is much fuller than they would have had before. Their expectations are so high and we're all having to do more and more."
Face-to-face or virtual?
"The virtual life came to stay," said Mr Canellas. "There will always be travel and conferences that we do face-to-face. But we are going to continue to do hundreds of [agent] meetings online. We can't always be in the same place at the same time. We used to travel a lot because we used to think that meetings agents face-to-face was the only effective way and now we realize that that is not the case."
Ms Braswell explained how some marketing practices, initially adopted out of necessity during the pandemic, continue to prove their worth today. "We put in place a lot of joint webinars with our agents. That's still going and I don't see that ending. One of the benefits of this is that we are meeting and building opportunities in countries where we hadn't been able to travel before."
But she noted as well that her university's approach is more nuanced this year, with a balance of online events alongside in-person marketing efforts. "Students have a lot more capacity and a lot more comfort to come online and attend a webinar. Three, four, five years ago that didn't exist. But we also face a challenge of 'Zoom fatigue' where there are some markets, India is a good example, where students are just [not as enthusiastic about meeting online]. If I have ten competitors going in person and doing events and willing to meet with families in person, and I'm not there, I'm just online, then [I can't compete]."
Mr Bannerman saw the issue through a different lens, where digital channels could play a greater role in maintaining or expanding existing partnerships but where in-person contacts were still key to building relationships and new partnerships in particular.
"How much new business was generated through the virtual stuff and how much of that was maintenance?" he said. "I can't think of any new stuff that we have done virtually. We are launching five new partnerships this year but all of them were established through some kind of face-to-face contact at some point."
A sharper focus
All of the panelists agreed that data, and marketing analytics in particular, is key to international recruiting this year. A greater reliance on digital marketing channels along with better analytical tools means that recruiters can measure and track results more effectively. They can also be more responsive to market demand, to the point of targeting specific regions or communities where there are hot spots of interest for specific destinations and/or fields of study.
Partly informed by Brexit, this has translated in part into a shift away from EU markets and to greater focus on South Asia and Central Asia for London South Bank University.
"We're really working a lot harder in Africa, and are seeing a lot more interest in Southern Africa and Western Africa market," explained Ms Braswell. "South Asia has been consistently important but I don't see more growth there. We expect to see more growth from Mexico and Brazil as well as other Latin markets."
"It's all about diversification," she added. "There was a time when a high percentage of the students we were getting internationally were coming from China and Saudi Arabia, and that day is gone. We need to work with partners and work independently in countries that maybe we didn't consider before."
What's next?
There were a number of important themes in the panel discussion in terms of how the industry would continue to develop this decade. Some felt that institutions would come to rely on a smaller number of recruitment partners or channels for the bulk of their international enrolment. Others saw diversification as a key area of focus going forward.
Perhaps the area of greatest agreement in this respect was the need to continue to be adaptable and to be ready to change quickly in response to shifts in demand or other external factors.
"We need to keep innovating and keep reinventing ourselves," concluded Mr Canellas. "Late last year, we launched our own virtual events platform. We create events such as student fairs, and we just held an entrepreneurship forum where we invited alumni who are successful entrepreneurs to hold master classes. This has been working very well for generating leads, converting leads, and retaining current students at [the institution]."
"We're all aware that we live in a very delicate world. We have to be ready for what comes next."
For additional background, please see: