Most international students in the US want to stay after graduation but worry about getting a job
Short on time? Here are the highlights:
A recent survey of international students studying in the US found that most students are happy with their experience and want to remain in the US after graduation
However, the study also found a significant level of concern among students about their ability to get an internship and a job in the US
This sense of how difficult it might be to achieve career goals in the US seems to be affecting many students' estimation of whether studying in the US offers sufficient value for money
How are international students feeling about studying in the US? A survey-based research report for Interstride, "Is studying in the US worth it? International students on the "value" of their US education experience," written by Anna Esaki-Smith, the co-founder of Education Rethink, explores the question in the context of a global landscape in which students are considering more destinations than in the past.
The survey participants were 1,087 students from more than 100 countries studying at more than 125 institutions in the US. Just over half (56%) were studying at the graduate level, 34% were studying at the undergraduate level, and 9% were at the post-graduate level. Many of the students were in STEM fields at highly ranked universities. Ms Esaki-Smith suggests that these students' STEM orientation may be linked to their desire to participate in Optional Practical Training (OPT) to gain valuable work experience in the US. The survey was conducted in January 2022.
Top-level findings
The top-level findings of the research are that:
The main draw of studying in the US is the reputation of the country's colleges and universities;
Students are overall satisfied with their experience and would recommend it to other students;
More than 4 in 10 students wanted to stay in the US after graduation to work for a few years and another 3 in 10 wanted to work in the US for a longer period of time;
Less than a quarter of students said that their university career centre was the best resource for helping them achieve their career goals;
Students are less sure of the "value" of studying in the US, in some cases because they are not certain that once they graduate, they will be able to find a job in the US.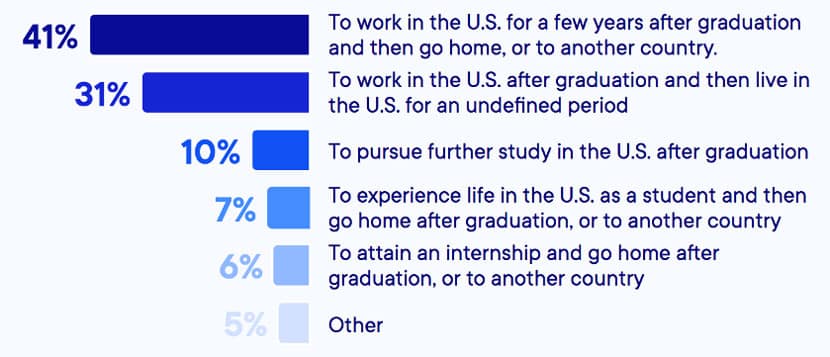 One of Ms Esaki-Smith's most salient observations about the findings is that the US's continuing prestige may not be enough of a competitive advantage to allow it to maintain market share among leading destinations:
"Sure, the US still has some of the world's most prestigious universities and offers an unparalleled campus experience. But considering today's career-focused students, is enough being done to help them realise their professional goals to offset high fees?"
She points out that students' decision-making is changing as their priorities have shifted:
"Pent-up study abroad demand is welcome, but that's not a sustainable strategy as we look ahead. Students and their families will soon refocus on assessing the tangible outcome of studying in the US and whether that perceived 'value' is enough."
Working in the US a goal for most
More than 4 in 10 (42%) students cited the reputation of colleges and universities as the reason they chose to study in the US, while 23% said a desire to work in the US after graduation was their main motivation. However, the research also found that many students have been disappointed to find out how difficult it is to get a job or internship in the US – and that this realisation is dampening their commitment to remaining in the US after graduation.
For example, 34% of students said they did not feel prepared to explore a career in the US, lower than the 46% who said they were but still a significant proportion. When the segment of students who said they were not prepared was asked why they felt that way, the top reasons were how hard it was to get a job or internship and "how little is known about how to get CPT, OPT, and work visas."
Relatedly, when asked about the most significant obstacles they are facing, students were most likely to mention "the reluctance of US employers to hire international students in lieu of domestic graduates, or in terms of providing necessary sponsorships."

Ms Esaki-Smith writes,
"It may be advisable for those involved in recruitment and marketing to more clearly articulate to potential recruits the professional challenges they are likely to face in the US, and for universities to provide more support, on-the-ground, once students are actually on campus."
Other findings revealed that students aren't using universities' career services centre to their fullest extent and are instead relying on their own resourcefulness, networking, and connections. Ms Esaki-Smith considers this an area in need of improvement and associates it with a lack of attention to supporting students post-admission:
"While career services are generally well-regarded by our surveyed students, there don't appear to be distinctive areas of deep expertise that students can tap to help their career journeys – perhaps reflective of the many silos in the higher education system that preclude our ability to properly support international students, post-admission."
Potentially fragile "value proposition"
Higher education in the US is generally much more expensive than in most other destinations, and students who choose the US accept that cost in the expectation that the return on investment (ROI) in terms of career and income targets will be worth it. However, the research found that only about half of surveyed students (49%) currently studying in the US thought that the value of a US education justified the cost. Roughly 3 in 10 (29%) said it did not, and another 22% said they weren't sure.
Top recommendations
The report concludes with a number of recommendations for US educators, including the need to:
"Engage more actively with international students to raise awareness of career services;
Manage the expectations of students when it comes to the reality of getting a job in the US;
Build upon students' existing positive attitude towards the US study experience by providing both emotional and professional support;
Develop closer relationships with US employers that could potentially hired international graduates."
For additional background, please see: