International student numbers in Canada rebounded close to pre-pandemic levels in 2021  
Short on time? Here are the highlights:
New data shows that the number of international students going to Canadian education institutions in 2021 was nearly as high as in 2019, the year before the pandemic
Fewer Chinese, South Korean, and Vietnamese students are travelling to Canada for their studies, but Canadian educators are receiving increasing numbers of students from a wider range of countries and regions including Europe and Latin America
The number of Canadian study visas issued to international students in 2021 is down only by 2.6% compared with 2019, representing a robust recovery for the sector
The number of international students in Canada rebounded significantly in 2021, with a 17% increase over the previous year that effectively offsets the 17% decline from 2020. According to new Immigration, Refugees and Citizenship Canada (IRCC) data, 621,565 study visas were held by international students attending programmes of at least six months' duration in 2021 – almost as many as before the pandemic in 2019, when 638,380 students received study visas.
Overall, there are clear indications that Canadian educators are making progress in diversifying their international enrolments at the same time as the number of Chinese students in Canada has been declining.
Fewer Chinese, South Korean, and Vietnamese students
The growth in visa numbers came from a wide range of student markets around the world. China remains the second-largest sender of students to Canada, but it sent 9.6% fewer students in 2021, amounting to 105,265 study visas. The drop in Chinese students in Canada began in 2019 with a very small year-over-year dip but it has accelerated since then in large part because of the pandemic. Other factors also appear to be at play. Chinese universities continue to rise in world rankings (including those focused on graduate employability) and Chinese employers are ever more interested in hiring graduates from elite institutions in their country. Both factors offer compelling reasons for Chinese students to remain in China for higher education.

Chinese enrolments are flattening or declining in other leading destinations as well – the UK saw 5% fewer Chinese commencements in 2020/21 and in that same year, Chinese enrolments in the US declined by 15%.

Two other important Asian markets, South Korea and Vietnam, sent fewer students to Canada in 2021. Numbers from South Korea declined by 12.7% from 2020 for a total of 15,805 – significantly lower than in 2019, when 24,100 study visas were issued to South Koreans. And 13.6% fewer study visas were issued to Vietnamese in 2021 (16,285) compared with 2020. In 2019, 21,490 visas were accounted for by Vietnamese students.
Strong growth from India but also from emerging markets
The Canadian government issued 217,410 study visas to Indian students in 2021, up 21% over 2020 and making India the clear leader among sending markets. While this number dwarfs those from other source countries, Canadian institutions are nonetheless attracting a significant number of new enrolments from an expanding list of countries and regions.
For example, the number of study visas awarded to students from the Philippines rose by 115% in 2021 compared to the previous year for a total of 15,545, and study visas issued to Nigerians increased by 30.2% for a total of 13,745.
The following table illustrates the major growth stories for Canadian enrolments in 2020, which are spread across Asia, Europe, Africa, and the Americas. One-third of the markets contributing significantly more students are countries whose students are eligible for the Student Direct Stream (SDS), a Canadian government programme that allows eligible students from certain priority markets to access streamlined visa processing, which provides further evidence that smoothing visa application processes can play an important role in boosting international enrolments.
In the table, we have also included information on 2019–2021 percentage growth to provide a longer-term perspective. With only one exception (India, where numbers were stable), growth over the two years was significant across all markets in the table.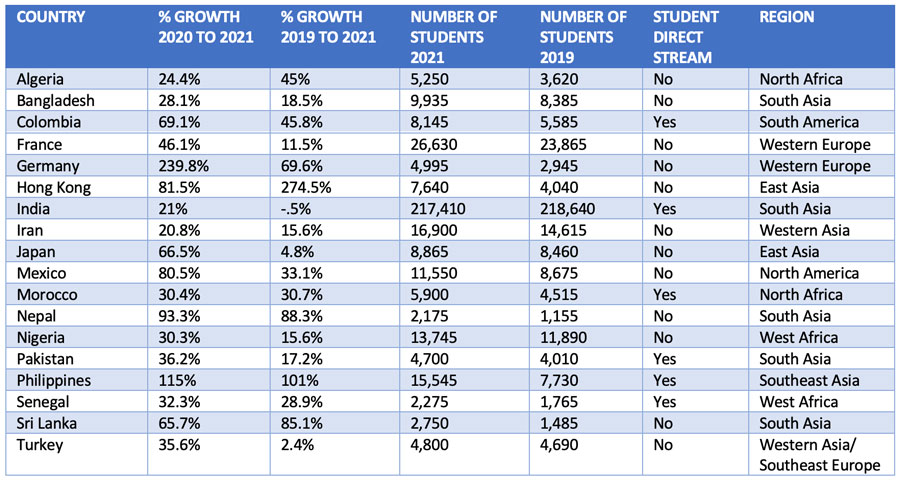 Europe and Latin America increasingly promising
Interestingly, some of the most notable growth for Canada came from Europe. France, Canada's #3 sending market after India and China, grew significantly in 2021 (up 46% to 26,630), and 240% more study visas were issued to German students in 2021 compared to the year before. It is possible that students from Europe are increasingly considering alternative destinations to the UK since Brexit and the loss of home-fee status. The idea gains traction given that the data also shows that the number of students from smaller European markets for Canada – including Belgium, Austria, Bosnia, Denmark, Italy, and Spain – more than doubled between 2020 and 2021.
The table above includes only markets sending more than 4,500 students – but there are also interesting trends to be observed in (currently) smaller Latin American markets for Canada. For example:
Bolivia: Up 152.6% (from 95 to 240)
Chile: Up 132.6% (from 660 to 1,535)
Peru: Up 112.9% (from 890 to 1,895)
Top 10 markets for Canada in 2021
Students from the following countries accounted for the largest numbers of study visas in 2021. Overall, the year saw significant growth from seven of these markets, notable decreases from China and South Korea, and stability from Brazil.
India: 217,410 (y-o-y +21%)
China: 105,265 (-10%)
France: 26,630 (+46%)
Iran: 16,900 (+21%)
Vietnam: 16,285 (-14%)
South Korea: 15,805 (-13%)
Philippines: 15,545 (+115%)
US: 14,325 (+14%)
Nigeria: 13,745 (+30%)
Mexico: 11,550 (+81%)
Brazil and Bangladesh fell just outside of the top ten sending markets for 2021 with 11,120 and 9,935 study permits held by Brazilian and Bangladeshi students, respectively. Brazilian numbers were stable from 2020 to 2021 while there was growth of 20% from Bangladesh.
For additional background, please see: