Report sets out recovery framework for New Zealand schools
Short on time? Here are the highlights:
K-12 schools in New Zealand continue to adapt to the reality that international students will not be able to return until some point next year
A new report reveals that many are having trouble holding on to international staff and maintaining connections to education agents
The report identifies digital channels, remote recruitment, pathway provider partnerships, and sectoral collaboration as strategies for rebuilding the sector
As in Australia, New Zealand's schools and universities have seen their ability to recruit international students badly disrupted by continuing COVID-related border restrictions. While no clear timeline has been set, the government continues to signal that the current border closure will continue into 2022. As of April 2021, the number of visa-holding international students in New Zealand's K-12 schools had fallen to roughly 5,150.
A new report, "An approach to international business recovery planning for Aotearoa/New Zealand schools," explores these challenges and suggests that:
The post-pandemic rebuild of international recruitment in the country's K-12 schools will require a greater emphasis on digital marketing and sectoral collaboration;
Not all schools are in a position to continue recruiting international students at this point.
The report was commissioned by peak body Schools International Education Business Association (SIEBA) and produced by industry consultancy Edified. It relies in part on a March 2021 "Recovery Readiness" survey of 250 international directors and school principals across New Zealand. Not surprisingly – given the prolonged border lockdown – the research found that,
"Many schools no longer have any international students, and international department staff have faced budget cuts, redeployment or job losses. A substantial loss of sector expertise is predicted over 2021 and 2022."
The report notes the unenviable position of schools attempting to plan recovery strategies:
"Schools are being asked by the Government to be 'ready to go' and to have the ability to scale up quickly when borders do open. At the same time, schools are having to make the difficult financial decision to let international staff go and lose expertise as a consequence."
The continuing challenges for the sector are summarised in the following graphic from the report: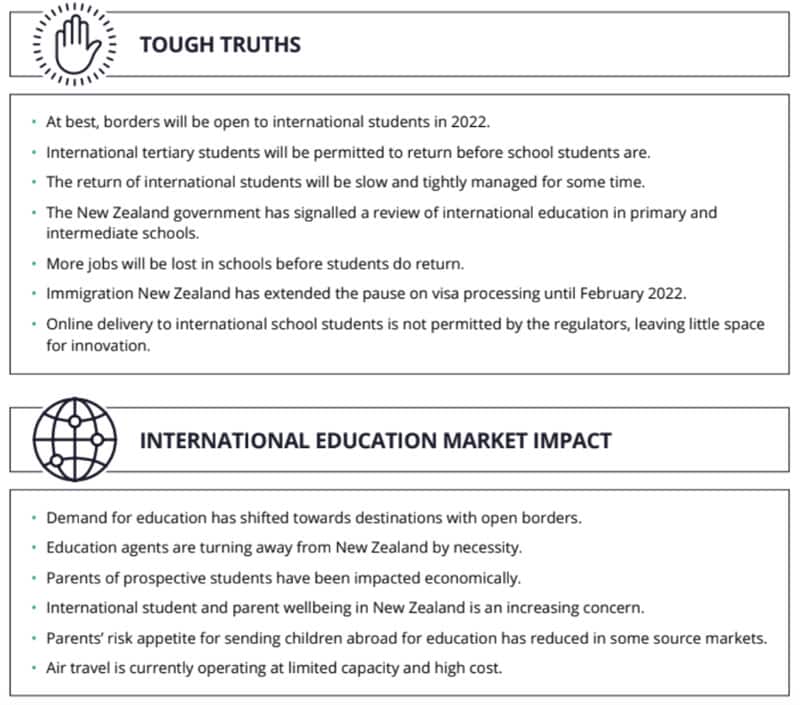 Report avoids a "one-size-fits-all" approach to recovery
The report focuses on providing a "flexible and adaptable approach" for recovery planning for K-12 schools "within what remains a volatile pandemic situation" – a volatility stemming not only from the continued threat of COVID but also the government's reluctance to set any timeline for students being able to return in significant volumes. Despite the uncertainty, the report urges schools to at least be thinking about what they will do when borders do reopen:
"The call to action is in planning for a medium-term horizon to build capability and invest in what is required to prepare schools to be ready to restart their international education programmes."
As they debate the future of their international activities, schools are encouraged by SIEBA to consider different "narratives" that fit best with their operations and mindset. These narratives are "Return," "Rethink," and "Reimagine." The Return narrative involves a desire to return to a pre-COVID state of activities and recruitment, while Rethink and Reimagine narratives rely more on an embrace of digital and remote opportunities, sectoral collaboration, and providing excellent and "world-leading" experiences for international students.
Rethink and Reimagine mindsets dovetail more easily with the reality of (1) uncertainty around when New Zealand's borders will reopen as well as (2) a stated government priority – even before COVID – of "planned rebalancing." A couple of years ago, Education Minister Chris Hipkins summarised that position as "a shift from international education as a revenue generating export industry to one that incorporates domestic students, boosts global skills and enriches our country socially and culturally."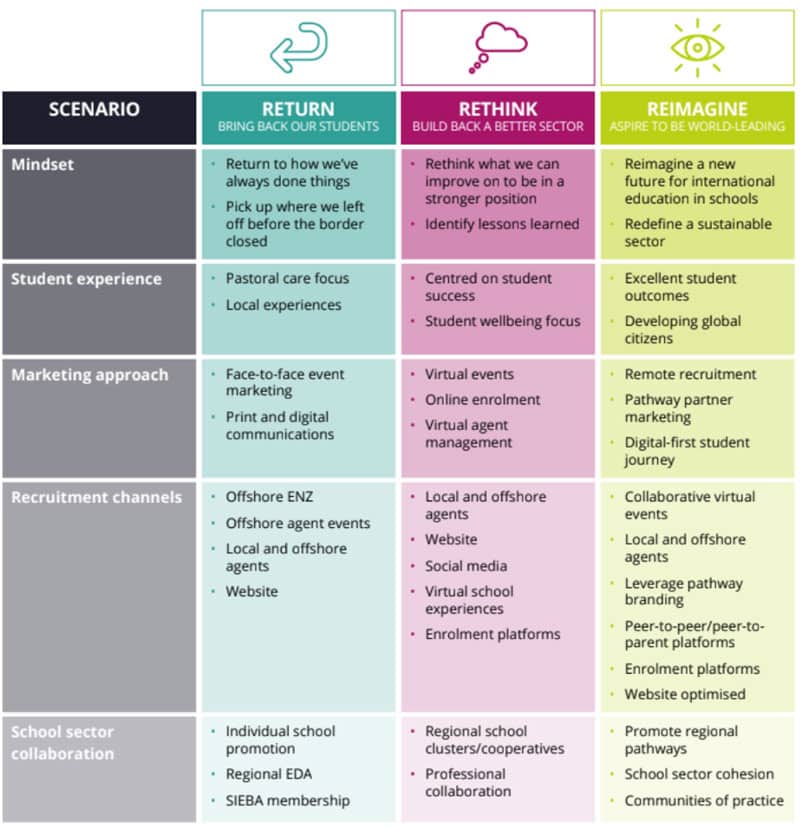 Jobs and partnerships in jeopardy
Whatever narrative they end up following, New Zealand's schools are currently facing tremendous practical realities.
The Recovery Readiness survey found only 38% of responding directors and principals said they could retain all their current staff if borders open by February 2022. Projections become grimmer with every month after that: only 21% said they could keep all staff on if borders don't reopen by July 2021. Nearly 4 in 10 larger K-12 schools estimate that they will have to cut international staff numbers by 50% if borders don't reopen by July 2022.
Survey respondents said that agents have been crucial partners in recruitment efforts prior to COVID, but many are feeling hard-pressed to maintain their agent relationships. Four in 10 respondents (41%) said that they have lost some agents.
The research found that regular social media marketing was mostly a channel used by larger schools; close to a third of smaller schools were using social media as a recruitment channel. The need for improved digital recruitment efforts and expertise was broadly regarded as essential: nearly three-quarters believe it will be a core element of their marketing going forward.
Pause or opt in?
As "ready to go" as many of New Zealand's schools would like to be when their country's borders reopen to international students, it is likely that only some will be able to manage the wait. Only some– mostly larger schools – will have the budget and capacity to continue to recruit international students, at least in the short to medium term.
The SIEBA report acknowledges that not all schools are in a position to maintain international recruitment at this time by offering two scenarios: "(1) opt in and commit to the road to recovery, or (2) pause international education until the future path is clearer." In other words, "hibernate."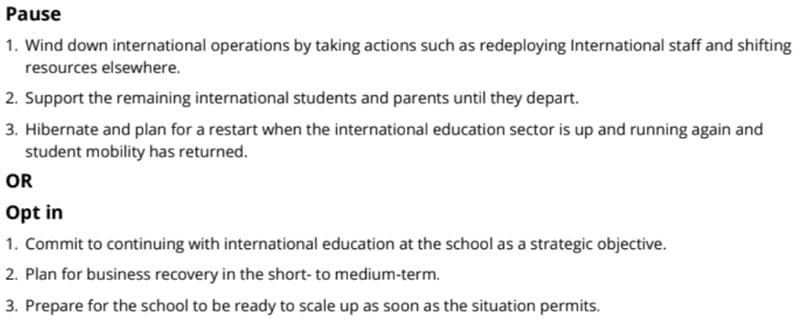 For additional background, please see: