Short on time? Here are the highlights:
Under a newly approved student arrival plan for South Australia, a dedicated quarantine hub in Adelaide will host up to 160 students at a time
The state expects to begin accepting students in August 2021
Another quarantine hub proposal for New South Wales is in the final stages of review
WHO says countries such as Australia with COVID elimination strategies may need to vaccinate more than 80% of population for safe border reopening
A new "quarantine hub" in South Australia that will accommodate up to 160 international students has been recently approved by the Australian government and is expected to become operational in the second half of 2021. This will mark the first formal safe arrival programme for an Australian state (other than some earlier, limited pilot initiatives). A separate plan to bring back students to New South Wales (NSW) is expected to be approved shortly as well.
There are currently 10,000 international students enrolled in South Australian higher education institutions who are studying outside of the country. In 2019, international students contributed over AUS$2 billion to the state's economy.
State Premier Steven Marshall confirmed the approval of the South Australian programme, saying he was hopeful students could begin returning in small numbers in August 2021. He noted how important international students are for jobs in the region:
"International students add so much to South Australia's multicultural fabric along with the clear economic benefits for our CBD and our state overall, with every three students leading to the creation of one job — in 2019, almost 20,000 jobs were underpinned by international education, which is massive for our state."
Premier Marshall assured South Australians that every safety precaution will be taken:
"The health and safety of South Australians is our number one priority. There is still more work to be done with the Commonwealth and education providers but it's important to note that Professor Spurrier and her team at SA Health, along with South Australia Police, have been central to the formation of the plan, which meets all the necessary protocols required by the Federal Government."
Conditions "ideal" for safe quarantine
Education Minister Alan Tudge said the South Australia hub, which is to be based at Parafield Airport (in Adelaide's northern suburbs), met government standards and "won't take any quarantine places from Australians returning home"; returning students will be outside of overall "caps" on returning travellers for the state.
Institutions and students will be responsible for the costs of flights and quarantine. Incoming students will quarantine for 14 days and take daily COVID-19 tests.
South Australia's Chief Public Health Officer Nicola Spurrier, who first approved the plan in May, said the quarantine facility is "ideal":
"It is single ground floor units, there's no corridors basically, so it's very well ventilated … it's ideally set up for a student cohort because that's actually what the facility is normally used for."
NSW approval expected soon
Phil Honeywood, CEO of the International Education Association of Australia (IEAA), welcomed the news, tweeting that a pending New South Wales proposal, which aims to bring back 250 international students to Sydney every two weeks "from mid-year", is also expected to be approved. Two in five (38%) international students who come to Australia choose to study in NSW.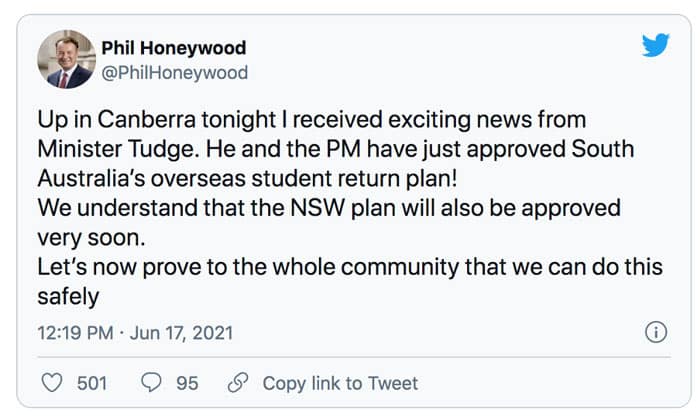 Hope that more students can resume studies
Catriona Jackson, Universities Australia's chief executive, welcomed the announcement, saying that,
"It demonstrates what is possible when health authorities, government, industry and our universities cooperate in achieving the safe return of students from low-risk nations – without taking spaces from Australians wanting to return from overseas."
The only other initiative to bring international students back to Australia in the pandemic was in November 2020 when 63 students successfully returned to study in the Northern Territory.
Ms Jackson hoped that the South Australia plan can serve as a blueprint for welcoming back many more students to other parts of the country:
"We want to welcome them back as quickly as possible so they can join their Australian classmates on campus. We hope to see more states and territories go down the same path as South Australia in the near future."
Travel bubbles under discussion
In a related development, the government is also considering launching pilot programmes to bring fully vaccinated international students back according to a "Green light/Red light" border protocol.
Prime Minister Scott Morrison has indicated that compatible vaccination recognition systems would have to be in place to be able to set up travel bubbles with countries such as Singapore, Japan, and South Korea (which also have COVID elimination strategies in place). He also cautioned that pilots would not be set up until there is more understanding of the spread of COVID variants and how well vaccines protect against them.
Australia and New Zealand face unique challenges
The Australian and New Zealand governments' COVID-elimination strategies have been very successful in reducing the impact of COVID on their citizens. China, Cambodia, Iceland, Taiwan, Vietnam, Japan, Korea, Laos, and Thailand are other countries who have opted for "zero-COVID" approaches. But now, scientists say that significant challenges will be present for these countries as they work towards opening their international borders. Dr Mike Ryan, WHO's head of public emergencies, told a virtual news conference from Geneva,
"It is a difficult decision now for many countries who've managed to keep their very low- or zero-COVID strategies in place for so long to open up again, with the probability that disease will be re-imported from other countries in which the disease is not under control."
To be able to counter the risk, Mr Ryan said, "north of 80%" of populations in countries with elimination strategies would need to be covered.
Sydney Morning Herald columnist Latika Bourke writes,
"That means at least 32 million doses of vaccine would need to be administered in Australia, given Prime Minister Scott Morrison has said that 40 million doses are required to fully vaccinate the adult population. Currently, just 5,076,413 million doses have been administered."
For additional background, please see: