Short on time? Here are the highlights:
The two global travel organisations have collaborated on a new monitoring service that will track COVID indicators, travel restrictions, and public health measures in destinations around the world
The UN World Tourism Organization (UNWTO) and the International Air Transport Association (IATA) have released a Destination Tracker tool to help guide governments, organisations, and travellers as to the rapidly changing landscape of travel restrictions, local public health measures, and COVID conditions for destinations around the world.
UNWTO and IATA have collaborated on the Destination Tracker in a bid to restart international travel and to "to boost confidence and accelerate recovery of the tourism sector when borders reopen."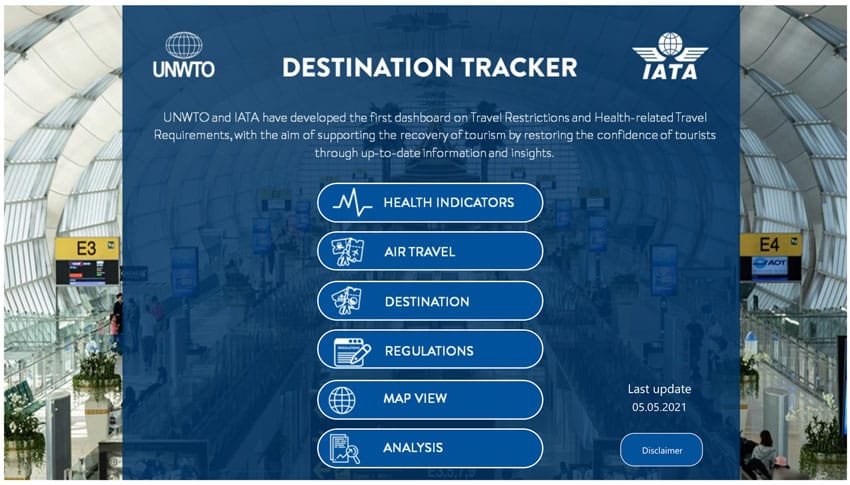 "The situation for travellers is complex with UNWTO data showing that one in three destinations remains closed to tourists," say the two organisatons. "Moreover, restrictions and in-country measures are continuously being revised."
The new Destination Tracker is available for reference on both the IATA and UNWTO websites. It will provide detailed information for each destination, including:
COVID-19 indicators including infection rates, positivity rates, and the progress of vaccination rollouts;
Air travel regulations, including test and quarantine requirements;
Public health measures, including general health and safety requirements such as use of masks, transit through a country, curfew, and regulations related to restaurants and attractions.
"It has been more than a year since the freedom to travel was lost as COVID-19 measures saw borders close," said Willie Walsh, IATA's Director-General. "When governments have the confidence to re-open borders people will be eager to travel. And they will need accurate information to guide them. With the support of national tourism organisations, the UNWTO-IATA Destination Tracker will help travellers and travel companies obtain the latest information for travel planning,"
With continuing border closures and other restrictions still in place, the UNWTO has otherwise projected a slow recovery in 2021. Under even its most optimistic scenarios, global travel volumes would still be less than half of 2019 levels.
UNWTO Secretary-General Zurab Pololikashvili said in the context of the most recent forecasts, "2020 was the worst year on record for tourism. The international community needs to take strong and urgent action to ensure a brighter 2021. Many millions of livelihoods and businesses are depending on it. Improved coordination between countries and harmonised travel and health protocols are essential to restore confidence in tourism and allow international travel to resume safely ahead of the peak summer season in the northern hemisphere."
For additional background, please see: