France: Further foreign enrolment growth in 2019/20 before COVID's impact
Short on time? Here are the highlights:
There were 25% fewer new international students enrolled in France's higher education institutions in 2020
However, total international enrolments were up by 3.4% in 2019/20, the last full academic year before the pandemic
A promotional campaign, Bienvenue en France, is aiming to convince international students that there's never been a better time to study in France
Data show that African markets are becoming increasingly important for France's educators at the same time as some Asian markets are cooling off
The number of new international students in France fell by 25% in 2020 as the pandemic took hold. But before COVID total international student enrolments grew by 3.4% year-over-year in 2019/20 to reach a new high of 370,052. International students now make up 14% of all students in France's higher education institutions, rising to 21% in the country's prestigious Écoles de commerce.
If we look more broadly at the five years leading up to 2020, the number of international students in France has increased by 23% overall. While this is significant growth, it is lower than increases reported by some competitor destinations. Canada, which was the fastest-growing global study destination over that period, saw growth of 80% in the five years leading up to the pandemic.

Decline could have been more pronounced
The 25% decline in commencements is measured according to the number of new international students who received a study visa to enrol in a French higher education institution in 2020. Deferrals from students who had intentions of coming to France but who decided not to/could not come due to COVID no doubt played an important role in this decline.
Campus France notes that the drop in commencements could have been worse had it not been for a campaign entitled "Bienvenue en France!" supported by the French government and many education stakeholders both in the country and overseas. This campaign has emphasised that even in the pandemic, international students are welcome in France. International students are encouraged to apply to French education institutions through a streamlined visa processing site (Study in France), and overseas consulates provide as much assistance as possible in facilitating visa applications. As in Canada and the UK, international students and researchers coming to France have been exempt from border restrictions through much of the past year.
Campus France has also been the hub for a suite of welcoming videos aimed at convincing international students that studying in France is an excellent choice during the pandemic. The video messages emphasise that international students have a strong role to play in France's scientific response to COVID and issue a call especially for researchers to come to France. As we note further on in this article, France's doctoral programmes are heavily reliant on international enrolments but have seen decreases in the number of foreign students enrolled in them since 2014.
Top 10 sending countries
The number one student market for France remains Morocco, which represents 12% of all international students in France and which has grown by 24% over the past five years to 43,464. In second place is China (29,731), which is not growing (0%). China will likely soon be displaced by third place Algeria (29,527), which is now sending 39% more students to France than it did five years ago.
China is not the only Asian market that is not growing for France: Vietnam and Japan have fallen off by -1% and -11% compared with five years ago. However, a coveted market for all major destinations, India, is now sending 139% more students to France than in 2014.
Otherwise, the top 10 student markets for France in 2020/21 are Italy, Senegal, Tunisia, Ivory Coast, Spain, Germany, and Cameroon.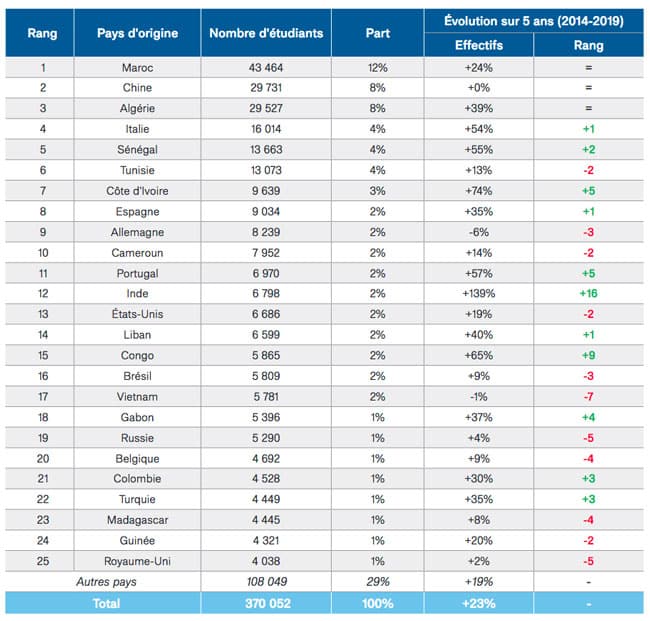 Growing demand from Africa
International student applications to French higher education institutions for the 2020/21 school year increased from all regions except for Asia-Oceania. Students from a key target region for France – Sub-Saharan Africa – submitted 19,200 more applications in 2020/21 compared with 2019/20. Applications growth was driven especially by gains from Senegal (+40%), Congo (+39%) and Benin (+34%). Some key markets sent fewer applications, however, including Algeria (-27%) and Tunisia (-17%).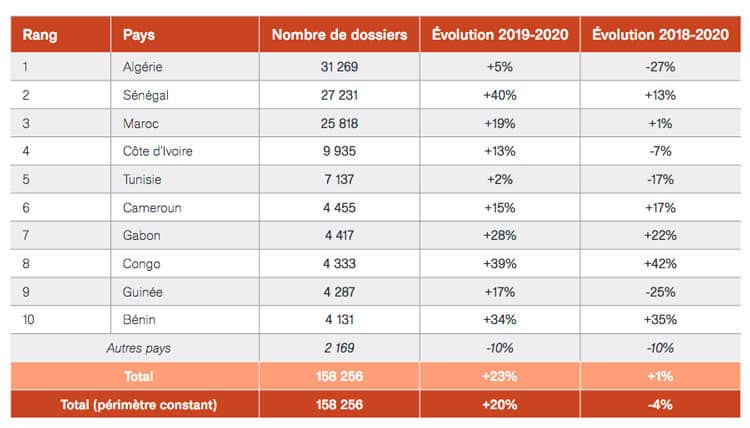 Along with applications from Asian students falling, the number of visas issued to Asian students decreased by 60% in Asia for the 2020/21 school year. The number of Chinese and Indian students on French study visas fell by 58% and 55%, respectively.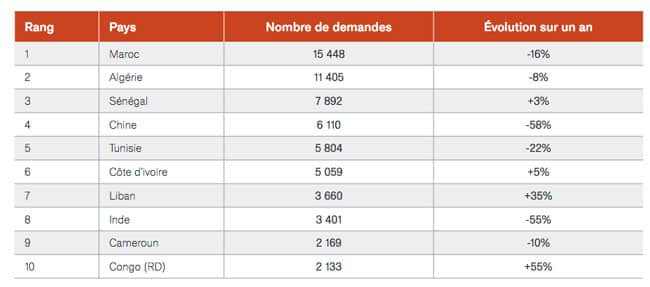 Écoles de commerce increasingly popular
The majority of international students in France are enrolled in universities (249,303), but universities are increasing their international enrolments more slowly than other types of institution, especially at the master's and doctoral levels. The rate of growth in international enrolments for universities for the past five years is 14%, with licence (bachelor's) programmes growing by 27% and master's by 7%; doctoral programmes are down by 10%. The doctoral decline is worrisome given that 41% of students in France's doctoral programmes are international.
By contrast, there are now twice as many international students in the Écoles de commerce (42,599, up 101%) as there were five years ago.

Écoles de commerce are especially popular among Asian students, who compose nearly a third of their international enrolments. They are also much in demand by students from Ivory Coast (up 241% over five years) and Tunisians (up 150%).
Écoles d'ingenieurs (engineering schools) are also attracting many more international students than in 2014 (up 22%). Moroccans account for 1 in every 6 international students in these institutions, and there are also growing numbers of Libyans, Iranians, and students from Ivory Coast in Écoles d'ingenieurs.
In terms of preferred subjects, international students are increasingly drawn to science programmes (up 26% since 2014) as well as health studies (up 18%).
Strengthening market position for the future
Many experts predict that the policy positions of the world's top study abroad destinations during the pandemic will have a profound and lingering effect on their appeal to students after the crisis is over. The governments of Canada, the US, the UK, and New Zealand have adopted different approaches to the question of whether international students can cross their borders in 2020 and this year, but in general, all have been more restrictive than France either through the crisis or during certain months of it.
It appears that France's international educators have the support of their government in attempting to increase their market share of international students even as the country battles another wave of COVID. Along with the videos and marketing messaging we noted earlier, two other examples are:
A growing number of English-taught courses in France (1,600+), which present a field of options for international students who do not want to study in French but who are attracted to France and its relatively affordable tuition fees.
France's heavy investments in Africa: As Campus France notes, "France is also expanding the offerings of its educational institutions abroad in the form of new overseas campuses and joint programs, particularly in Africa (Tunisia, Senegal, Côte d'Ivoire). The Partnership for African Institutions, financed by the French development agency and with the cooperation of Campus France and France's national research agency, is designed to increase cooperation between French and African institutions and to offer academic programs tailored to local contexts, particularly the needs of the labor market."
For additional information, please see: