International student enrolment in the US fell by nearly 18% in 2020
Short on time? Here are the highlights:
The latest data from the US government reveals that foreign enrolment declined by 17.9% in 2020 compared with 2019
New international enrolments fell by 72%
The pandemic's impact on enrolment really took hold in August of 2020, when the number of new F-1 visa-holders fell by 91% and M-1 visa-holders by 72%
A new report from the US Customs and Immigration Student and Exchange Visitor Program paints a clear picture of the impact of COVID on international enrolment in the US.
Not surprisingly, given that almost all of 2020 was spent in the grip of a pandemic, the picture is one of greatly decreased enrolments last year, with 17.9% fewer students holding M-1 and F-1 student visas. M-1 visas are for students in vocational studies while F-1s are for those in all other programme areas. In total, SEVP's Student and Exchange Visitor Information System (SEVIS) held 1.25 million records for students on both F-1 and M-1 visas in 2020.
That steep decline during the pandemic year follows a few years of softening foreign enrolment in the US. 2019 had also seen a decline in foreign student numbers, but a far more marginal one of only 1.7%.
All schools in the US that are allowed to accept international students have been SEVP-certified, and all visa-holding students must be registered in SEVP's web-based records-holding system (SEVIS), so SEVP data represent a highly accurate count of international students with US study visas.
SEVIS-registered students are enrolled in primary and secondary schools, higher education, and practical training programmes related to their degrees. The vast majority (86%) are enrolled in higher education programmes at the associate, bachelor's, master's, or doctoral levels.
Sharpest declines in August and September
A dramatic drop in international commencements was the most significant factor affecting overall enrolment in the US last year. There were 72% fewer new international students in schools in 2020 as a result of drastic decreases in new enrolments in August and September.
In August alone, new international students on F-1 visas fell by 91% and those on M-1 visas fell by 72%. The effect of COVID is very apparent in the August/September intake since the pre-pandemic January 2020 intake had been comparable to enrolment levels from January 2019.
Beyond those top-level numbers, notable decreases happened in specific sectors of US education:
Schools enrolling younger international students (K-12) saw enrolments fall by a quarter (24.6%). Of note here is that China accounts for 44% of all international students in US K-12 schools.
Optional Practical Training (OPT) enrolments fell by 12% (compared with a decline of 4% in 2019).
The number of international students enrolled in associate degree programmes fell by 19.9%, in bachelor's degrees by 13%, in master's degrees by 16%, and in doctoral programmes by 4%. Together, bachelor's and master's degree programmes enrol 76% of all degree-seeking international students in the US, while doctoral programmes account for 16%.
Decreases across all sending regions
Not surprisingly, the declines reported for 2020 were distributed across all global sending regions.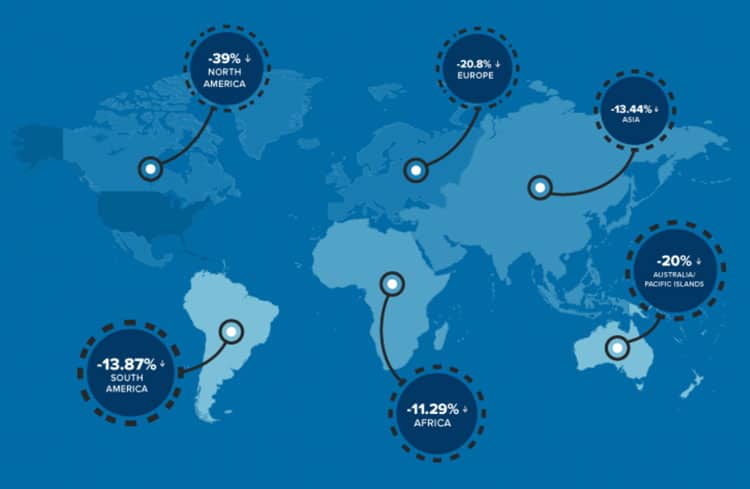 And enrolment declines were reported for all leading sending markets as well, including:
Nigeria, the most important African market, sent 10.9% fewer students than in 2019 for a total of 17,237 students in 2020.
The top two sending countries for US institutions, China and India, sent 91,936 (-19.4%) and 41,761 (-16.8%) fewer students in 2020, respectively. In 2019, the declines from these countries were a relatively modest -4,230 and -2,070 respectively.
Other key Asian markets also sent fewer students, including South Korea sending 18.9% fewer students and Japan sending 10,897 fewer students (-29.3%). Asian students continue to make up the lion's share of international students in the US: 74% of the total.
Saudi Arabia, the fourth largest sender of students, sent 15,244 fewer students (-28.6%).
European countries sent 20.8% fewer students in 2020, and the two most significant markets from this region, Germany and France, fell by 28.5% and 24.1%, respectively.
The top ten sending countries for the US for 2020 are summarised in the table below.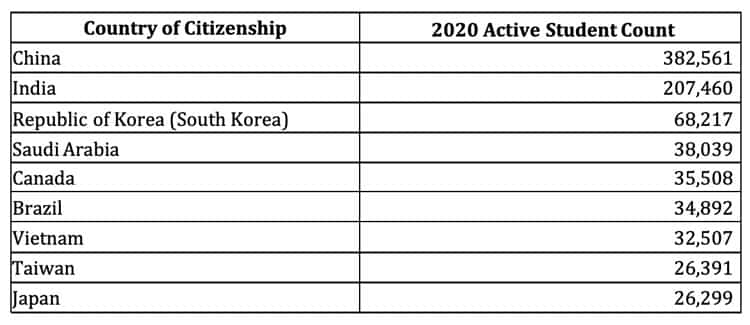 For additional background, please see: