Short on time? Here are the highlights:
A global survey reveals that many believe that online and hybrid learning will play a much greater role in higher education in the years ahead
Globally, one quarter of adults believe that higher education in their country will be conducted entirely or mostly online five years from now. Another half expect that higher learning will mostly take place via a hybrid model that combines online and in-person learning.
These are among the top-line findings of a recent survey conducted by Ipsos and commissioned by the World Economic Forum. The survey ran over October and November with nearly 28,000 respondents from 29 countries.
Online or in person?
Expectations vary considerably from country to country as to whether higher education will be delivered primarily online or in person in 2025.
At the higher end of the scale are Saudi Arabia, India, South Africa, Malaysia, and Australia. Roughly a third to a half of respondents from each of those countries expect that higher education will mostly (or entirely) be delivered online five years from now. Most respondents from Mexico, Russia, China, Argentina, Peru, Japan, South Korea, and Chile said they thought that teaching and learning would mostly take place in person.
As an accompanying note from the World Economic Forum points out, "The majority think the split between online and in-person learning that's come about during the COVID-19 pandemic is here to stay."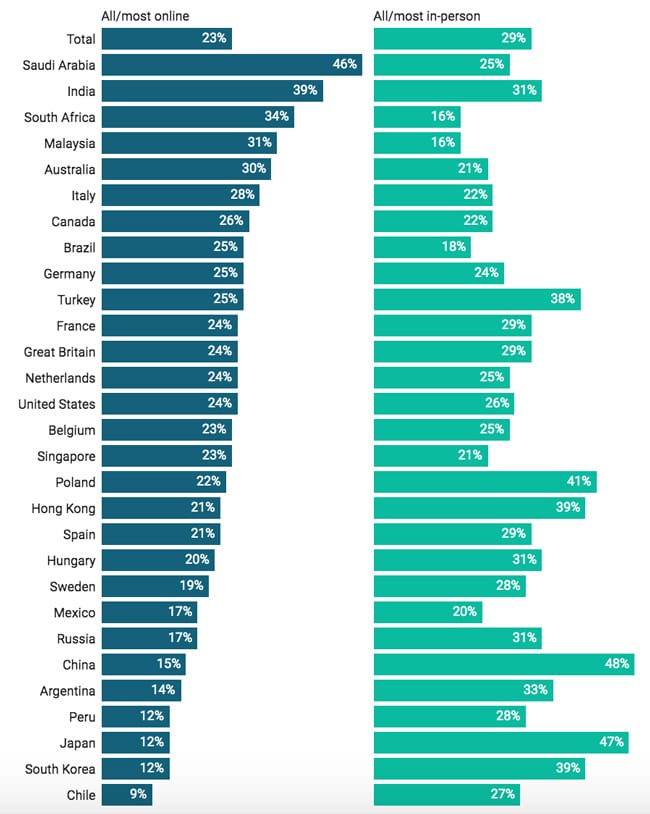 Return on investment
The other major topic addressed in the survey is whether or not in-person higher education (in the respondent's home country) is worth its cost.
Globally, just over half of respondents agreed that the value of in person learning justified the expense, and, as the following chart illustrates, there was again a considerable range from country to country. Those responding from China, Sweden, Saudi Arabia, and India were much more likely to feel that the costs of in person higher education were warranted.
Ipsos adds that, "Globally, men, adults aged 50–74 and, most of all, those with a university degree are especially likely to agree that in person higher education in their country is worth the cost."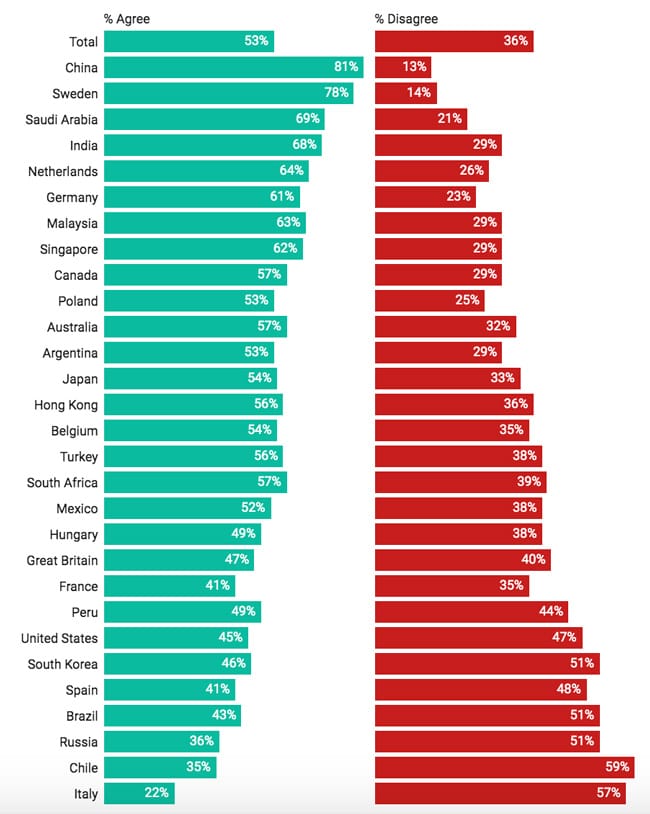 For additional background, please see: