New Zealand takes next step in recovery plan with major pathways initiative
Short on time? Here are the highlights:
A new pathway partnership will soon see foreign students in 30 different countries beginning qualifying studies at home before progressing to study at one of eight New Zealand universities
The initiative is supported by the Government of New Zealand and through a NZD$300,000 annual scholarship fund
Most foreign travel to New Zealand remains suspended, following an October 2020 announcement that a previous halt on temporary visa visitors, including study visas, would continue until February 2021.
However, a new pathway programme announced today aims to start building a diverse stream of qualified foreign students for the country's universities as of March 2021.
The Global New Zealand Education Pathways Initiative – a partnership between Education New Zealand (ENZ), all eight New Zealand universities, and the UK-headquartered University Consortium (NCUK) – is part of the Government of New Zealand's Recovery Plan for international education.
"This ground-breaking initiative gives students around the world more choice and flexibility when it comes to how and when they gain a high-quality New Zealand education," said Minister of Education Chris Hipkins.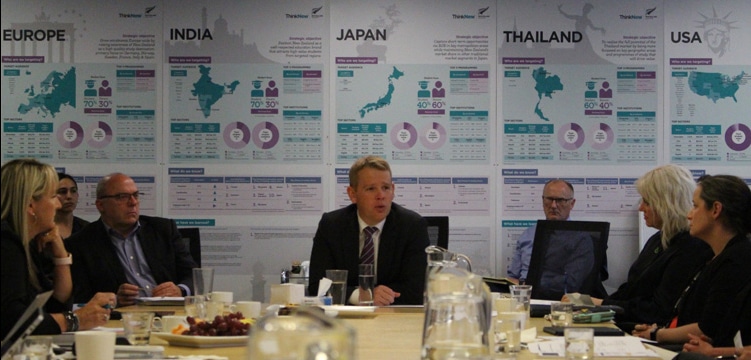 Beginning in December, NCUK's global network of 81 Study Centres will start promoting pathway qualifications that will allow students in 30 countries to undertake foundation studies at home and then progress to bachelor's or master's degree programmes at a New Zealand university. NCUK is a not-for-profit foundation established by a group of leading UK universities. Through its global network of Study Centres, it offers qualifying programmes leading to degree study at universities in the UK.
"[This is] the biggest university sector-international education collaboration to date, and it's the first time that the Government has facilitated international students beginning their New Zealand study offshore," added Education New Zealand Chief Executive Grant McPherson. "As the world recovers, international education can help build relationships that benefit both the students who choose to study here, and New Zealand."
New Zealand's universities are further supporting the pathways initiative through a new scholarship programme that will provide up to NZD$300,000 annually (US$212,000) for students carrying out one of the qualifying programmes through a NCUK centre.
Intakes for the qualifications begin in March 2021, with students then expected to progress to a New Zealand university in person or via online learning in 2022 or 2023 and once they complete one of the three designated NCUK pathway qualifications: a one-year International Foundation Year programme to enter an undergraduate degree in New Zealand; a one-year International Year One programme (which is equivalent to a year's study towards a business or engineering bachelor's degree); or a pre-master's programme towards a master's degree in New Zealand.
"NCUK qualifications provide students with the flexibility to start their education journey in their home country and then choose when they travel to study at any one of New Zealand's world leading universities," said NCUK Chief Executive John Brewer. "We are delighted to be partnering with the New Zealand government and New Zealand universities on this initiative, adding to our 30-plus-year track record in successfully placing more than 35,000 students in world-leading universities worldwide."
For additional background, please see: