US administration plans fixed-term limits for international student visas
Short on time? Here are the highlights:
The US Department of Homeland Security (DHS) has proposed new rules that would limit the visa terms for visiting students
The proposed rule would introduce four-year limits on study visas for most international students, and two-year visa limits for students from selected countries as well as those enrolled in Intensive English Programmes
Beyond those initial limits, students would then require extensions or new visas to be able to stay longer in the US
The US administration, through the Department of Homeland Security (DHS), has released a proposal for a new rule that would fundamentally change the visa regime for international students in the US.
Currently, students with F and J visas – that is, visas for study or exchange purposes – are permitted to remain in the US for the duration of their academic programme as long as they are abiding by the rules of their visa category.
The proposal from DHS is to limit the time frame of such visas: international students would be prevented from staying in the US for longer than four years unless they were granted a visa extension by an immigration (USCIS) official or successfully reapplied for a new visa.
This would mean that any international student at any level whose programme would take longer than four years would have to apply for an extension in order to complete their intended programme of study. Extension requests would be decided by immigration officials, according to the DHS proposal.
But that's not all: Under the proposed rule, international students from a number of specific countries would be limited to a two-year visa term, rather than four years. The two-year visa would apply to:
Students from Iran, North Korea, Sudan, and Syria (all on the State Sponsor of Terrorism List).
Students from countries with visa overstay rates of over 10%. Most of the countries with higher visa overstay rates are in Africa (including Nigeria, which contributes more than 13,000 students to the US), and some are in Asia – including Vietnam and Nepal, two countries that together send almost 40,000 students to US institutions. Altogether students from dozens of countries would be subject to the two-year visa limit.
Students enrolled in Intensive English-language Programmes (IEPs).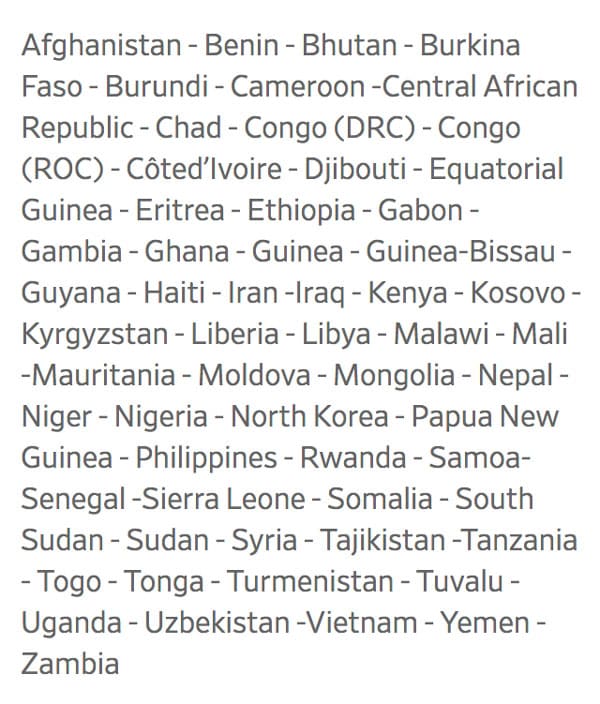 It is reasonable to assume that students from the countries subject to the two-year visa limit might think twice before enrolling in longer-term studies in the US, knowing that securing the necessary visa extension would not be guaranteed.
According to Miriam Feldblum, executive director of the Presidents' Alliance on Higher Education and Immigration, the proposed rule would "set arbitrary time lines that do not match how many academic programmes work, and it is creating barriers and uncertainty for international students who are going to wonder, 'Is the US the right place for me to come?'"
DHS says new rule would allow for increased monitoring
The proposed four-year and two-year fixed-term restrictions are intended to support the US government's stated aim of reducing visa fraud and increasing the oversight of international students.
In the proposal, which is now open for public comment for 30 days, the DHS notes that it is "concerned about the the integrity of the [F and J] programmes" as they stand today and that it considers them to be "a potential for increased risk to national security."
Tens of thousands would require extensions
To be granted a visa extension, students would have to prove that "the additional time needed is due to a compelling academic reason, documented medical illness or medical condition, or circumstance that was beyond the student's control." While the wording is vague, we can imagine that a PhD student's need to complete their multi-year programme might constitute a "compelling academic reason" for a visa extension – but this would be up to the immigration officer reviewing the student's file. Whatever the case, many international students pursuing degree studies would have to try to secure visa extensions at some point in order to remain in the US.
Affected here would be tens of thousands of international students at the post-graduate level: the number of international students enrolled in US graduate programmes including PhDs in 2018/19 was 377,943. Of the 88,000 international students who enrolled for the first time in a graduate programme last fall, one quarter were pursuing doctorates. Beyond these students, countless other students might also be affected should the proposal pass into law: the current number of international students in the US is 1,095,300.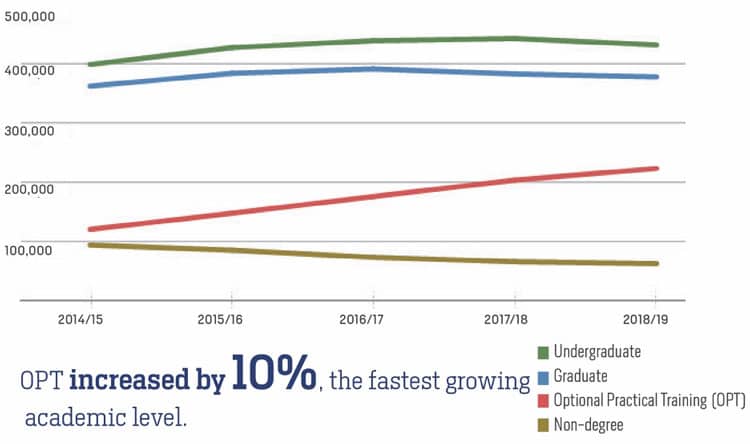 Visa overstayers are the target
The vast majority of international students who would be affected by DHS's proposed rule for fixed-term visas would be those (1) legitimately enrolled in approved programmes of study and (2) abiding by the conditions of their visa class. These students contribute billions of dollars to the US economy and increase the nation's talent pool and competitive position in the world. Data from the US Department of Commerce indicates that international students injected US$44.7 billion into the American economy in 2018, up 5.5% from the previous year.
Despite the disruptive effect on the studies of these students, however, the DHS, says the proposed rule is necessary to,
"Provide the Department with additional protections and mechanisms to exercise the oversight necessary to vigorously enforce our nation's immigration laws, protect the integrity of these nonimmigrant programs, and promptly detect national security concerns."
But as NAFSA executive director and CEO Dr. Esther D. Brimmer points out,
"This new rule would impact most international student and exchange visitors, higher education institutions that admit or sponsor them, and employers who benefits from international student graduates. Despite the increased stress and strain that it would put on all it affects, the policy would not make the United States any safer. International students and exchange visitors are already tracked by DHS and monitored by institutions of higher education and research organisations."
Speaking with the Wall Street Journal, Brad Farnsworth, vice president of global engagement at the American Council on Education, said he worries that the new rule – if it passes the proposal stage – would give the government more opportunities to deny visas to Chinese students. Chinese students have been under increasing scrutiny by the Trump administration in recent months as tensions escalate between the US and China. Mr Farnsworth said,
"I see openings in this document, if you wanted to discriminate against students and not renew their visas, you could certainly do that."
International students increasingly positioned as potential threats
The new proposal is the latest in a series of announcements made by the Trump administration that include international students and/or immigrants in rhetoric about the need to defend the security or economy of the United States. For example:
Proposed rule is "complicated, burdensome"
NAFSA CEO Ms Brimmer added in a related statement:
"This proposed rule is set to replace a proven, flexible policy that has served international students and exchange visitors for decades, with one that is both complicated and burdensome. In a system that is already extremely complex, this rule would undoubtedly create a high degree of uncertainty for international students and exchange visitors. If finalised, this rule would also make it more difficult for international students and scholars to maintain their legal status in the United States and make it far more difficult for international educators to administer. Sadly, this proposal sends another message to immigrants, and in particular international students and exchange visitors, that their exceptional talent, work ethic, diverse perspectives, and economic contributions are not welcome in the United States."
Ms Brimmer emphasises, too, the destructive effect the proposal, if it goes through, would have on (1) the ability of US schools and colleges to compete for international students and (2) an economy already challenged by COVID-19:
"At a time when America has already suffered three consecutive years of decline in new international student enrolment and an increasing global competition for talent, we must ensure our policies make sense and are welcoming. While the world is fighting a global pandemic, this is simply the worst time to add more restrictions on international students and exchange visitors."
The proposal is now in a 30-day comment period. As the Wall Street Journal notes, "Should former Vice President Joe Biden win the presidential election, it would be difficult for the Trump administration to formally enact it before January, when Mr. Biden would take office."
For additional background, please see: