COVID-19 restrictions "unprecedented" in history of international travel
Short on time? Here are the highlights:
Nearly all countries in the world have introduced some type of restriction on international travel
As of the first week of April, there has been no easing of any restrictions on international arrivals introduced during the pandemic
A new report from the United Nations World Tourism Organization (UNWTO) highlights that 96% of all destinations worldwide have introduced travel restrictions in response to the COVID-19 pandemic. It notes, "Almost all destinations in the world have imposed travel restrictions since January 2020, including very severe measures such as the banning of all travel in some destinations."
The report finds as well that, as of 6 April, no destination has yet lifted any travel restrictions introduced during the pandemic.
The UNWTO frames the current measures across four categories.
Destination-specific restrictions, in which travellers arriving from certain countries are prevented from entering the destination (e.g., Passengers, who have transited or been in "Country X" or another country with confirmed cases in the last 14 days will not be allowed to transit or enter "Destination Y".)
Closing of borders – that is, a more complete prohibition on international travellers entering the destination country.
Suspension of international flights (as distinct from complete border closures).
Other measures, which might include required quarantine periods for international arrivals, invalidation of visas on arrival, restrictions on travel from region to region within the country, and requiring negative COVID-19 test results for entry.
The following chart shows when, and to what extent, these different measures were put in place across 209 international destinations. As of 6 April, nearly half of destinations worldwide (43%) had partially or completely closed their borders. Another 21% had introduced more selective, destination-specific restrictions and 27% had suspended some or all international flights. The remaining 9% were relying on more varied visa measures, in-country travel restrictions, and/or quarantines as of that 6 April benchmark.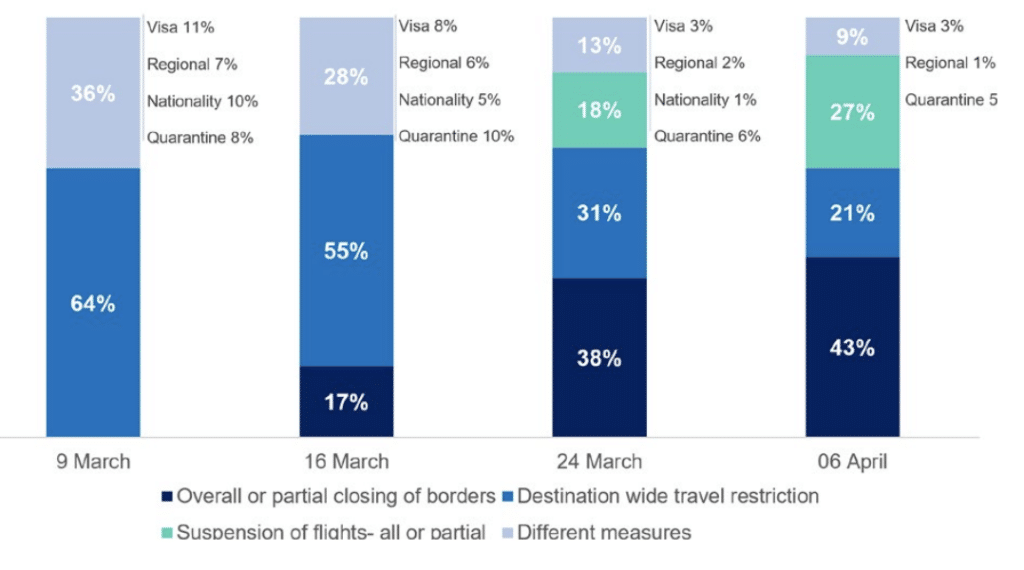 And the following UNWTO-provided map shows the restrictions in place by country (again, as of 6 April). The dark blue indicates border closures whereas the medium blue denotes suspensions of international flights. Countries with destination-specific restrictions are indicated in green, and those using "other measures" (e.g., quarantine, etc.) are shown in light blue.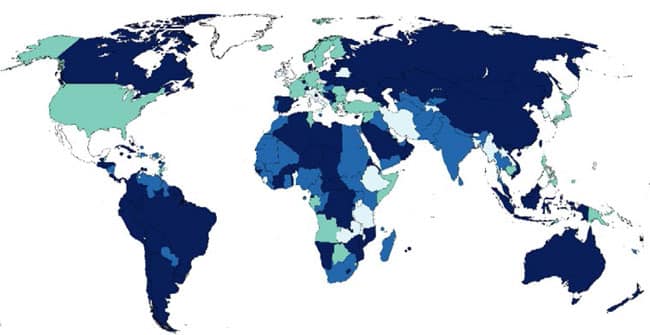 UNWTO Secretary-General Zurab Pololikashvili sounded a note of caution on the report's release when he said, "COVID-19 has impacted travel and tourism like no other event before in history…With tourism suspended, the benefits the sector brings are under threat: millions of jobs could be lost, and progress made in the fields of equality and sustainable economic growth could be rolled back. UNWTO therefore calls on governments to continuously review travel restrictions and ease or lift them as soon as it is safe to do so."
For additional background, please see: