Short on time? Here are the highlights:
Google Maps is reportedly evolving into a "super app" that will likely affect how students and educators find each other and conduct business
Some of the emerging services on the platform, including location-based searches and booking and transaction options, have potential application in the international education industry
For most of us, paper-based maps are a thing of the past, replaced by the efficiency of GPS-based systems such as Google Maps. Already impressive as a navigational system, Google Maps now looks like it will go down in history as a building block of a much deeper system: the Google Super App. A "super app," by definition, "can do it all, or nearly everything, relatively speaking, and obviates the need to call up specialty apps to perform specific tasks." Google's Super App, therefore, is not just a new iteration of Maps, but potentially an entirely new kind of search and discovery platform that is closely integrated with booking and payment services as well.
Already, pre-Super App, agents and educators are well advised to have a Google business listing if they want to be more readily discovered by students. The following image says it all: enter "language schools in Spain" and this Google Maps-linked list is what will appear on the first page of your search: schools that have listed their businesses with Google (and invested in SEO advertising).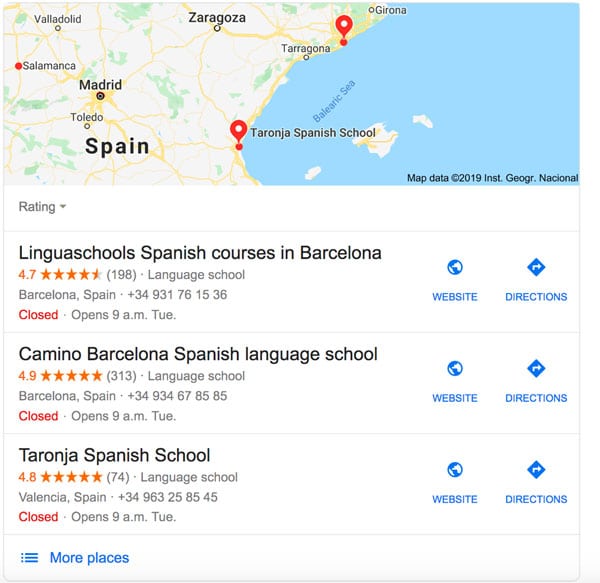 What's more, Google Maps' "Near Me" feature also allows schools (or any other nearby businesses) to be found in local searches. The volume of "Near Me" searches grew exponentially in 2018, and Forrester Research projects that mobile devices will influence US$1.4 trillion in local sales by 2021. It's not difficult to imagine a family visiting Spain for a month discovering a language school close by their hotel using "Near Me," a school they might not have discovered as easily without the app.
PhocusWire explains the current impact of Google Maps like so:
"Thanks to the [Google Maps'] increasing explore and social features, the search giant has become the digital gatekeeper for all types of storefronts in the brick-and-mortar world. From restaurants to nail salons, including tourist attractions and, of course, hotels, all are increasingly dependent on Google business listings in Maps to ensure customers come to the front door."
WeChat leads the way
As much as Google Maps is an embedded feature of Western lifestyles, consumers in the East have an even more pervasive technology influencing the way they conduct their days: WeChat. For example, WeChat allows users to send money and make payments through its app, a major evolution from search alone.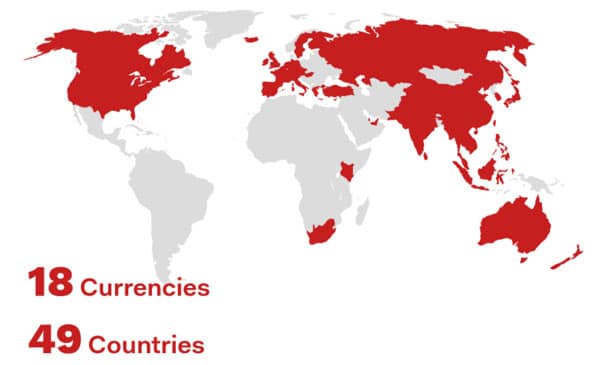 This is a case of East blazing a trail for the West, and it is highly likely that Google Super App's services will eventually accommodate expanded bookings and transactions that are similar to what we see on WeChat today.
From restaurants to recruitment
PhocusWire has summarised some of the new features Google has introduced over the past 12 months – to three of these (below) we add our comments about how students might use such functionality.
"December 2018: Personalised suggestions in the new 'For You' tab, providing you relevant recommendations of local businesses based on 'Your Match' score." Potential application for student recruitment: Students searching for schools or agents in a particular location will see recommendations pop up in "For You."
"July 2019: Restaurant promotional offers are included in the Explore tab in India, a market often used as testbed for many of its new services." Potential application for student recruitment: Discounting offers targeted at students.
"August 2019: Google's tour and activity pilot called 'Touring Bird' that consolidated content from online travel agencies, free tour providers, and local experts is now integrated into Google Maps." This allows users to "explore, compare, and book over 75,000 tours and activities from top providers" in 200 destinations (currently) from one central place: Google. Look at this website with its dynamic example of how the app helps users compare options. Potential application for student recruitment: It's pretty easy to see how transferable a Touring Bird app is to international education and to imagine how this would affect the student bookings landscape.
Please see PhocusWire's full article for a more comprehensive list of new features.
Google already in college search
Google already has a college search service up and running in the US. It launched in 2018 with a focus on four-year colleges in the US and has since expanded it to two-year colleges, certificate programmes, and associate degrees.
Google explains that its search feature allows students to "compare costs, graduation rates, campus life and other characteristics to find the college that best fits needs. You can also filter by specific location or distance, region, size and acceptance rates." As in the case of Google's Touring Bird, it's helpful to go to Google's college search website to see the dynamic presentation of these new search features.
It will not be a surprise if Google's US-based college search turns out to be a pilot for expansion in other countries. In any case, this is a rapidly developing space and we'll be monitoring it closely over the coming months.
For additional background, please see: