Malta: ELT weeks down; expanded work rights for students
Malta's ELT (English Language Training) sector plays an important role in the country's overall tourism industry, accounting for 8% of total tourist nights and 6.5% of total visitor expenditures last year according to the recently released 2018 FELTOM ELT Industry Survey Report, prepared for the Federation of English Language Teaching Organisations in Malta (FELTOM) by Deloitte. While the report details some contraction in the market in 2018 compared to 2017 in terms of student weeks, new legislation announced last year allowing English language students to work while studying promises to make Malta more attractive in 2019, especially among non-EU students who tend to travel outside their country for several weeks, if not months.
Top destinations send fewer students
According to the report, the number of students who came to Malta to study English in 2018 was 87,110, very similar to the total in 2017 (87,190), but amounting to overall growth of 13.5% since 2016.

Topline figures for Malta's ELT sector in 2018. Source: FELTOM Malta's traditional top sending markets – Italy, Germany, and France – sent fewer students last year, while other top ten markets, notably Russia and Japan, sent more. The top 10 senders of students to Malta are now: 1. Italy: 23,480 (down from 25,595 in 2017) 2. Germany: 9,990 (down from 10,275 in 2017) 3. France: 8,845 (down from 9,140 in 2017) 4. Russia: 5,395 (up from 4,820 in 2017) 5. Poland: 4,500 (roughly the same as 2017) 6. Austria: 4,365 (up from 3,110 in 2017) 7. Brazil: 4,360 (down from 4,520 in 2017) 8. Spain: 3,970 (up from 3,600 in 2017) 9. Japan: 3,510 (up from 2,925 in 2017) 10. Switzerland: 2,010 (down from 2,380 in 2017) Italian, German, and French students together account for nearly half of all ELT students in Malta.
Student weeks down
Partly due to a shift in the age of students enrolled in Malta's ELT programmes, student weeks were down by 12% (215,250) compared to 2017 (244,200). Junior students typically attend shorter programmes than do adults, and the proportion of of junior students studying English in Malta is now 53% compared to 52% in 2017 and 50% in 2016. The greater proportion of juniors is one reason that the average length of stay in 2018 was 17.3 days versus 20.9 days in 2016. The youngest segment of the junior market – students aged 15 years or less – made up the largest share of all ELT students in 2018, accounting for a third (34%) of total student visits. James Perry, executive director of FELTOM, adds that the other reason for the decline in student weeks is that long-term accommodation became more expensive in Malta due to record tourist numbers (2.6 million) in 2018, challenging ELT schools to secure sufficient accommodation for students. Mr Perry says that a number of measures are now being advanced to address this issue and to boost the housing stock for students in 2019. The decrease in student weeks led to an 8% decline in total revenues across ELT schools year-over-year, despite the fact that the average spend per student was up by 5.5%.
Significant declines from leading source countries
While junior students stay for shorter durations, students from non-traditional tourist markets for Malta (such as Brazil, Japan, Colombia, and Turkey) stay for much longer, often for more than 30 days. These important source countries contribute a significant proportion of total revenues and composed more than a quarter (approximately 28%) of all student weeks in 2018. However, Turkish students accounted for fewer weeks in Malta in 2018 than in 2017 (down 34% to 11,200). Students from Brazil and Colombia also accounted for fewer weeks; Brazil was down 13% to 19,140 weeks and Colombia decreased by 14% to 14,300. Student weeks were up slightly (by 2%) for Japan, with Japanese students accounting for 15,200 weeks in 2018. There were also declines in student weeks from major source countries including Italy (down 16%), France (down 12%), and Germany (down 12% as well). Increases occurred for the following markets, which account for a small but growing proportion of all student weeks in Malta: Ukraine (up 17%), Sweden (up 16%), Slovakia (up 14%), and Finland (up 37%). Non-EU countries accounted for more than half of all student weeks overall in 2018.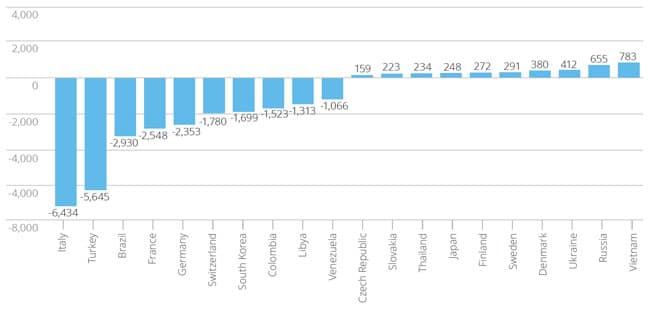 The top ten declining and top ten growth markets for Malta's ELT sector in 2018. Source: FELTOM
New work rights for EFL students
In a significant development announced last year, non-EU students enrolled in courses exceeding three months can now work in Malta (beginning in their 13th week of study) for up to 20 hours. To obtain a work license, students must have their study visa approved and must show proof of having found employment. In addition, language students no longer require a residence permit unless they are staying for longer than a year. They need only a student visa, and if they are from countries where Malta does not offer consular representation, they can submit a visa application without needing to present themselves in person. As The Times of Malta reports, the Maltese government passed the legislation in order to "make Malta more competitive as an education jurisdiction while maintaining the strong reputation of the local education sector." Language students aren't the only ones that will enjoy more work rights in Malta as a result of the legislation. If their course is longer than three months, foreign students enrolled in a higher education programme in Malta can now work for up to 20 hours a week and remain in the country for six months after they graduate to look for work. For additional background, please see: