Short on time? Here are the highlights:
International student enrolment in UK universities increased by 4% between 2016/17 and 2017/18
This growth was largely driven by increasing numbers from non-EU sending markets, and from China in particular, while EU commencements declined marginally
Reversing a downward trend over the last several years, Indian enrolments also grew in 2017/18
With 458,490 international students enrolled in UK universities in 2017/18, the UK's higher education sector experienced 4% growth over the previous year. Newly released Higher Education Statistics Agency (HESA) data shows that, of overall enrolments, 247,685 were new commencements, and this too represents an increase over 2016/17 (5%).
The growth pattern behind these top-level numbers reverses the one we saw in 2016/17 where first-time non-EU student numbers had fallen off and first-year EU numbers had increased by 6%. In 2017/18, first-time EU enrolments (i.e., new commencements) dropped slightly (by roughly -1% to 62,270) while first-time non-EU enrolments grew by 7.5% to 185,415.


Total foreign enrolment in UK higher education, 2013/14–2017/18. Source: HESA


First year foreign enrolment in UK higher education, 2013/14–2017/18. Source: HESA
Many observers have been quick to lay those contrasting trendlines at the feet of the Brexit process, and the UK's planned exit from the European Union in March this year. As an accompanying statement from HESA points out, however, "Since the European Union referendum (Brexit) result in June 2016, there has been a slight drop in the number of first year students from other European Union countries. However, the number of first year students for 2017/18 are still higher than they were in 2013/14."
Inside the EU numbers
As the following chart reflects, Italy, France, Spain, Romania, and Poland have shown the strongest growth among the top EU sending markets for British universities. Gains from those countries have helped to offset five-year declines from other top senders as of 2013/14, including Germany, Ireland, and Greece.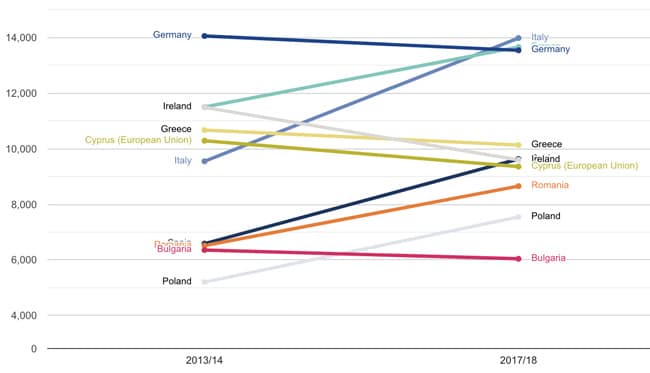 Top EU sending markets for British higher education, 2013/14 and 2017/18. Source: HESA
A welcome increase from India
There are now 139,150 EU students enrolled in UK universities along with 319,340 non-EU students. Within those totals, Chinese students number more than 100,000, meaning that one in five international students in the UK are Chinese (with this key sending market accounting for one in three among non-EU students).
If anything, this heavy reliance on the Chinese market has increased over the last five years. Among the UK's top ten non-EU sending markets, only China, the US, and Hong Kong have registered notable growth since 2013/14. In real terms, China, with a net increase of 18,630 students over this period, accounted for nearly all of the net growth in non-EU enrolments from 2013/14 on. Overall, the number of Chinese students enrolled in British higher education increased by 21% between 2013/14 and 2017/18, and this has helped to offset declines from most top ten sending markets over those five years. Nigerian numbers have especially fallen off over this period with a nearly 42% decrease since 2013/14.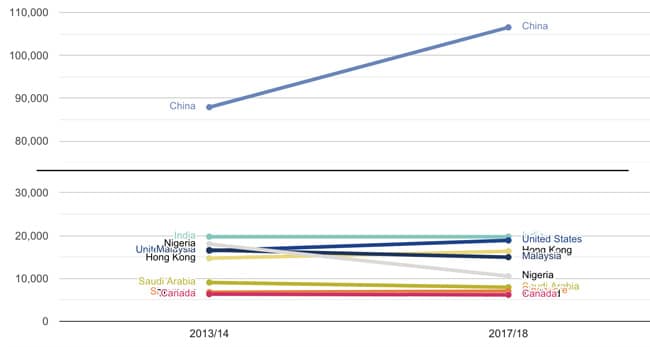 Top non-EU sending markets for British higher education, 2013/14 and 2017/18. Source: HESA
For years, there have been troubling decreases in the number of Indian students coming study in UK universities following the tightening of post-study work rights for international students introduced in 2012. But in 2017/18, Indian enrolments increased to 19,750 compared to 16,550 the previous year, representing growth of 19.5% and effectively restoring Indian enrolments to 2013/14 levels. The new number is still far off the more than 39,000 Indian students enrolled in 2010/11, but the recent growth is significant and welcome.
Speaking to the Hindustan Times, Vivienne Stern, director of Universities UK International commented that:
"Indian students are a vital part of the international university communities that we are so proud of in the UK. Indian students bring diverse perspectives to our campuses, new ideas to our classrooms and essential skills to our workforce. It is fantastic news for the UK that the number of Indian students coming to our country appears to be on the rise. We hope to see these numbers continue to grow over coming years."
For additional background, please see: