Short on time? Here are the highlights:
After three straight years of falling numbers, UK ELT providers are reporting strong growth for 2017
Student numbers were up 14% for the year, and student weeks by 5%
The junior segment continues to show strong growth as well, and now accounts for more than half of all ELT enrolments in the UK
Whether measured by total number of students or by student weeks, the volume of programming delivered by English UK's 400+ member English Language Teaching (ELT) centres fell for three straight years up to 2016. But all that changed last year, with a 14% increase in ELT enrolment in 2017, and 5% growth in student weeks. Total student numbers reached just over 497,000 for the year, with those students booking nearly 1.9 million weeks of ELT studies.
"We're delighted that for many of our members, their hard work and innovation has paid off," said English UK Chief Executive Sarah Cooper. "They have taken advantage of the favourable exchange rate and built on that to attract students from growth and new markets."
While that is very strong year-over-year growth indeed, the following charts reflect that total programme volumes remain below recent-year highs from 2013.


Total enrolment by number of students (left) and student weeks, 2013–2017. Source: English UK
Six in ten from EU
Nearly 60% of all ELT students in the UK come from the European Union, and from Italy, Spain, France, and Germany in particular. Owing to the longer stay of non-EU students, however, roughly two thirds of all student weeks for 2017 were attributed to students from outside the European Union. In 2017, the average stay for non-EU students, at 5.5 weeks, was more than twice that of the average 2.3-week stay for those from within the EU.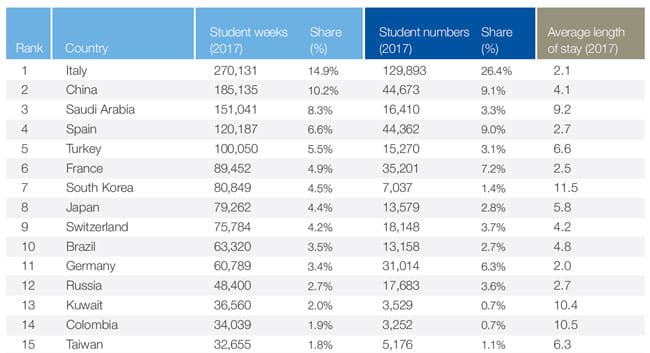 Top 15 sending markets for British ELT in 2017 by student numbers and student weeks. Source: English UK
In terms of year-over-year enrolment gains, the fastest-growing sending markets were Italy (+29), China (+37%), Brazil, (+53%), Russia (+63%), Colombia (+22%), and Taiwan (+27%). Italy was the big gainer for 2017, not only in its absolute growth from the year before but in the fact that that increase builds on its already large base as the leading source market for British ELT. Italian student weeks rose from 224,000 in 2016 to 270,000 last year, which alone accounts for about half of the total year-over-year growth in student weeks.
"Seeing some key source markets growing this year is a very positive development for the UK," says Patrik Pavlacic, head of research at StudentMarketing which analyses the English UK data. "It's not only traditional markets but also markets in Latin America and Asia where we saw the UK being under-represented."
Junior growth strong again
"2017 reinforced the UK as the most popular destination in the world for junior English language students," adds a foreword to the 2017 enrolment report. "The 27% [year-over-year] growth in junior student numbers seen in the private sector is a testament to the UK's attractiveness for this age band."
In total, students under the age of 18 accounted for just over half (53%) of all British ELT enrolments last year, but only a little more than a quarter of all student weeks (27%). English UK notes as well that within its membership, "Junior students dominated the private sector membership (55%) whereas state sector centres were predominantly attended by adult students (90%)."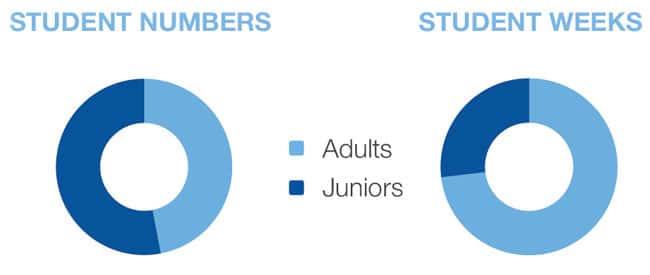 Share of enrolment (left) and student weeks for adult and junior students, 2017. Source: English UK
Advocating for EU mobility post-Brexit
English UK announced as well last week a new national campaign to highlight the value of the ELT sector, and to try to ensure that EU student mobility can be maintained after the UK leaves the European Union. "We are extremely concerned about the consequences if students from the EU find barriers to entering the UK after Brexit," said Ms Cooper. "We need to ensure that as many MPs as possible are aware of the economic and employment hit their constituencies and the wider UK may take if the needs of these largely short-term students – here for an average of under four weeks – aren't taken into consideration."
Even before 2017's strong growth, English UK estimates the direct turnover of the sector at £3.1 billion (US$4.2 billion) as of 2016, and that British ELT centres support 37,500 direct and indirect job. "What the figures don't show – but other evidence does – are the other huge benefits these students bring to the UK," adds Ms Cooper. "A summer holiday here to learn English can lead to a student choosing a university and perhaps a postgraduate course here, and a lifetime of affinity to the UK once they return home. After Brexit, this is exactly the kind of international relationship we need to build."
For additional background, please see: