Indian higher ed enrolment skyrocketing but foreign numbers remain modest
A new report from the Association of Indian Universities (AIU) paints a picture of a continuing dramatic expansion of Indian higher education. Internationalisation of Higher Education in India points out that with 33 million students enrolled in nearly 800 universities and 40,000 colleges, the Indian system is one of the largest in the world (and currently second only to China in terms of total enrolment). "Going by the demographic trends and rapid expansion, it will soon become the single largest system of higher education in the world," adds the report. Indeed, the Indian government is in the midst of making good on its very ambitious target to increase tertiary gross enrolment ratios to 30% by 2020. That participation rate stood at just under 18% as of 2010 but had climbed to nearly 27% by 2015. As that rapid expansion suggests, the focus in Indian higher education over the past decade has been very much on building capacity and improving access for domestic students. Even so, the AIU aims to call attention to the limited foreign enrolment in Indian institutions. The association points out that institutions are permitted to enrol foreign students up to a limit of 15% of their total enrolment quotas, meaning that Indian universities have the collective capacity to enrol nearly five million foreign students under current rules. This is, however, a highly theoretical ceiling. The total global population of internationally mobile students only recently moved past five million, and AIU survey data makes it clear that Indian universities are attracting only a small percentage of that total. Based on a survey of member institutions, the AIU calculates total foreign enrolment in Indian higher education at 30,423 for 2015, down slightly from just over 31,000 the year before. This count is based on 341 completed surveys out of a population of 593 potential respondents. The AIU concludes, however, that the completed surveys provide a reasonably complete picture of foreign enrolment, in part by assuming that "all those universities that had international students reported the data and thus those not reporting the data do not have international students on their campuses." Even so, the most recent UNESCO data suggests that there is some undercounting in the AIU tally. UNESCO puts the total overseas enrolment in India at nearly 42,000 for 2015 – a number that, while substantially different in percentage terms, does not meaningfully alter the findings in the AIU survey.
Looking inside the numbers
Overall, AIU describes a pattern of modest inbound growth, from about 8,000 foreign students in 2000 to more than 30,000 as of 2015. This represents a nearly three-fold increase over the 15 years with total overseas enrolment more than doubling between 2005 and 2015. That slow but steady growth of course pales in comparison to Indian outbound numbers over the same period. As of 2016, there were more than 255,000 Indian students enrolled abroad, and India – again second only to China – has been a major driver of growth in international mobility for some years now. When it comes to inbound though, most foreign students enrolled in India come from other Asian countries. Roughly six in ten overseas students in India are from elsewhere in Asia and another 20% come from Africa. But where the proportion of Asian students is on the rise (up from just under 50% in 2000), the reverse is true for Africa, which accounted for more like 40% of all foreign enrolment in the early 2000s. The following table reflects the leading sending markets for inbound students to India as of 2015 – please note that "PIO/NRI" refers to non-resident Indians, that is students drawn from the Indian diaspora that are not permanent residents of India. As the table indicates, roughly half of India's foreign enrolment comes from the top five sending markets.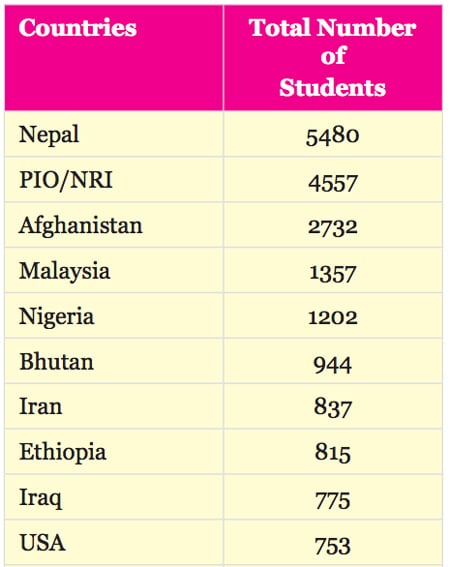 Top sources of international students in India, 2014/15. Source: AIU Among other key findings in the AIU report:
Just under 72% of all foreign students in India are enrolled in undergraduate programmes. Another 21% are studying at the post-graduate level.
Male students outnumber females by roughly a 2:1 margin.
Foreign enrolment in India is highly concentrated by institution. Only 23 universities report international enrolments of 300 students or more. In fact, the top ten receiving institutions host nearly six in ten of all foreign students in the country. These include Indira Gandhi National Open University in New Delhi with 3,022 students, the University of Pune (1,896 students), and the Rajiv Gandhi University of Health Sciences in Bangalore (1,842).
The bigger picture
The AIU is not subtle in expressing its views on the current state of internationalisation in Indian higher education. It is "concerned about the low numbers of international students in our campuses," notes the report, which adds that India's global market share is "abysmally low at only 0.61%." The result, AIU adds, is that Indian universities "are losing out on the advantage of not only generating some revenue but also of making their campuses diverse." The AIU notes as well that many Indian institutions are simply not actively engaged in international student recruitment at this point. (Only about six in ten universities indicate any sort of active marketing or promotion in international markets.) To help build the country's share of internationally mobile students, the report calls for a national international education strategy, and for greater collaboration between the various levels of government and international educators in India and abroad.