Canadian language programmes register modest growth in 2016
The annual Languages Canada survey finds marginal year-over-year growth among the association's 222 member programmes for 2016. Members reported total enrolment of 135,425 students for the year, an increase of 1% over 2015. Student weeks, however, declined again in 2016, down nearly 5% from the year before.

Key enrolment metrics for Language Canada member programmes, 2015 and 2016. Source: Languages Canada Reflecting a similar pattern in other major language travel destinations, that decline in student weeks has been driven in part by a growing proportion of junior students in Canadian programmes. Students aged 18-years-and-under accounted for about 8% of all language enrolments in Canada in 2015, but that proportion increased to nearly 9.5% last year. This shifting composition in enrolment and overall decline in weeks booked underscores a year of modest growth for the Canadian language sector. However, even marginal growth in student numbers is a welcome result after difficult trading conditions in 2015 saw student numbers and student weeks fall off by 2.5% and 4.5% respectively. Languages Canada points out as well that those 2016 numbers remain well below the previous-year peak from 2012. Indeed, even with last year's growth overall enrolment declined by just over 5% between 2012 and 2016. The association attributes the prevailing trends in language enrolment to a combination of factors. "National policy decisions within destination countries can influence where international students choose to study," notes the survey report. "Students looking to work during their language studies, for example, will more likely choose to study in Australia or New Zealand, where work and study is facilitated. They will not choose to study in Canada, where off-campus work during language study is effectively prohibited." "Recent political shifts have also had seismic effects on the sector, the full results of which will not be seen for some time. For example, in May 2016, the Brexit vote caused shockwaves through traditional sending markets to the United Kingdom, with EU applications falling by 9% between 2015 and 2016. The November 2016 US election has shaken the confidence of many international students." There are two other important qualifiers that accompany this year's survey results.
The Languages Canada membership does not reflect the entire field of language programmes in the country. The association estimates that its members, and the enrolment values they report, represent roughly 80% of the Canadian market.
The association membership fluctuates from year to year. However, a like-with-like comparison of member programmes who reported both in 2015 and 2016 indicates more robust enrolment growth for that control group, on the order of 4%.
Fuelled in part by this return to positive growth for 2016, the sector remains an important contributor to Canada's education exports with an estimated economic impact of CDN$1.44 billion (US$1.15 billion). This reflects student spending on "school fees and supplies as well as living expenses, including accommodation, travel and transportation, food, and other expenditures."
Top sending markets
As the following table indicates, the top ten sending markets for Canadian language programmes have been quite stable over the last several years.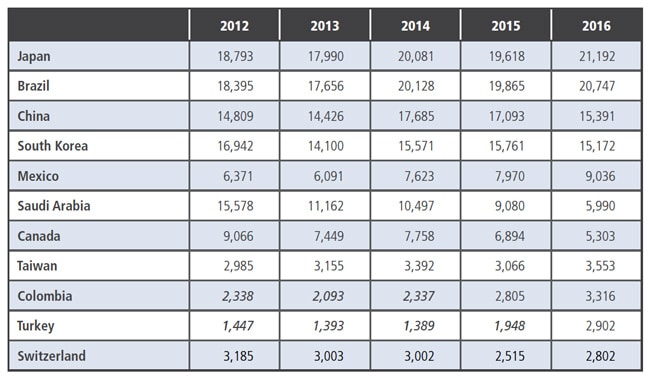 Top ten sending markets for Canadian language programmes, 2012–2016. Source: Languages Canada For the fourth year in a row, Japan, Brazil, and China were the top three senders. China, however, is showing a notable decline over the last three years, whereas South Korea, in the number four spot, has been essentially flat since 2012. Not surprisingly, Saudi Arabia is the other significant declining market among the top ten as scholarship support for Saudi students continues to fall off. Latin America shows as a promising region with Mexico and Colombia among the fastest-growing markets in the top ten and with both registering strong growth between 2014 and 2016. Languages Canada sees an opportunity for further growth there, and advocates further efforts to build the Canadian education brand in the region. "We need to invest in diversifying, and establishing a stronger presence in Latin America, for example, where students, families and governments are looking for English and French education options abroad to enable a globally-oriented workforce," says Executive Director Gonzalo Peralta.
Language pathways
Members responding to the Languages Canada survey indicated that increasing competition within Canada (and, to a lesser extent, internationally) along with visa processing issues/visa refusals were their most pressing business challenges in 2016. Concerns around visa processing for language students loom especially large when paired with the survey's finding that over half of the students enrolled with Languages Canada members required a visa to enter Canada. "However," the report adds, "the proportion of study permit-holding students declined for the second year in a row, from 34% in 2014 to 28% in 2015, and the number of non-visa holding students increased over that same time." This bears as well on the progression of language students to further studies in the country. The survey indicates that one-third of language students intend to go on to post-secondary study in Canada, including both pathway and academic preparation students as well as those enrolled in general language studies. For additional background, please see: