Short on time? Here are the highlights:
Foreign graduate student commencements in the US grew by 5% in 2016, on par with the year before
Application volumes from foreign students, however, were essentially flat in 2016 after 3% growth in 2015
International graduate enrolment in the US remains highly concentrated with nearly seven in ten students coming from either China or India
First-time enrolments from China were flat in 2016 (0% growth) while Indian commencements decreased by 7%
The number of first-time international students enrolled in graduate programmes in the US grew again last year, up 5% over 2015 and on par with year-over-year growth from the year before. This is the top-line finding in the latest Council of Graduate Schools (CGS) report on US graduate school admissions trends.
As we noted in an earlier report, however, enrolment growth in US graduate programmes began to slow in 2015, a year that was marked by the slowest growth rate over the past three fall admissions cycles.
So while overall enrolment growth didn't fall away further in 2016, it hasn't yet recovered to pre-2015 levels yet either. And a corresponding trend with respect to applications volumes suggests that a softer enrolment trend may be on the horizon. Between the fall 2015 and fall 2016 admissions cycles, the total number of applications filed by prospective international graduate students grew by only 1%, down from 3% growth the year before.
"International students are and will continue to be a significant part of US graduate enrolment," concludes the CGS. "However, we may be reaching at a point where we will see fewer surges of overall international graduate enrolment and observe more modest changes overtime."
A closer look at the composition of international graduate enrolment gives further weight to this observation. Application volumes were essentially flat in 2016, even with a 4% increase in applications from the key Chinese market. However, increasing numbers of Chinese application files didn't translate into the classroom in 2016 with Chinese enrolment pegged at zero growth from the year before.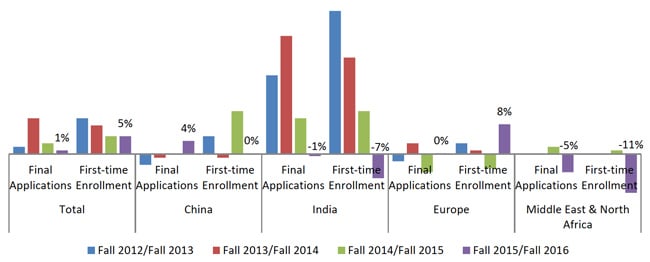 Changes in graduate application volumes and first-time enrolment by selected country or region of origin, fall 2012 to fall 2016. Source: CGS
It happens as well that those greater numbers of Chinese applications were offset by a 1% decline in applications from Indian prospects, but also by significant drops in application volumes from other key sending markets, including South Korea (-5%), Brazil (-11%), and Saudi Arabia (-20%).
In the end, the story of international enrolment in US graduate schools is essentially this: as goes China and India, so goes the overall enrolment trend. Those two sending markets alone accounted for more than two-thirds (68%) of all foreign graduate students in the United States in 2016. That first-time enrolment of Chinese students was flat at 0% for fall 2016, and Indian commencements off by 7%. Meanwhile, nearly four in ten international graduate students (38%) in US higher education are from China, while another three in ten (30%) come from India. The 7% drop in Indian commencements this year is especially notable in that Indian students have been an important driver of overall growth in US graduate admissions in recent years.
More broadly, international prospects filed nearly half (47%) of all applications to US graduate schools for the fall 2016 admissions cycle, and they accounted for 25% of all first-time enrolments (and 24% of total graduate student numbers) for fall 2016. Indeed, more than two-thirds of total enrolment growth in US graduate schools over the past decade has been driven by foreign students.
"The continued increase in enrolments is good news for US universities," said CGS President Suzanne Ortega, who remarked on the release of the latest CGS report but also acknowledged a challenging political environment in the US. "We can't take that position for granted," she added. "Universities in the US and around the world are waiting to see the potential impact of the uncertain policy environment on the mobility patterns of international graduate students."
Dr Ortega noted as well that the recent executive order that bars entry or return of US visa holders from specific countries poses a concern. "We must ensure that the US remains an attractive and viable place for the world's most talented students to pursue education and research," she said.
For additional background on recent-year graduate enrolment trends in the US, please see: