Short on time? Here are the highlights:
There are reports of dramatic increases in US web traffic to Canadian university websites
A number of Canadian institutions are also reporting significant growth in admissions applications from US students this year
Many attribute the spike in interest to the recent US presidential election but the relative affordability of higher education in Canada, along with increased recruiting in America on the part of Canadian universities, appear to be playing a part as well
Universities in Canada are reporting a pronounced increase in inquiries and applications from US students, and it appears that Donald Trump's surprising victory in November's presidential election is a major factor.
"Colleges from Quebec to British Columbia say applications and website traffic from the United States have been surging since Trump's victory," says the Associated Press (AP). "Although many Canadian schools had also ramped up recruiting in the US recently, some say dismay over the presidential election has fuelled a spike in interest beyond their expectations."
In one dramatic example, the University of Toronto reports a ten-fold increase in website visits from the US only one day after the US election. (On 8 November the university's site received about 1,000 US visitors; the number climbed to 10,000 the following day.) Meanwhile, University of British Columbia President Santa Ono noted on 9 November that a single graduate programme website at the university had received more than 30,000 visits on election night alone.

And Times Higher Education notes that the number of US visitors to a THE article on the best universities in Canada was 17 times higher on 9 November compared with 2 November.
More broadly, Google search volumes for queries such as "college Canada" and "university Canada" also spiked in the immediate aftermath of the US vote. There were double the search volumes for both terms on 9 November, compared to daily search volumes going back over the last five years, and with a majority of US-based search activity coming from Democratic Party stronghold states such as New York and California.
And that increased web traffic is already converting further down the enrolment funnel as well. The AP reports that American student applications to the University of Toronto have increased 70% year-over-year. A number of other institutions are also reporting double-digit increases in the current admissions cycle, including McMaster University (34% increase in US applications) and McGill University (which received "hundreds more" US applications this year).
Lara Godoff, a 17-year-old from Napa, California tells AP that she abandoned the idea of staying in the US right after the November vote. She had already applied to one Canadian university, but took the precaution of filing admissions applications with three others after Mr Trump became the President-Elect. "If we live in a country where so many people could elect Donald Trump, then that's not a country I want to live in," she said.
Canadian recruiters, meanwhile, caution that the Trump victory is only one factor in the increased interest from US students. Jennifer Peterman, manager of global undergraduate recruitment at McGill University, said recently to the Toronto Star, "We can't ignore the election results, but I think there are other strengths that are attracting students to the university, as well." Ms Peterman noted in particular that students are also drawn by McGill's diverse student population and Canada's affordable cost of living.
It is true that the Canadian dollar has weakened somewhat against the US currency over the last two years, and that this has made Canada a more affordable destination for American students. However, that relative currency value has been in place for some time now, suggesting that it may be playing only a modest role in the increase in web traffic and applications reported over the last few months.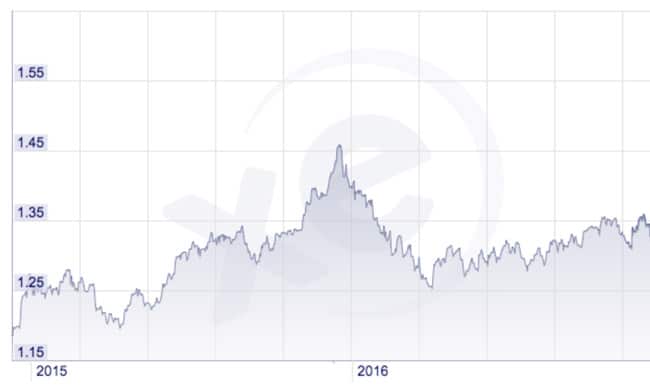 Canada-US dollar exchange rates for 2015 and 2016. With a couple of notable spikes and declines aside, the exchange rate has been reasonably stable for the last two years. Source: xe.com
Affordability aside, a number of Canadian university have also expanded their recruiting efforts in the US, and this too appears to be playing a part in increased admissions traffic this year. In contrast to Ms Godoff's example above, another US prospect, Rebekah Robinson, said that US politics played only a minor part in her decision to apply to the University of Toronto. The 17-year-old from Baltimore attended a recent U of T event in Washington, D.C. "I really liked the school," she said afterward to the Toronto Star. "I liked the programmes they offered, and I thought it was a great fit for me, so the president and the election just kind of played a small factor in it."
The number of US students studying in Canada held fairly steady over 2014 and 2015, with about 12,200 American students enrolled each year and the vast majority of those in Canadian universities. Those numbers make America the fifth-largest source of foreign students in Canada, but they (so far) pale in comparison to the nearly 120,000 students from China or 50,000 Indian students that studied in Canada in 2015.
Even so, the dramatic growth in US student interest this year is likely to further encourage Canadian recruiters, who increasingly see close-to-home growth opportunities in the American outbound market. Many also anticipate that the political landscape in the US may further encourage third-country students to consider study options outside the US. "In the US, officials at some colleges say it's clear Trump's election is tilting enrolment patterns," adds a recent item from the Canadian Press. "Some recruiters say foreign students are avoiding the US amid worries about safety and deportation, opting for Canada or Australia instead. And Canadian schools have noticed growing interest from China, India and Pakistan."
For additional background on the impact of the US presidential election on international student mobility, please see: