Short on time? Here are the highlights:
Enrolment in Australian ELICOS programmes increased by 4% in 2015
However, enrolment by student weeks, as well as economic impact, were essentially flat when compared to 2014
Growth in ELICOS enrolments is also trailing overall growth in foreign student numbers in Australia
Asia continues to dominate among sending regions, with China alone accounting for just over 20% of all ELICOS enrolments
Australia's ELICOS sector (English Language Intensive Courses for Overseas Students) is bucking a global trend of slowing or shrinking enrolment in English Language Training programmes. New figures released this week by English Australia show that overall ELICOS enrolment in Australia grew by 4% in 2015 (compared to 2014) to reach a new record of 170,628 students for the year.


Total ELICOS enrolment in Australia, 2006-2015. Source: English Australia
English Australia CEO Brett Blacker said, "Sector performance was positive in 2015 with member feedback indicating strong growth into pathway and university programmes, which is important for the industry given the flow on enrolments into higher education and VET."
That strong top-line result, however, is tempered by some underlying trends that indicate that Australia's ELICOS centres are facing the same shifting market trends as are ELT providers in other major destinations.
First, and in spite of the year-over-year growth in student numbers, overall student weeks were essentially flat at 2,107,024 for 2015 (a +0.1% change from 2014). This was largely due to a 20% decline in weeks booked by European students, and a reduction in average length of study for all students from 12.9 weeks in 2014 to 12.4 last year.
The overall flatness in weeks booked is reflected in the economic impact figures for 2015, where the impact of the sector was estimated as AUS$2.1 billion (US$1.6 billion) and virtually unchanged from the year before.
Second, while the sector recorded 2015 growth that exceeded that of many major ELT destinations, it was considerably less than the increases for 2013 or 2014 (19% and 11% respectively). The growth in ELICOS student numbers for 2015 also lagged behind overall international enrolment in Australia.
This pattern remains true in 2016 as well. Year-to-date figures through May 2016, also provided by English Australia, show that ELICOS enrolment is up again this year – by 6.1% – but this compares to overall enrolment growth across all sectors of nearly 12%.
One in five from China
While source markets vary from programme to programme, the overall picture for the sector is that enrolment has become somewhat more concentrated within a group of key Asian sending markets. Not surprisingly, Asia is by far the dominant sending region for Australian ELICOS programmes. It accounted for 68% of all ELICOS students in 2015 (an increase of 2% over the year before).
On the strength of strong growth from Colombia and Brazil, the Americas surpassed Europe to become the second-leading source region in 2015, sending 14% of all ELICOS students last year compared to Europe's 13%. The results, notes the report, "[build] on the constant growth of [the Americas] market over the last ten years. Europe dropped 3% points to 13% reflecting the weakening of this market after stable growth in the last five years."
But it was the "big three" national markets – all in Asia – that really drove growth again last year. China, Japan, and South Korea grew by 17%, 7%, and 16% respectively in 2015 and together accounted for 43% of all ELICOS enrolments over the year.
More broadly, the top ten sending countries accounted for 76% of all ELICOS enrolments in 2015, an increase of 2% from the year prior.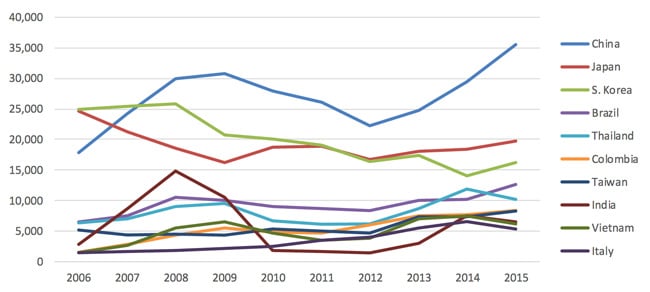 Top ten source countries for Australian ELICOS programmes, 2006-2015. Source: English Australia
"China increased its dominance through expanding to 21% market share, with over one in five English students in 2015 from China," added Mr Blacker. "Not all member colleges have a high volume of pathway students from China and therefore not all providers experienced the same growth patterns…It is critical that through the implementation of the National Strategy and AIE2025 we drive diversity across the sector."
The newly released Survey of major ELICOS regional markets in 2015 is the 20th annual study of Australia's ELICOS sector. The survey is commissioned by English Australia and conducted by the research firm Environmetrics. The 2016 edition covers ELICOS enrolments in Australia for the 2015 calendar year.