Private partners helping to drive growth of US higher education online
American universities have dramatically expanded their online programme offerings over the past five years and there are indications of continuing strong growth through 2020. One of the reasons is the emergence of a new kind of service provider: the "online enabler" or online programme management (OPM) provider. As the following figure illustrates, the OPM market in the US has grown to US$1.1 billion this year, representing nearly a tripling of revenues for the segment since 2011. A recent survey by the research firm Eduventures found that about 12% of US universities - or 350 institutions - are engaged in OPM partnerships in the US. The firm projects that by 2020 the OPM market will more than double again to reach US$2.5 billion in revenues. At that point, nearly one in five US universities will be engaged with an OPM provider.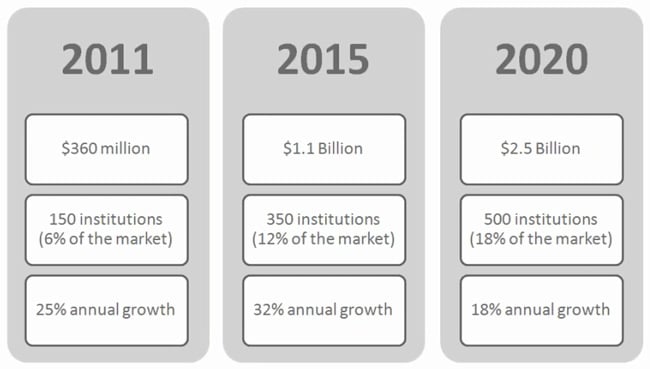 Actual and projected growth of the OPM market in the US, 2011-2020. Source: Eduventures OPMs help universities and colleges bring their programmes online. They typically offer a broad basket of services – everything from strategic advice and instructional design to technology and systems to recruitment, retention, and student support. Universities remain responsible for core academic functions - notably admissions, teaching, and curriculum - in such partnerships, but OPMs bring expertise to the table to help institutions get their programmes online more quickly. They also bring money. Launching an online programme is expensive, typically requiring as much as US$5 million to US$10 million to move an institution through design and development phases and on to the point at which the programme can operate profitably. In many partnership deals, the OPM provider covers those costs and takes a significant share of the resulting tuition revenue. That revenue share typically ranges from 40% to 65% but most arrangements are currently based around a 50:50 revenue split between institution and OPM. This is of course a contentious aspect of such deals. The large revenue share to OPMs is justified by the risk they undertake in launching a new programme, and the large upfront costs in particular. However, intense competition in the field, along with the universities' natural interest in retaining a greater share of revenue, has opened the door to new competitors and new business models in the OPM space in recent years. Some OPM deals are now essentially fee-for-service models where the universities cover launch costs themselves and pay OPM providers for expertise, services, and technology. Others are hybrid deals where the OPM is compensated partly on a fee-for-service basis and then also takes a smaller revenue share (reportedly 15%-20%) for recruitment and other enrolment management services. John Katzman, the founder of 2U (he has since left the company) and, more recently, a new OPM start-up called Noodle Partners, explained it this way recently to Inside Higher Ed: "The [universities'] direct cost of most of these programmes is 20% of the revenue. If an enabler is taking 65%, that leaves only 15% left for the institution to use for all the other things it wants to do."
What makes it grow?
The OPM field has expanded rapidly in the US over the past decade, and the last five years in particular. There are now nearly 30 OPM providers operating in the US, ranging from the "Big Five," a group that accounts for about half of the total market and includes market leaders such as 2U and Pearson Embanet, to a broad cross-section of mid-sized firms and then a group of smaller niche players. Growth in the sector is being driven in part by a sense of urgency from the universities, a consideration that extends even to leading institutions such as Georgetown University and Yale. The online higher education market in the US has grown quickly over the past decade, but that growth is flattening out in recent years and institutions are keen to earn a share of the market. They are also actively seeking enrolment growth and new student groups to serve. The traditional university business model in the US is under pressure. Competition is on the increase, affordability is an ever-increasing concern for students and families, and the prevailing demographic trends mean that the traditional prospect pool for American universities will barely grow at all over the next decade. It is no surprise then that respondents to this year's Eduventures survey cited "increase enrolment" and "reach a new type of student market" as their top institutional priorities for an OPM partnership.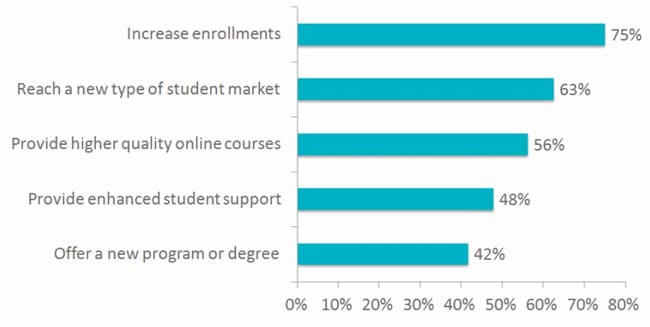 Top institutional priorities for an OPM partnership. Source: Eduventures The flipside of this survey finding is that institutions may also bring overly optimistic enrolment targets to an OPM partnership. With so many new OPM deals in US higher education, it is not surprising that some fall apart. And when they do, it is often a failure to reach early enrolment targets that is at the root of the breakdown. The latest high-profile example of this arrived just this month in the form of the University of Florida's decision to cancel its deal with Pearson Embanet. The partnership was less than two years old and head-count enrolment targets had been met. However, there was a significant shortfall on a more specific target for out-of-state students - an important driver of overall programme revenue in this case - and this appears to have been a factor in the university's decision.
Going global
As the University of Florida example illustrates, universities often open OPM deals with the goal of reaching beyond their traditional prospect segments and catchment areas. For some, that may mean growing out-of-state enrolment. For others, it may mean a focus on non-traditional segments, such as adult learners that have some post-secondary credits but not yet a full degree (the "degree completion market"). For international educators, the rapidly growing online capacity of US universities also represents another layer of competition in global education markets. Some institutions and providers are already explicitly targeting international markets, where the online programmes on offer may constitute a complete education experience for some foreign students. For others, online study may be a means of preparing for studies abroad, or completing part of a degree programme at home before venturing overseas. Academic Partnerships is an example of one OPM provider with international ambitions. The firm has introduced an alternative credential programme targeted to foreign students and has been actively building agent networks in markets abroad over 2014 and 2015. CEO Randy Best said recently to Inside Higher Ed, "What we want to do is provide a new, global credential that efficiently uses time of the students and addresses the affordability issue for all global citizens, and we believe that it can become the common currency across borders in postsecondary education." "Over the next five years, US schools will see a significant portion of their student body becoming international students, and those students will be primarily online," he adds. "We'll be exporting our education versus importing the student."