Thanks to the web and our increasingly digitised lives, we are long past the days when games were only meant for children (or even for adults shirking their grown-up responsibilities). Around the world, smart companies and organisations are leveraging consumers' innate thrill at playing, being challenged, and receiving rewards through games. This trend is called "gamification," and it's entirely applicable to the international education sector, especially given the demographics of many prospective students who have grown up amid the trend.
In their whitepaper "Gamification 101: An Introduction to Game Dynamics," subject experts Bunchball explain gamification as it applies in a business context:
"Gamification is the process of integrating game mechanics and dynamics into a website, business service, online community, content portal, marketing campaign or even internal business processes, in order to drive participation and engagement by target audiences."
College Web Editor simplifies gamification further to say: "In a nutshell… it's a way to engage people by making something that's not a game feel like a game."
Bunchball notes that gamification is heavily used by companies such as Starbucks and Nike to inspire purchasing and loyalty among consumers, and explains the inherent appeal of games as follows:
"People have fundamental desires for reward, status, achievement, self-expression, competition, and altruism, among others. These desires are universal, and cross generations, demographics, cultures, and genders… By wrapping the appropriate set of game mechanics around your website, application, or community, you can create an experience that drives behaviour by satisfying one or more of the following human desires: status, reward, competitive nature, altruism, self-expression, achievement."
Game mechanics can be understood, says Bunchball, as elements in the "game" that drive and/or reward behaviour, such as points, challenges, leaderboards, levels, virtual goods and spaces, gifts, and charity.
Gamification in education marketing
Turning specifically to education marketing and recruitment, gamification can be understood as providing fun, creative, digital ways to encourage and reward prospective, current, and former students (alumni) for participating in behaviours that the institution values, such as:
Investigating what the institution has to offer (e.g., a campus tour);
Progressing in the application process;
Enrolling;
Providing positive word of mouth about the study experience;
Remaining at the school for longer amounts of time (e.g., to take another course, to take a master's from the same university as the undergrad was achieved, etc.) or otherwise staying affiliated with it (e.g., alumni ambassadors).
There are two broad approaches schools and institutions are using to incorporate gamification into their recruitment or other goals such as retention, fundraising, and alumni leveraging:
Doing it themselves;
Hiring a gamification company to run their campaigns.
In most cases, the decision as to whether to try gamification in-house or to hire a company specialising in it will come down to the ambition and resources of the institution. Institutions are experimenting with gamification at very different levels of investment, money, and resource allocation – from minimal to very involved.
College Web Editor spotlights the Penn State Alumni Challenge for Former Student-Athletes as a clever example: "A challenge is presented to former student athletes to support their team. The site provides links to make a donation, and a graph is provided to show which team is in the lead to receive two USD$6,000 prizes. Winning is based on which team has the most increase in giving by former student athletes or the most increase over their previous year."
Simple, but effective. The Penn State example underlines an important point: gamification should be used to accomplish business goals – not for the simple thrill of abandoning normal (but solid) marketing techniques to host a snazzy high-tech game.
Gamification should be used to amplify a sound marketing strategy – not replace it.
On the much, much more involved and ambitious extreme, is the campaign Istanbul's Özyeğin University (OzU) executed with the help of Turkish gamification company 41? 29! to appeal to prospective students across the country.
"The Game of Your Life" is a Facebook app that worked with Facebook's timeline to allow prospective students to project into the future on the premise they had chosen to attend OzU. Students were able to imagine all the future opportunities open to them as a result of their study choice. You'll want to watch the video to understand the game, but suffice it to say that it was effective. It reached 250,000 unique visitors, and 41? 29! claims that "many students among the top thousand said they would have never considered OzU if it weren't for the game."
A further example comes from Western Michigan University (WMU), which incorporated gamification mechanics into their virtual campus tour, featuring their school mascot and rewarding visitors with points for choosing to learn more about the university.
An overview of the campaign on the Higher Education Marketing blog notes that an additional full video game had users "adopt the role of a freshman to take on tasks related to student life, theoretically increasing their chances of succeeding in real life."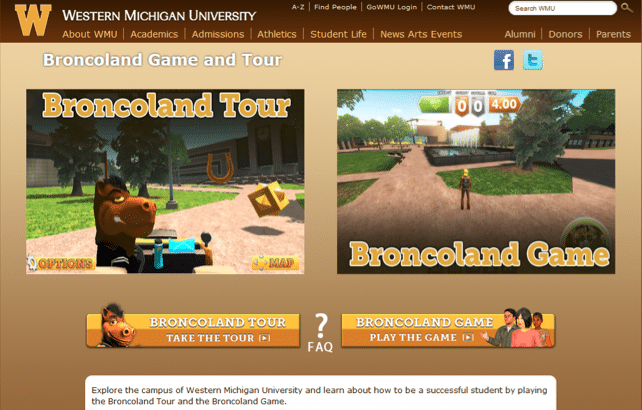 Broncoland game and tour. Source: Western Michigan University

Recruitment is not the only opportunity
As we mentioned earlier, recruitment is not the only educational area in which institutions are experimenting with gamification. Wherever there is a desired institutional outcome or student behaviour, there is room to consider gaming strategies. In other words, there is room for digital ways to increase students' motivation to participate, share, and progress in certain tasks.
Take orientation week, for example. Gamification mechanics could make students' learning and retention of their orientation materials much more fun, and stimulate far more sharing of positive experiences on social media. This sharing, in turn, could prompt future students in students' home countries to take an interest, and to begin considering an institution for their own study plans.
Or, student retention. In an article we published last year, "Enrolling students is step one, but don't forget about retention," we included the perspective of Tyson Schank, enrolment manager at Metropolitan Community College (MCC), who said:
"With today's students (whatever generation you want to lump them into), they have largely grown up in the millennial culture of instant reward and recognition for things [to which] older generations never gave much thought, such as participation trophies for youth soccer instead of just for the 'winners'."
Mr Schank said students like to have rewards for achieving different milestones – in life, just as in games. He thinks rewards are actually intrinsic to students continuing to play "the game" (i.e., stay enrolled):
"When students hit our identified milestones, we should not only recognise them immediately for it, but we should allow that milestone to 'unlock' new perks to them. It's like a VIP club which demonstrates accomplishment and can be a source of pride in peer-to-peer relationships.
The hope would be that this achievement begins to be modeled by their peers and they all decide to keep playing the game. Maybe parents can be involved in certain levels of 'trophies' to add some Facebook bragging rights for mom and dad so the student gets additional reinforcement."
Whatever your interest in gamification, there is a takeaway
Whether or not your institution is ready to experiment with gamification in a serious way, there is no doubt that your prospective and current students are familiar with it – and increasingly used to being entertained, motivated, and rewarded for acting in the best interests of the brands who want their business. At the very least, institutions should be taking care to:
Thank students promptly for their interest;
Offer them incentives – digital or not – for furthering their interest in or involvement with the school;
Make engagement fun and rewarding.