English-language course enrolments for Malta have been known to spike up or down in recent years, most recently with an 18% growth in student arrivals in 2012. Taking a longer view, international enrolment grew by just over 24% between 2006 and 2012.
The National Statistics Office (NSO) of Malta recently released the results for 2013 and is reporting that the number of foreign students attending English-language courses in Malta decreased by 8.4% during the year, dropping total enrolment to 74,992 from the recent 2012 peak of 81,911 students.
While absolute student numbers were down for the year, NSO notes however that the number of student weeks increased by 3.3%. The total number of weeks booked for the year rose to 233,834 (compared to 226,360 in 2012) on the strength of a modest uptick in average study duration. Overall, the average term of study rose to 3.1 weeks, roughly a third of a week longer than the average for 2012, and with most of the gain registered between January and July, and then again for the month of September.
Again taking the long view, these latest numbers add to a pattern of modest growth in Malta overall, with total enrolment growing roughly 14% between 2006 and 2013, or, as reflected in the figure below, just under 9% for the five years between 2009 and 2013.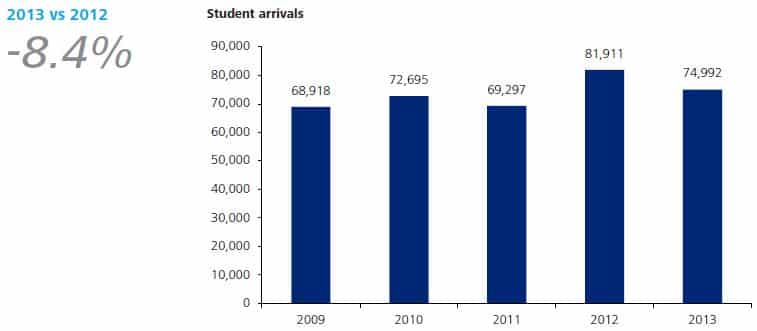 Foreign student arrivals in Malta from 2009 till 2013. Source: Deloitte
The majority of international students in Malta came from Italy, Russia, and Germany. "Together," notes the NSO, "these markets constituted 47.6% of total student visits."
All told, 90% of the foreign students in Malta are from Europe. However, most of the biggest contributors to the growth in student week bookings came from outside the Eurozone. South Korea was the runaway leader in terms of length of stay with an average of 14.5 weeks, followed by Libya and Turkey, with average stays of 10.2 and 7.6 weeks respectively.
These 2013 averages represent significant growth in term of study for students from all three markets, amounting to 83.54% longer for Korean students, 92.45% for Libya and 35.71% for Turkey. In reflecting on these significant shifts in study duration, Sue Falzon, ELT senior manager with Malta's Ministry for Education and Employment (MEDE) explains:
"Over the past few years all industry stakeholders have diversified their academic products so that they aren't just aimed at offering General English courses to European students. By attracting learners from emerging markets like Turkey and Libya, schools are now offering a much more culturally diverse classroom environment which enhances the English language learning experience for all students."
CEO of Federation of English Language Teaching Organisations Malta (FELTOM) Genevieve Abela adds, "The economic adjustment taking place in Italy and Spain continues to have a bearing on Malta's TEFL sector since both countries have traditionally been important markets for Malta. The significant investment in English teaching undertaken by central European governments over the past years also had an effect as less central European students are now travelling to learn English. On the other hand, growth from Eastern Europe and Russia has been significant as new air routes were launched."
Inside the numbers
As the following figure illustrates, the overall length of stay for 2013 was up nearly 13% over 2012 levels.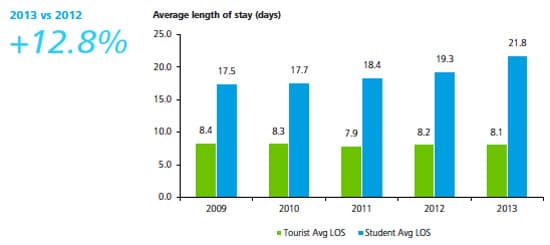 Average length of stay from 2009 till 2013. Source: Deloitte
These gains are reflected partly in the trends for specific source markets, such as Libya or Turkey, noted above, but also in similar shifts in student demographics in Malta. There was a pronounced trend in 2013 towards older students accounting for a greater proportion of student weeks. Students in the 0-17 age group made up 25% of student week bookings in 2013, down from 35% in 2012. This is due in part to an increase in the number of students in the 18-25 age group from 23% of total enrolment in 2012 to 29% in 2013.
Student arrival age mix (2013). Source: Deloitte
This is perhaps one of the most striking trends in the Maltese market today, reflecting both a shift in the product mix of ELT providers there (away from general English courses and toward more specialised offerings for academic preparation or otherwise) as well as a corresponding shift in goals of foreign students studying in Malta.
"The pattern of student bookings appears to have shifted towards more long-term bookings," notes a Deloitte report commissioned by FELTOM. "Students booking longer courses tend to have more academic-oriented goals as opposed to the shorter-term visitors."
Adds Ms Falzon:
"We are very pleased with the increase of 3.3% in EFL student weeks in Malta throughout 2013. The fact that this increase is predominantly within the 18-25 age bracket goes to show that Malta is attracting a more mature client base in line with its efforts to improve the quality and standards of teaching. This growth is a testament to the effectiveness of Malta's strategy to ensure sustainable growth in tourism and reduce dependence on young learners with a shorter length of stay."
The revenue story
The Deloitte report also highlighted an important revenue effect of the enrolment trends we have noted above. "The shift in sales mix towards longer term bookings and adult students, and different markets, resulted in a reduction in average revenue per week," says Deloitte. "Accordingly, estimated revenue for the industry was 3.5% down on 2012 notwithstanding a 3.3% increase in student weeks."
The report skims the surface regarding the reasons for this downward pressure on revenue, but we can imagine that factors such as rising staff costs, additional discounts arising from longer terms of study, or increased price competition in select markets are at play here. As the following figure illustrates, downward pressure on tuition revenue was a major contributor to the overall revenue decline noted in the Deloitte report.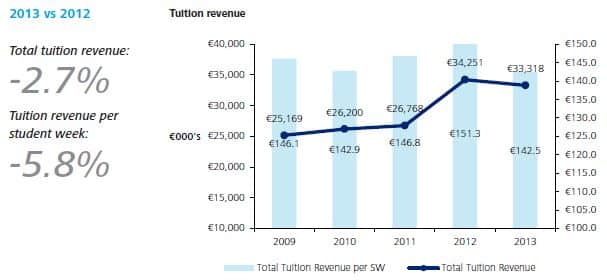 Tuition revenue statistics from 2009 till 2013. Source: Deloitte
Despite that dip, agent commissions remained fairly steady, as illustrated below.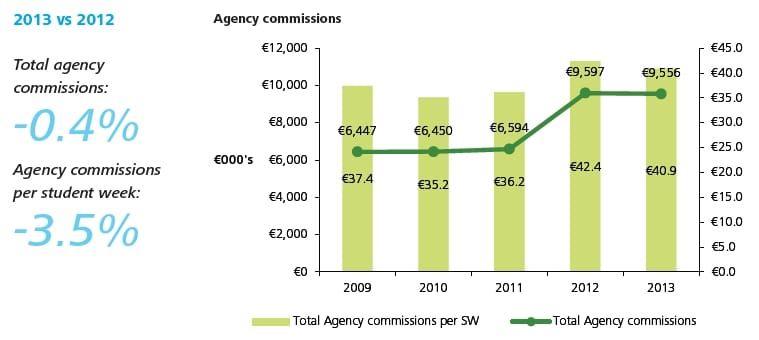 Agency commission statistics from 2009 till 2013. Source: Deloitte
Needless to say, the revenue picture here is significant both with respect to the overall strength of the Maltese ELT industry as well as the larger context of the tourism industry in Malta. The ELT sector accounts for nearly 13% of tourist guest nights in Malta, and 31% of private accommodation nights. As the Deloitte report notes:
"Malta's ELT sector continued to attract students from markets which are not traditional tourist source markets for the island."
In a nod to the nation's future plans, Ms Abela notes, "A milestone for FELTOM has been the collaboration with the Central Visa Unit and today FELTOM has an outreach programme for Temporary Residence Permits. We also continue to work closely with the Malta Tourism Authority (MTA) to help improve the way Malta is marketed as an ELT destination. Together with the MTA, we are also focusing on the adult student market and the English for Special Purposes niche, particularly aviation English."