New data on international schools suggests continued strong growth
New data indicates that the global English-medium international schools market is predicted to see significant growth in 2014 and into the foreseeable future. The latest figures published by The International School Consultancy Group (ISC) indicate that there are now 7,017 international schools around the world meeting the learning needs of over 3.5 million students, all using English as the language for learning. English-medium international schools are an increasingly significant sector for higher education international student enrolment. No longer are they simply the domain of expatriate children. Today, of the total 3.5 million, over 2.5 million international school students are local children seeking a quality, English-speaking education as a means to acquiring a place at one of the world's respected universities.
The international schools market today
The latest data from ISC is continued good news for a market that has been growing steadily for the past ten years and which, during 2013 generated US $35 billion (£21.4 billion) in annual fee income alone. Many international schools are becoming more international in their learning approach. Consider these statistics:
42% (2,945) offer a UK curriculum and 23% (1,582) an American curriculum;
46% of schools now say their learning approach is internationally oriented, including 17% (1,220) that offer the International Baccalaureate (IB) diploma programme;
When it comes to examinations, 25% (1,761) of international schools take IGCSEs, 16% (1,081) take American SATs or PSATs, and 14% (989) take GCE A levels.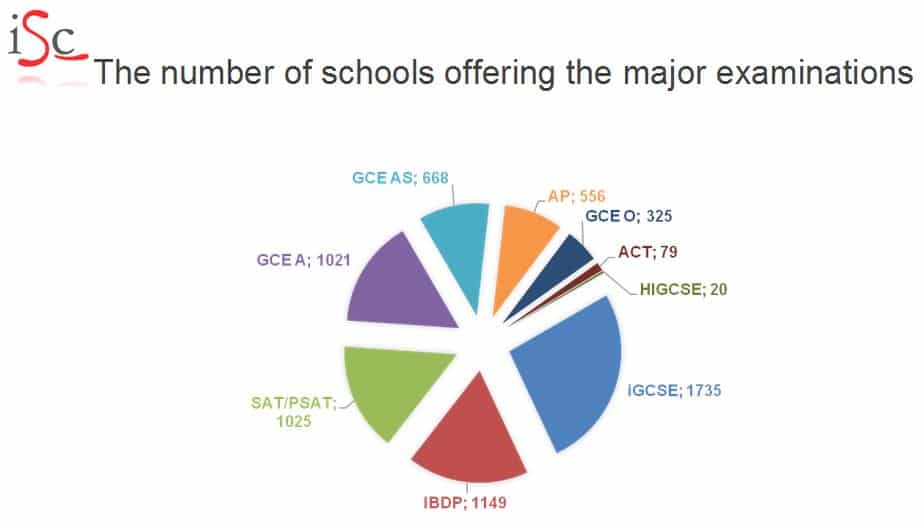 The number of international schools offering major examinations. Source: ISC
Nearly 30% of all international schools today are bilingual with English as the primary language of learning usually combined with the local language. This represents an increasingly popular overarching international school ethos that blends local culture and language with an English-medium global learning approach. Recent market growth has, in the large part, been focused in Asia; 21 countries now have over 100 international schools, 11 of which are in Asia (ISC includes the Middle East in Western Asia). The lead country continues to be the United Arab Emirates with 428 international schools followed closely by China which now has 417 schools. Pakistan and India both have over 350 schools and Japan has more than 200. Other countries with over 100 international schools are Hong Kong, Indonesia, Malaysia, Thailand, Qatar, Saudi Arabia, Mexico, Argentina, Brazil, France, Germany, the Netherlands, Spain, Egypt, and Nigeria. The countries that experienced the most significant growth in 2013 were the UAE with 45 new schools and Brazil with 41. Other countries that saw major growth were Saudi Arabia, India, China, Egypt and Indonesia.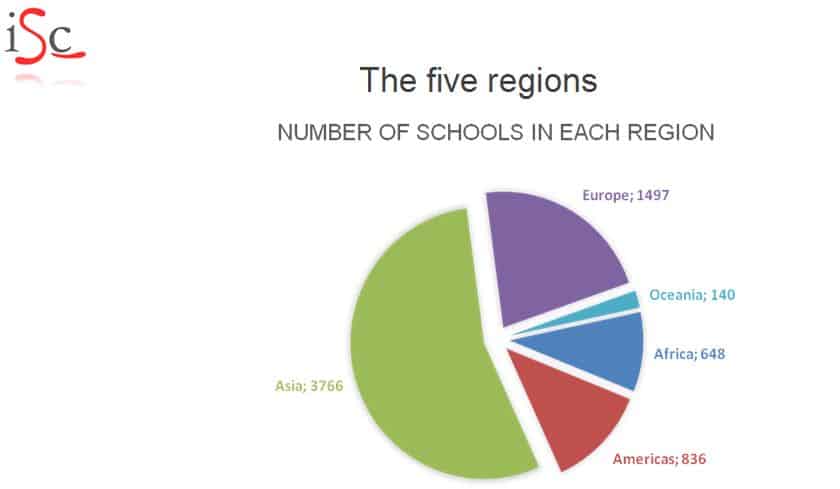 Number of international schools around the world. Source: ISC
The increasing demand for international school places
Currently, 80% of the demand for places at international schools now comes from wealthy local parents who want their children to receive a quality, English-speaking education in order to access the best options for university and higher education. This is a significant change from 20 years ago when international school places were dominated by expatriate students. Nicholas Brummitt, Chairman of ISC, explains the effect of this demographic change:
"Today there is a massive demand for English-speaking education all over the world. The future growth of international schools is now very much dependent on how many people can afford to pay international school fees."
China is one country generating much interest right now
. China has 200 million school-aged children and a rapidly growing middle class (including at least 2.5 million millionaires). An increasing number of these families are demanding an international education. Developments in China's international schools market are going some way towards meeting this rise in demand. At the moment, Chinese nationals are not allowed to attend foreign-owned international schools in China. However, the formation of Chinese-foreign cooperation programmes to create international schools which will enroll both Chinese nationals and foreign students has, in particular, created new possibilities. Developers are looking to create schools that are Chinese owned and run, that cater to Chinese students, and that deliver learning (entirely or in part) in English.
"The potential for growth of international schools in China looks enormous," says Mr Brummitt. "If this potential is realised, growth in China is likely to dwarf growth in any other country."
The growth markets
In addition to China, ISC has identified several countries in Asia with future growth potential. These include Singapore, Malaysia, Vietnam, Thailand, Indonesia, Hong Kong, Dubai, Abu Dhabi and Qatar. There are several reasons influencing growth. In Malaysia, for example, it is largely due to the recent release of government restrictions affecting the number of local Malaysian citizens who are able to attend international schools. A 40% cap was removed in 2012 and no further limitations were made. The result is that international schools are now legally entitled to enroll up to 100% Malaysian nationals if they choose. Amongst the 39 premium international schools in Malaysia (the most sought after and typically larger international schools), 40% of the current student population are local Malaysian children, 9% are British, 6% South Korean, and 4% American. The demand from local Malaysians is expected to rise. Another development affecting future growth in Malaysia has been the establishment of two new education hubs for the country: Education City in Kuala Lumpur and EduCity in Iskandar. Both hubs will provide high quality internationally-oriented education for all ages, including universities. These education hubs, along with several other new international school developments in other regions of Malaysia, are not only designed to further attract skilled expatriates to the country, but are also aimed to increase options for local citizens and, as a result, reduce emigration of the Malaysians who are currently choosing to move overseas for an improved standard of education. For international schools in Dubai, much of the growth potential is due to the increased desire from Emirate nationals to send their children to international schools along with an expanding expatriate sector. Currently the most prevalent student nationalities at the premium international schools in Dubai are Indian, British, Emirati, American and Pakistani. Dubai's Knowledge and Human Development Authority (KHDA) predicts that student enrolment will grow by 7% each year for at least the next five years. Dubai has an incredible 60 school developments planned. In Indonesia, growth potential is also being influenced by an increased demand from local Indonesian families who value the generally high standard of learning conducted in the English language, and the increased opportunities this offers for university education. There are no government restrictions on local citizens attending international schools in Indonesia and currently 47% of international school places are taken by local families. In Singapore, it's quite a different story because of the strict government restrictions on the number of local students able to enroll in most international schools (Singapore students account for just 4% of the total student population). As a result, they exist essentially for expatriate children but because of the increase in the number of skilled expatriates moving to Singapore, the demand for international school places continues to grow. There are currently 73 international schools in Singapore catering for almost 52,000 predominantly American, British, Australian, and Indian students. The Singaporean government coordinates the availability of international school places in line with expatriate demand and, as a result, several new schools have recently opened, many existing schools have expanded, and more new developments are underway. In several Southern Asian countries, the numbers of students in international schools are now also significant, particularly in Pakistan, which has 354 international schools, and India, which has 351 schools. "However," says Mr Brummitt, "Fee levels at the international schools there are currently too low to attract many of the major operators. This may well change within the next five years." Beyond Asia, ISC says that Brazil will be the country that sees most notable development. In the last academic year, 41 new international schools in Brazil were identified and added to ISC's data, increasing the number of international school students there by 6,000.
The future
The future looks very good. An increasing number of wealthy families want an English-medium international school education for their children.
By the end of 2014, ISC predicts there will be 7,200 English-medium international schools teaching over 3.7 million students and that by 2024, there will be over 12,000 international schools teaching 6.9 million students generating an annual fee income of over US $62 billion (£37 billion).
About the author
ISC has been delivering independent market intelligence on the world's English-medium international schools market for over 25 years. It is the only research organisation in the world that focuses exclusively on the international schools market. ISC enables university and higher education international recruitment departments and agents to reach schools directly through ISC Online for Higher Education. This includes a database of all the English-medium international schools around the world with contact and profile details for strategic communication. For more information, contact ISC HE Business Development Manager, Diane Glass at dg@isc-r.com or visit www.iscresearch.com.