UK ESL campaign launches in India in the wake of new findings on English proficiency and higher ed access
On the heels of a new study that shows a strong relationship between English skills and earning potential in India – a nation where access to higher education is still quite constrained – the UK is launching a major campaign to promote British providers of English-language training. The study, which was authored by Dr Abusaleh Shariff (from the Centre for Research and Debates in Development Policy, New Delhi) and Amit Sharma (research analyst with the National Council for Applied Economic Research), found that:
Indians who speak English fluently earn around 34% more in wages; and
those who speak a little English earn around 13% more in wages than Indians who don't speak the language at all.
Although India has seen proficiency improvements in recent years, it is estimated that roughly 20% of the population can speak English today and only 4% are considered fluent. So why aren't more Indians studying in English, despite the economic benefits of doing so? The high cost and uneven access to an English-language education are obstacles for many. Higher education in English costs six to eight times more than in Indian languages, approximately INR 8,000-15,000 annually for the former, as compared to INR 1,200-3,000 annually for the latter. Where one lives is also a key factor. For example, less than 25% of higher education students in India's north-central region are studying in English, as compared to around 75% in south India. The impact of these access constraints is a source of concern for some. As Dr Shariff has observed:
"Higher education in English helps us get better integrated into the globalised organised sector and labour market. Those without access to higher education in English are being left out."
Access to English-language education: one piece of a larger puzzle
Obtaining access to English-language studies is part of a larger quandary facing India, where only 10% of the university-age population has access to higher education. Comparatively, the rate of post-secondary enrolment in the US is 28%, and in China, it is 22%. Notably in China, which has a population of 1.35 billion, post-secondary enrolments have grown from 5 to 27 million since the 1990s. But during that same period in India, where the population is 1.2 billion, post-secondary enrolments have increased by less than half of China's amount – from 5 to 13 million. When it comes to access to higher education in India, significant disparities also exist across the gender and the urban-rural divide: only 3% of women have a college education (as compared to 6% of men), and only 2% of the rural population has more than a secondary school education (as compared to 12% in urban areas). As reported in The Times of India:
"South India also has the highest proportion of higher education in the private sector at about 42%, followed by western India where it is 22%. The northeast has the least privatised higher education sector and is almost entirely dependent on government-run or aided institutions."
Referring to the findings from Dr Shariff and Mr Sharma's research, the article goes on to note that:
"Both private and private-aided institutions are quite costly, making them difficult to access for the poor. With little regulation of the quality of education and cost differentials, the poor and deprived are often trapped in low quality education."
But these aren't the only access challenges facing India. Students hoping to study at the nation's top schools face a task that has been described as "scaling an academic Mount Everest." Every year approximately one million Indian students try to secure a coveted spot at one of 16 highly regarded, Indian Institutes of Technology, or IITs. Preparation leading up to exam day can begin in childhood – with students working to excel at maths and sciences from a young age – and sees teenagers enrolling in private coaching institutes, sometimes spending 13 hours a day, six days a week studying. This kind of exam pressure is common in other nations too, such as South Korea. Given that nine times more people apply for a spot at an IIT than to the world-renowned Massachusetts Institute of Technology (MIT), the competition is intense. Only 10,000, or 1%, make the cut, and the stress doesn't let up once students are admitted. As one student told the BBC, "I don't know [if any other] institutes in India have exams on a weekend but this one does. The pressure is immense and you grow to live with it."
The transformative role of access to higher education
Given that access to higher education has the potential to enhance productivity and economic value – at both the national and individual levels – it is perhaps not surprising that the competition for a spot at an IIT is so high. Indeed, it is considered a "fast track to a high-flying job." However, as Richard Everitt, director of education at the British Council in India, recently wrote in The Guardian, this kind of drive and the desire for a quality higher education is more than strictly economic:
"Indian students maintain a difficult balance between young, forward-thinking individualism and observing the more traditional social norms of strict family and generational structures. This is reinforced by many state institutions which are largely out of sync with the volume and needs of young people, especially women. Within this context, education, especially higher education, represents a once in a lifetime opportunity to secure and achieve personal ambition and transcend the barriers that Indian students perceive hold them back."
Furthermore, young Indians are thinking globally, according to Mr Everitt:
"Getting a good job is a high priority, but Indian students very clearly view their employment status with a wider perspective outside their traditional Indian setting – they seek global acknowledgement."
And many Indian students feel the only way they can achieve this recognition on a global platform is via a top quality education, which includes the "value added" to their experience. According to research carried out by the British Council, Indian students identify "skills for future employment" as an essential part of this added value. This finding makes additional reports this week of severe skills and employability gaps in India even more striking. International consultants Ernst & Young have just released a report, Higher Education in India: Vision 2030, for the Federation of Indian Chambers of Commerce and Industry. The report calls for a bold vision for Indian higher education and for investments in quality in particular.
At the same time, the study finds that nearly half of the graduates from Indian higher education institutions "are not employable in any sector, based on the industry standards of employability."
The authors note as well: "Graduates' employability varies significantly across institutions. Of the total number of employable graduates, a significant proportion comes from the country's top 30% of colleges."
The UK campaign
Against this backdrop of global ambition and access challenges, the launch of the UK's new publicity campaign - "English is great" - seems very timely. Aimed at boosting links between British and Indian English language service providers, the campaign is part of efforts to enhance bilateral partnership on education and skills development, particularly English language training.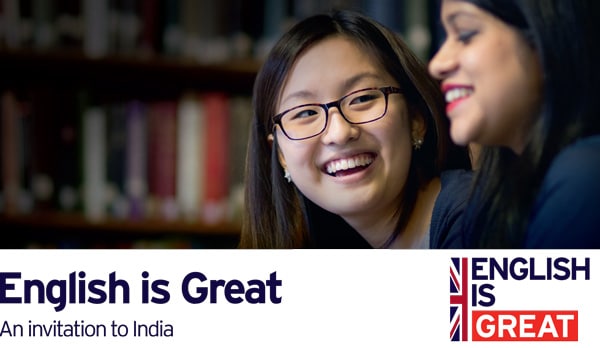 The official language of 54 countries, English is spoken by over 1.5 billion people worldwide. In launching the publicity campaign in India, the British Minister of State for Skills and Enterprise, Matthew Hancock, said in a statement:
"Better skills are vital for creating jobs and sustaining economic growth the world over. We have much to learn from India, and much to offer."
The "English is great" campaign aims to facilitate new business partnerships, enable firms to forge new links, learn about the market and widen their impact in India. As noted in the campaign literature for British providers:
"English language training in India is a diverse and attractive market, with a wealth of opportunities in school curricula, exam preparation and training, supply of materials, higher education and vocational and corporate training. The total market value is expected to rise from US $2.75 billion in 2012 to US $4.65 billion in 2015."
The campaign has already seen the UK host an "English Skills for Employability" roundtable meeting, and flagship events in Delhi and Bangalore are on the horizon. Scheduled for March 2014, the aim of these events is to promote British providers of English language training within India, and build business links with private schools, technical colleges and universities. The events will also act as a platform to:
secure joint venture partnerships for new and existing UK providers considering entering the Indian market; and
target Indian businesses offering English language or broader vocational training, in particular teacher training, wishing to expand their reach and enhance quality through joint ventures with the UK.
During his visit to India, Minister Hancock also suggested that the UK is well placed to partner with India given that UK companies are leaders in the development of education technologies, including the delivery of remote learning from world-class institutions.