Numerous visa changes from Australia to kick off 1 July 2012
These days, the high Australian dollar has made things that much more difficult for the Australian education and tourism industries. Luckily, the government is doing all it can to reverse visa restrictions introduced in 2009, as well as recover some of the losses and boost the country's reputation, from clever advertising campaigns to new visa regulations. ICEF Monitor presents five critical updates below, with key changes taking effect in less than two weeks. Editor's Note: We would also like to bring attention to additional legislation that deals with international students entering Australia on student visas. The Tuition Protection Service (TPS) has been introduced and changes come into effect for all new enrolments/payments received on and after 1 July 2012.
1. All international graduates can work for up to 4 years, starting 2013
Just announced from Migration Expert, the Federal government will expand the Skilled Graduate visa scheme next year which will allow overseas students who graduate from Australian universities to be eligible for work visas lasting two to four years. According to Immigration Minister Chris Bowen, the expansion of the Skilled Graduate visa scheme would help to enhance the competitiveness of Australia's AUS$18 billion inbound student industry. The relaxed immigration rules would potentially grant work rights for all 220,000 overseas university students in Australia after they graduate. The current Australian immigration system allows only graduates who have studied for select skilled occupations (trades, medicine, engineering, architecture, accounting and teaching) to work in Australia for up to 18 months. Other overseas students must leave Australia within a month of graduation. From next year, however, all graduates will be eligible for Australian work visas regardless of their field of study. Graduates with a bachelor degree, a master's degree or a doctorate will be allowed to stay and work in Australia for two years, three years or four years respectively, rather than the existing 18-month time limit. Visa holders will need "competent English" and health insurance. They must also pass health, character and security requirements. "These arrangements are not linked to skilled migration so applicants for this visa would not be required to nominate an occupation on the skilled occupation list or undertake a skills assessment," said a spokeswoman for Minister Bowen. But not to worry - Australia is relaxing these rules too. Read on...
2. Changes announced for Australian skilled migration programme
The biggest change to Australia's skilled migration programme since the visa points test was first introduced 33 years ago is to be implemented from 1 July 2012. The Australian Department of Immigration have announced that the new pass mark for the Skilled Migrant Selection Register - or simply SkillSelect - visa subclasses 189, 190 and 489 will be 60 points. The existing general skilled migration subclasses 175, 176, 475, 487, 885 and 886 are only open for new applications until 30 June, 2012, and the pass mark is 65. As of 1 July, they will be replaced with the three new subclasses – 189, 190 and 489. SkillSelect is an online service for managing the skilled migration programme. Through an Expression of Interest (EOI), it enables skilled workers without an employer sponsor interested in migrating to Australia to record their skills and attributes in order to be considered for a skilled visa. After filing the EOI, they will be allocated a score against a points test. SkillSelect will rank intending migrant's scores against other EOIs. Intending migrants could then be found and nominated for skilled visas by Australian employers or state and territory governments, or they could be invited by the Australian Government to lodge a visa application. The pass mark is a 'threshold mark,' not a 'pass.' Obviously, the higher the rank, the better the chance at achieving an invitation for a skilled visa. But the newly adjusted pass mark will encourage a broader range of people with the skills and attributes needed in Australia to register their interest in migration. SkillSelect ensures that the skilled migration programme is based on the economic needs of Australia. The Australian Government will be able to manage who is able to apply for skilled migration, when they are able to apply and in what numbers, on the basis of this need. As a result, the Department of Immigration and Citizenship expects to significantly reduce the time taken to process a visa application. This new invitation-only visa system will also help address regional skill shortages. SkillSelect allows intending migrants to indicate they are willing to live and work in regional Australia. This will be of particular benefit to employers experiencing regional skill shortages, and state and territory governments attempting to settle migrants in regional Australia. The new policy aims to match the best and brightest migrants to available places in the migration programme, thereby giving local businesses the opportunity to choose the most appropriate employees and enable migrants to settle easily in Australia with ready jobs. The new scheme will make it easier for foreigners to apply to work in Australia without an employer sponsoring them. Paul Arthur, director of leading migration specialists the Emigration Group, explained:
"Australia is conducting one of its biggest migration drives in 40 years and the reduction of the pass mark is part of this initiative."
A Department of Immigration and Citizenship spokesman said the change to the pass mark was in the context of the series of reforms to the skilled migration programme undertaken by the Australian Government since 2008: "These reforms have ensured the skilled migration programme is a responsive and demand driven programme," the spokesman said. It's also especially encouraging given that over 70% of large Australian companies are willing to hire foreign workers as a result of the current national skills shortage. An Australian Institute of Management (AIM) National Salary Survey shows managers are having the most difficulty recruiting for technical and trade, sales and marketing and construction and engineering jobs. Also taking effect on 1 July 2012, the updated Skilled Occupation List (SOL) for 2012 will feature four new occupations and four occupations will be removed. The updated SOL is based on expert advice from the independent body, Skills Australia. The updated SOL for 2012 comprises 192 high value occupations in Australia, with four new occupations to be added and 4 occupations to be removed. The additions to the SOL include Production Manager (Mining), Metallurgist, Optometrist, Computer Network and Systems Engineer. The four occupations that are removed are: Chemist, Audiologist, Bricklayer and Wall and Floor Tiler.
3. Tourism included in occupational trainee visa
Visitoz announced the widening of the Occupational Trainee Visa to include tourism, hospitality and adventure categories. VisitOz have been using the Department of Immigration and Citizenship's subclass 442 visa since June 2011 to allow young people from overseas to fill positions in farming, machinery and agricultural work. The Occupational Trainee Visa now includes agritourism, farm tourism, rural resort tourism, hotels, resorts, island tourism, general hospitality tourism, rural events organisation and general adventure tourism. Joanna Burnet from VisitOz said she was extremely pleased with the news which is win-win for travellers and employers: "This will certainly help hotels looking to recruit staff who can stay for more than six months and adventure tourism businesses who need qualified crew for their boats, for instance."
4. Changes to Australian student visa living cost requirement from 1 July 2012
The Australian Government Department of Immigration and Citizenship has increased the student visa living cost requirement from AUS$18,000 to AUS$18,610 per year - applicable for all visa applications lodged on or after 1 July 2012. International students are required to demonstrate and/or declare that they have genuine access to sufficient funds to be granted a student visa. Applicants may have to demonstrate sufficient funds to cover these expenses for the first one or two years in Australia, depending on their assessment level. Funds should be sufficient to contribute to the cost of travel, tuition, school costs of any dependents, and living costs. The financial requirements per year outlined in the tables below apply from 1 July 2012.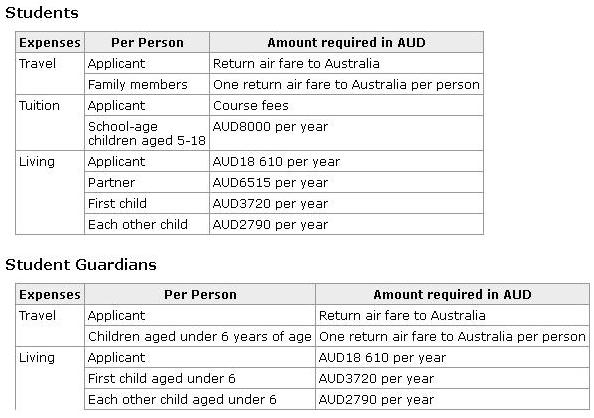 5. Working Holiday Visas on the increase
And in the last bit of visa news from Down Under, Backpacker Trade News is reporting that the number of young people applying for working holiday visas has increased, according to figures released by the Department of Immigration's Working Holiday Visa report. The number of Working Holiday (subclass 417) Visa applications granted in 2011, compared to the previous year is up 11.4 percent. While the number of second year visas granted during the same period is up 34.5 percent compared to 2010. The biggest rise in working holiday visas came from Hong Kong, with a 54.9 percent increase, followed by Taiwan with a 43.1 percent increase on the previous year. Norway saw the biggest drop in visa applications, with a decrease of 30.4 percent on 2010′s figures. Destination NSW announced that 72.5 percent of the total 241,000 working tourists coming to Australia settled in New South Wales. "New South Wales received 174,900 working holiday visitors, spending 13.1 million nights in the state and contributing AUS$751 million in expenditure," Destination NSW chief executive officer Sandra Chipchase said. In further news, Australian Youth Tourism Exchange (AYTE) is proposing that the Australian government change the requirements for the Working Holiday Visa. Australian Tourism Export Council (ATEC) managing director Felicia Mariani said, "ATEC is strongly advocating for the extension of the regional classification to the tourism industry – allowing WHV holders to extend their visa by 12 months after completing 88 days of work in a regional area, and this has benefits that go beyond attracting more young travellers." Sources: Australian Government Dept for Immigration and Citizenship, Australia Magazine, Backpacker Trade News