The ICEF Agent Training Course today certified its 100th ITAC (ICEF Trained Agent Counsellor) during on-site examinations at the ICEF Dubai Workshop. Yousuf Aleemuddin, Education Counsellor & Unit Manager, from Data Education Destinations Adventure Tourism Agency based in Jeddah, Saudi Arabia was recognised at a special presentation in Dubai as the 100th candidate to successfully complete this unique global training course and certifying exam.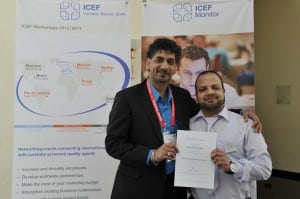 Data Education works with two- and four-year colleges and universities to help students plan short-term or long-term study abroad tours.
Mr. Aleemuddin is also the first ITAC to be certified in Saudi Arabia. ICEF Agent Relations Manager Nabil Najd said, "We are very pleased for Yousuf because as the first ITAC-certified counsellor in his country, he can set a precedent for other agents in Saudi Arabia, showcasing his experiences and expertise when advising students and meeting with business partners at events such as ICEF Workshops."
The ICEF Agent Training Course is a practical, professional training coursefor agency-based student counsellors and provides them with:
an understanding of the overall international education market and the main destination countries for international students
the skills to conduct additional research on destination countries and their educators, and requirements
the dynamics of dealing with students, education institutions, and governments
The ICEF Agent Training Course and
ITAC certification scheme is part of a broader industry movement toward stronger professional standards. ICEF CEO Markus Badde commented on this important trend in a 2010 opinion editorial and we are pleased to present an updated version of the article from our archives below.
From the ICEF Bulletin Archive
Opinion: Industry growth fuels need for new professional standards
By Markus Badde, CEO, ICEF
The international education industry is, in many respects, still a young business but it is growing up fast.
The global population of international students has grown dramatically over the past decade, and all signs point to more of the same in the years ahead.
International education is now a major export sector for destination countries around the world. The annual economic impact in the United States, the world's leading study destination, is estimated at US$18 billion per year. Education is the third-largest export sector in Australia, where it contributes US$14 billion to the economy, and it is a US$6.5 billion business in Canada.
These are impressive numbers and they point to a new reality for our industry: now that international education has become a major economic force and a key export sector in many world markets, we can expect more scrutiny from media, from government, and from our customers and partners. We are going to be asked to be more transparent in our standards and practices and to be more accountable for how we conduct our business.
This expectation is already taking shape in two related ways. On the one hand, increasing public interest in the industry creates greater pressure on governments to introduce new standards and regulations. At the same time, we can also see more industry-driven moves to greater quality assurance and professional standards—that is, toward self-regulation.
At ICEF, we are convinced that the more durable and effective solutions are likely to come from the industry itself. We are showing our commitment to improved practice and professional standards through a number of new initiatives.
The ICEF Agent Training Course is the industry's first global programme for agency-based student counsellor certification. The IATC is delivered online and testing is offered online as well and at ICEF events around the world. Successful graduates of the course are granted the professional designation of ICEF Trained Agent Counsellor (ITAC). To date, ITACs have been certified in 38 countries worldwide–as illustrated on our interactive map directory of ITAC counsellors.
We have also launched a formal recognition programme for agents that have successfully undergone ICEF's quality assurance screening in connection with participation at ICEF Workshops.
Along with our well-established quality assurance screening for agents, ICEF has for some time followed strict guidelines for educators participating in ICEF Workshops. All institutions that attend the ICEF Higher Education Workshop must be fully accredited in their home countries, and the ICEF Australia New Zealand Agent Workshop only accepts fully accredited institutions in all educator categories. Most recently, through a newly concluded agreement with Languages Canada, only fully accredited Canadian language programmes will be eligible to participate in ICEF Workshops.
These are first steps—but we think important ones—toward strengthening and recognising some of the established quality standards in our industry. Strong professional standards that are widely recognised and understood help add value to all of our working relationships, and represent a mark of maturity and sophistication for our profession.
More broadly, we hope that this is the beginning of what will become an industry-wide conversation toward continuously improving standards of practice. These discussions will have much to say about the long-term future of our industry, and about our readiness to take up the challenge of shaping that future.